Striped Bass Action is Heating up in Delaware
The spring run is definitely underway.  Of course that depends on what you consider the run.  If you base it on the larger part of the Atlantic migratory fish being in your area in full force, then that has certainly not happened yet, but the run has begun.  Residential fish have been on the move and active for the past couple of weeks and for the last week larger and more frequent catches of keeper striped bass are showing up in the Delaware Bay, River and now the surf.  This is merely the first wave so to speak of the spring migration.  It  has just begun and is far from over.  Yesterday, the Delaware River Striper Tournament participants were pulling upwards of forty two inch striped bass.  Keeper striped bass are being caught by boat anglers from Collins Beach to Augustine Beach.  A lot of shorts are being caught from land in those same areas, and when the bite is on, it is hot.  Bunker and bloodworms are the best baits as usual.  The keepers up there are in the twenty pound plus class.  The surf has finally heated up in Delaware with a few keepers in the Broadkill Beach area and shorts at Cape Henlopen State Park.  Shad are running, and I'm pretty sure I saw a diving bird eating a flounder yesterday at Masseys Landing.  Whether it was a winter or summer flounder I can not say, but it certainly looked like a flounder.  Bunker are heavy in Masseys Landing and the seal show has been entertaining a lot of people.  Yesterday that started about 3:30 pm.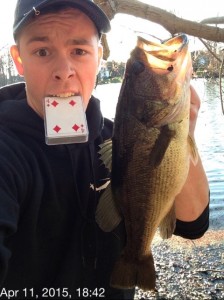 White perch, bass, shad, crappie, carp, and all freshwater fishing has heated up as well.  Night crawlers, grass shrimp, minnows, flies, spoons, spinners, rattle traps,  and the like are all working well catching.  Everyone has been waiting all winter for  a weekend like this, little windy, but very nice outside.  The water temperatures dropped a few degrees, but the fish don't seem to mind, they are not feeding as heavily in the cooler water areas, but that will change soon enough.  The surf is roughly forty seven degrees or better by mid day.  Short Striped bass are more abundant during the day in the shallower waters, with lager keepers in the deeper waters.  Rockfish have very sensitive rods and cones in their eyes and the larger fish prefer the darker waters and shaded areas.  Fishing early morning (before dawn) and late evening into the night will increase your chances of hooking up a keeper in the surf or shallow waters.  As always it is fishing so you just never know, unless you go.  It has been an entertaining weekend so far, and today should be just as fun.  The forecast is great for a spring day … Sunny, with a high near 57. Calm wind becoming southeast 5 to 7 mph in the afternoon.
Fish On!!
Rich King