This report is dedicated to the men and women of our armed forces.  Thank you all for what you do, and the sacrifices you make.
Monday CJ Jarrell of Striper King Gear also DSF Pro Staff, Kristen Kemper our Chica In the Surf also DSF Pro Staff, Ashley LeCates, Dave LeCates, Bill Miller, and myself  headed north to Augustine Beach.  Several people asked us why we would go north.  DSF is dedicated to the tidal waters of Delaware, and the entire coast is tidal.  SKG wanted to show me some places he fished growing up, and we wanted to get out of town to chase some striped bass.  I fished these areas when I was a child, don't ask how long ago.  We took the drive up route 9 in some seriously thick fog, hoping it would lift soon.  I was practically crawling out of the truck window trying to take pictures, mostly of osprey, they were all over the place.  We finally arrived at Augustine Beach during the incoming tide. A few people were putting in boats, and visibility was 40 feet tops.  Fog horns were going off all over the place.  Everyone geared up and baited with bloodworms.  We all just hung out, fished, and had a great time.  Kristen was wearing her pink coveralls with a pink DSF shirt, so of course we called her Pinky all day.  The old school bad and sad Happy Days jokes started flying, (If you grew up watching Happy Days you had an awesome childhood, and only 3 channels!).  The water was the color of coffee with cream, and we caught a lot of grass.  There were pieces of logs, and all kinds of things floating in the water.  I can not imagine trying to run a boat in the fog with all of that out there.  I did find some cool sea glass, among a ton of trash washed up on the beach.  Tim Gola dropped by with his puppy Lincoln to meet the crew, and pick up his SKG shirts and hat.  We fished for a couple of hours and then packed it in so we could work our way south.  The boys in the boats were catching a few fish, we had no idea what.  My buddy Chuck Urion in Jersey the day before was hammering stripers near the DOD, Shhhhhhhhh.
Just as we were starting to pack our gear a guy pulled up on a trike, or 3 wheeled motorcycle.  He looked at Pinky and said "I read online the DSF crew was up here,  I  just wanted to drop by and meet them"  John Morgan it was nice meeting you, we will fish up North again soon, this Sunday we are headed to Battery Park and then Reedy Point.  A lot of folks posted they wished they knew we were in the area so they could come out and fish with DSF.  We will be back.  The crew packed the trucks, headed to Woodland Pier, and that turned into a very wet ride.  The tide came in fast and  flooded all the low lying areas.  It was great being a passenger in a vehicle for once, I could really take in all of the scenery,and go camera crazy.  Well at least what little I could see since the fog never lifted.  Apparently it had at home in the lower slower, we were getting those reports while on the road.  No worries, we like to fish in nasty weather, and this was a mini vacation.  We made Woodland Pier as the tide peaked.  Everyone set up and fished the shoreline, or the pier.  I have to say, Woodland pier is really nice.  All metal and concrete with these really cool benches, and there were ducks all over the place.  We caught a lot of grass, no actually we caught an obscene amount of grass.  Once in a while out of the fog a huge ship would emerge, and then disappear, just like a horror movie.  We fished for a couple of hours, then packed it in for the day to head back home.  We will be back.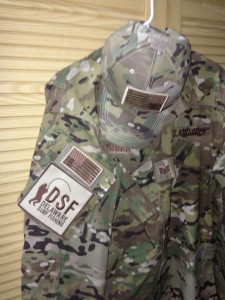 CJ, Kristen, Bill, and I stopped for lunch, and then we parted ways for the day.  CJ and I had some stops to make at local tackle shops about advertising on DSF and carrying the SKG apparel line.  Some of the boys had just left Dan's Tackle Box, after catching huge white perch all day in the Broadkill River.  Aside from the perch action and freshwater fishing, not much has been going on out there.  Water is still a tad too cold.  I keep hearing rumors of flounder caught in the bays, but until I see a picture … well, you know … As my favorite saying goes, show me a picture, or tell me a lie.  Tuesday Kristen and Jen hit the surf at 3R's.  They were both wearing pink coveralls, now there are two of them, and Pinky has a twin.  The ladies caught a skate, and were just happy to be in the surf on the sand.  I am dying for warm days, cool sand, and tight lines in the surf.  I want to float on the bay and drift for fish, hit the rail, or just plop down on a pier and fish the day away.  Everyone who purchased one of our tags has been sending us pictures.  I am proud of these tags, and what we do at DSF.  This morning my buddy Dave Eastburn sent me a picture, and I have been floored ever since.  In fact it has been hard to write this up, I am truly humbled.  A week ago Dave asked if he could use our logo, and he wanted it to be a surprise.  Knowing Chris Walker designed this unique branded logo, he wanted and needed our permission.  This morning Dave sent us a picture of a moral patch he had made for his Air Force uniform, a DSF morale patch.  Dave my brother, be safe over there, and thank you so much for what you and your crew do, I owe you many days in the surf.  We all owe you a debt of gratitude none of us could ever pay back.  See you soon!!
Fish On!!
Rich King