Cast For A Cure is an annual team surf fishing tournament in Delaware. Proceeds go to the Tunnel Cancer Center Special Needs Fund.  Last year a storm postponed the tournament.  Everyone came back this year and then some to participate.
\ "The 3rd Ever Cast for a Cure Tournament was held on Saturday, June 11 (last years event was cancelled due to a coastal storm.)  Fourteen teams participated.  Proceeds of the tournament will be donated to the Tunnel Cancer Center Special Needs Fund this week. We estimate the donation will be more than $3,000 for this year. $1,000 was donated to the American Cancer Society last fall after the tournament was cancelled due to a coastal storm."
I was on one of the Lewes Harbor Marina teams.  Our Captain was Suzanne Martin and we had two teams.  Corby Fulton, Myself, Scott Jost, and Suzanne Martin were team one, and Mike Basehsore, Gary Basehsore, Ed Borys, and Tyler Speraw were team two.  By the luck of the draw we were in the same area so we all fished near each other.  Becasue Ed Borys brought some killer food and we like to eat when we fish.  Amanda Morris asked us to all wear one of Joe Morris's old T shirts he wore at the shop for our team shirts.  We were honored.  We know Joe was with us on that beach because we scored a lot of points that day, and won the tournament.  I am almost positive the shirt I was wearing is one Joe has worn when he was cleaning up some of my fish or when I dropped by the shop to chat.  It was a great way to honor the memory of such a wonderful person.  We were told not to wash the shirts when we gave them back for next year.  Pretty sure in about three years no one is going to want to come near us.  Can't wash the lucky fishing shirts.
Suzanne's Bluefish … 

Typically when we go to a surf fishing tournament it is spring or fall, so it is dark at four in the morning when we usually get up for these things.  This tournament didn't start until eight in the morning.  Which I didn't realize until I was on the beach at seven, regardless the sun and I had been up for a while.  In the spring and fall there aren't really any tourists here yet, we are well away from the season.
So the beaches are relatively empty and your typical summer madness does not occur.  So it did not surprise me to see a Volkswagen Passat stuck to its axles in the middle of the access ramp at Faithful Steward crossing.  What did surprise me was the note in the window.  "If In Way Please Call"  with an arrow pointing to a phone number.  Seriously?  Apparently by calling this number the owner will be able to just move the car?  So the rangers are there, and of course Corby and I are taking pictures with the car.  Because the note was the icing on the cake and we couldn't stop laughing or cracking jokes.  Eventually we get aired down and drive around the vehicle.  As the owner comes walking over the drive on access, shoes in hand.  I would have stayed to be a fly on the wall, but I already knew the story.
Lot of horseshoe crabs … 

We head to the north pocket because that is the area that our team captain Suzanne Martin has chosen by lottery.  It was of course a great choice we will find out later.  It is after seven in the morning, I think we are late, no one is on the beach, and I am freaking out that we don't have lines in the water, that is when I was told we don't start until eight.  I could have slept another hour and avoided the Volkswagen.
Now I take my time setting up and relax, the sun is way up in the air.  it is going to be a hot day, and the wind is coming form the Southwest.  There will be flies, but we are not sure what the DFM will be (Damn Fly Meter).  Later the flies will be described like little Langoliers chomping on your shins, remember the freaky monsters from that Stephen King movie they made a book out of?  They didn't bother me, I have that awesome gnat spray which works for biting black flies.  We are set up, and we come up with a plan for only being able to fish with one rod.  Fish the one rod, and when you catch something, cast the other one when the fish is landed.
I have enough bait for ten people, but I decide I am just going to use fishbites all day on a Diamond State Custom Tackle top and bottom rig.  I figure why not it has been working the past few days, and we need a variety of baits out there.  Not to mention I am wearing a white shirt, I can't wash.  Bonus was I didn't have to deal with any trash fish all day, but a lot of small fish.
Judge update with Jay Droney … 

The first fish we scored was my kingfish and I knew it was going to be a good day.  We were seeing constant action on the smaller rigs with kings, sand perch and spotted hake.  We figure a lot of kings could rack up some points.  If numbers of fish caught were a category Gary Basehore would have nailed that hands down.  I lost count at a hundred fish for him.  He was getting little weakies two at a time, but just under the thirteen inch creel all day long.  The horseshoe crab action was off the hook, too bad there wasn't a category for that.  Skates of course were hitting all the cut bait rigs, and the horseshoe crabs on the top and bottom rigs.  the fish were close in the first trough and farther out in the second trough.  We had a few kingfish in buckets waiting for the judge to come back.
Suzanne's line bent hard with a knockdown.  She starts reeling, we think maybe a big ray or shark, and then the head shakes start up.  She reels in a big thirty four inch bluefish.  She snatched that fish off the beach like a boss and walked it up the beach.  Epic catch and now we are really stacking up points.  Not to mention this is probably the biggest blue fish and biggest fish for the tournament.  I had to dig out a storage container we could fill with twenty gallons of water to keep the big bluefish alive.  Always good to have a way to build a big live well on the beach, especially for a tournament.  That live release point could men the difference in win or lose.
We get all of our fish scored, and our judge Jay Droney tells us we are the team with the most points.  We are excited to hear that news and start breaking out the food, it is time to eat.  We can slow down a bit, we have a lot of points on the board.  We were up to seventy two points at lunch.  We also slacked off holding our rods and put them in the holders.  You know the story about the turtle and the hair, the rabbit decides to take a nap. Well it was like that but we didn't know it at the time.
I caught another kingfish around one thirty and I had to leave for a Punkin Chunkin board meeting.  I am glad I caught that fish, we are now at eighty four points.  Later that evening we are informed there could be a team that is going to beat our score.  At the awards ceremony we found out had we not scored that last fish we would have lost, by about seven inches.  We had a great day in the surf, good friends fishing together having a blast, talking trash, and eating tons of outrageous food.  Still disappointed we couldn't get Mike to streak down the beach, there is always next year.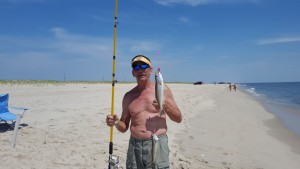 At the awards ceremony we had some killer food prepared by  Chef John Downs and his staff at Delaware Distilling Company.   Everyone is still raving about the seafood pasta.  The awards were handed out and we all received trophies and bragging rights.
First Place was taken by Team Lewes Harbor Marina #1 with 84 points. Second place went to Team Three Guys and Gal Fishing (Selbyville Elks). Third place was a three way tie – Team Red Dog, Team Retired/Working and Learning, and Team Lil Angler. Each team member received a trophy.
The largest bluefish – 34 inches – of the tournament was caught by Suzanne Martin on Team Lewes Harbor Marina #1. It was worth $220 in the Calcutta.
No keeper striped bass were recorded. There were several keeper sea trout and croakers caught as well as kingfish.   
I had a great time helping raise money for a noble cause and non profit.  We are already planning next year's adventure for team Lewes Harbor Marina.  See you in 2017.
Fish On!!
Rich King