Yesterday NASA ground crews moved Antares out of the assembly building and rolled her to the pad
Antares is set to fly on August 10, 2021 at 5:56 PM. The beginning of the launch window. So far weather is fine, but you know how Delmarva weather rolls, changing every fifteen minutes on a whim. This is the 16th commercial resupply mission to the International Space Station.
Antares with the Cygnus spacecraft attached rolled out of the assembly building at a half a mile per hour. The crawl takes a while and then she is rolled up the ramp to the pad. Once there the crews lift her up and make sure all is well. A lot of prelaunch processes are required, these folks aren't setting off a bottle rocket. Then Antares is lowered back down. Perishable cargo is added to Cygnus spacecraft at the last minute, then Antares is lifted back up for launch preparations and fueling.
The Cygnus loading process is done with a modified gangway used at airports for passengers. Those NASA crews think of everything.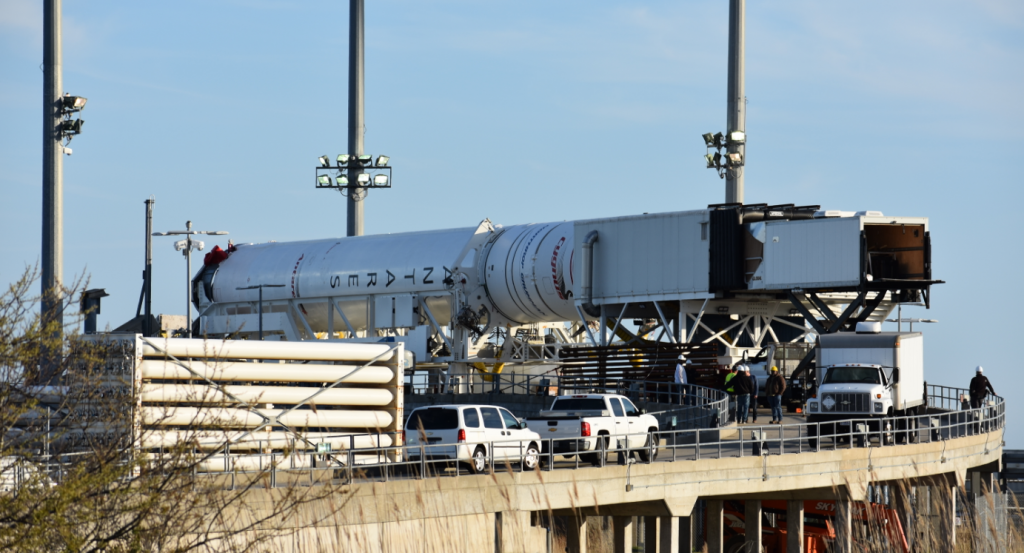 Due to new covid restrictions NASA Wallop[s Flight Facility had to scale back the media access. We had a choice of one person for remote shots or media viewing. I am sending Cody and his remote gear to get the pad shots. We have thousands of launch shots, we want that perfect pad shot now. I want to try something new with a long exposure from the beach again at Faithful Steward. I need neutral density filters and I have no idea what I am doing. What could possibly go wrong.
The Wallops visitor center grounds is closed to guests for viewing. We have some information for viewing a launch in Delaware, many do not realize you need to look inland a little behind the Charles W Cullen Bridge if you are north of it on the beach. If you are in say Pot Nets in Long Neck, look towards the Bethany Beach area.
Locating Antares' Launch Point In Delaware.
Use the line of site map for viewing time. If you use the NASA TV feed keep in mind it is on a delay. By the time Antares launches on NASA TV, she has already left the pad and is flying fast. Seconds during a launch is a lot of time. Keep an eye on the sky twenty seconds before launch on the countdown sites.
Helpful links from NASA for viewing the Antares launch.

Watch the Next Antares Launch from Wallops

Northrop Grumman 16th Cargo Launch to Space Station — Virtual NASA Social

Live coverage of the mission countdown is scheduled to begin at approximately 1 p.m. on the Wallops IBM video site.

Launch coverage on NASA TV will begin at 5:30 p.m.   NASA TV streaming video visit: http://www.nasa.gov/nasatv

Great information about Northrop Grumman, its Antares rocket and the Cygnus cargo spacecraft at: http://www.nasa.gov/northropgrumman

Antares is rolled out of the assembly building … photo by Rocky Bond

Antares checks in at the pad booth to make sure all her papers are in order … photo by Rocky Bond

Heading to the pad area is a slow process … photo by Rocky Bond

Heading to the pad area is a slow process … photo by Rocky Bond

Heading to the pad area is a slow process … photo by Rocky Bond

Antares heads up to the pad … photo by Rocky Bond