Well the past weekend was rather eventful for fishing, seal watching at Masseys Landing, beach combing, and just chilling at the beach.  I think the Masseys Landing seal watching is going to be an annual event so to speak, until they migrate north.  The water temperatures are on the rise daily, more and more striped bass are being caught up and down the Delaware bay.  People are splashing boats for the first of the season and getting everything ready for what we always hope to be a great year of fishing and fun in the sun.  Actually I should probably say catching, because fishing is just that, fishing.  Catching is a bonus and we all hope for a good one.  The pond and tidal creek action has been great. White perch catching is off the hook up and down the Delaware coast and tidal rivers and creeks.  Some big catfish made an appearance at Bowers the other day, Buddy Cahall and his crew were hammering them near the jetty at the Murderkill River.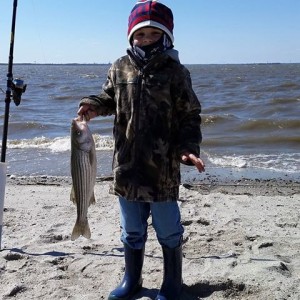 The C&D canal has been hot for white perch and big cats as well, bloodworms work great, and night crawlers according to a few boys down there are working good on the incoming tide.  Augustine Beach to Collins beach has been hot for striped bass from boats on bloods and bunker chunks, clam is starting to produce, fresh are better but salted will work.  The striped bass action from shore has been great in those ares, but you have to be there when the fish show up, after all they are on the move and headed north.  The skating rink at the beach is now open for business and it is booming.  If you can't catch a skate you are doing something wrong!  Striped bass action in the surf was slow over the weekend, Brandy Timmons from Delaware Fisherwoman caught a nice shorty with bloodworms on a pill float rig at Cae Henlopen.  The inland bays are chock full of bunker.  Shad are running the streams and creeks.  Look for striped bass schools to start feeding the grass lines along the mud banks during outgoing tides and the downstream (current) sides of shoals waiting for bait fish.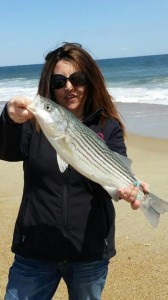 The bulkhead in Pennsville at the park, on the Jersey side is seeing a lot of shorts and some keepers.  The new beach in Elsinboro point, Salem county, saw some action over the weekend.  This winter the Army Corp of Engineers used the slurry from a channel dredge to build a beach there, that place hasn't had a beach since before I was a kid.  The route 50 bridge in Maryland came hot for striped bass a few days ago according to a buddy of mine.  Might be time to go scope out the Oceanic Pier (bayside of the inlet) in Ocean City and see what action is happening there.  It is a cool pier to fish, only costs $7 a day and you don't need a license.  Not a bad deal if you only pier fish a few times a year and is a good option for pier anglers missing the Cape Henlopen pier.   I dropped by the CHSP pier yesterday and the tide was so low I walked halfway out in sneakers on sand bars.  You can really see the damaged pier poles up close and personal.  When you see the damaged poles up close you can understand why the pier was closed, the weight they are holding up is tremendous.
There is a fence now just past the closed gate to keep people off the pier.  Apparently people have been climbing up the dunes on the beach side and accessing the pier.  Not a good idea by any means.  Just because it looks solid does not mean it is.  Hopefully the parks can set it up with the contractor to keep sections open for fishing access while they repair the damaged support poles.  They have done that in the past, but will need to coordinate that with whatever contractor takes on the project and that has yet to be decided.  After seeing the damaged poles and ones missing in several sections.  I am just fine with waiting until they get it all fixed.
Not much happening with crabs yet, the inland bays are still too cold and hopefully the heavy ice didn't kill off too many.  When those big chunks and plates of pancake ice scrape the mud bottom, it can kill off  the crabs that bed down for the winter.  The ice moves like a mini glacier scraping and cutting the bottom of the bay.  You can see evidence of ice damage to the henlopen pier and the pier at Reedy Point on the C&D canal.  One of the pier poles up there (C&D) is literally pushed out and looks like a telephone pole that was hit by a car.  Snapped at the bottom and the top is leaning away from the structure.  Yesterday while I was at Cape Henlopen checking out the flats at the fishing pier, I was hoping to do a little flounder fishing.  This is the time of year they usually start showing up heavily in that area.  It was pouring so I took a tour of the damaged poles and decided to forego putting on the waders and going out any farther.  Jon Budler host of the Delmarva Angler show on WGMD  caught a small summer flounder at Masseys Landing on Sunday.  I saw a diving bird on Saturday eating one while I was seal watching.  Flounder are not in heavy, but I have heard tell of them being caught in a few other places.  Random to far and few between, but that is only going to get better.  It is that time of year, and the water temperatures are increasing daily.
Area Temperatures on Tuesday April 13, 2015  at 7 a.m. EST
Surf temp … 46 sea surface temp … 46
Masseys Landing temp … 47.6 peaked to 55.7 last low tide
Delaware Bay … Lewes DE … 46.5
Brandywine Shoal light … NA
Ship John Shoal … 50.4
Reedy Point … 51.1
Delaware City … 52.5
The outlet at Millsboro pond (cupola park) … 62 degrees
Murderkill River in Federica … 58 degrees has gone up 6 degrees in 4 days.
Murderkill River in Bowers Beach … 56 degrees peaked to 59 Monday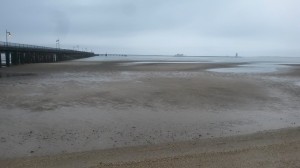 One advantage of seeing the flats area at Cape Henlopen at low tide is the subtle holes and sand bars are exposed.  These small depressions are what flats fishermen call structure.  You can see where a fish would lay in wait for bait fish to cross a small sand bar.  Knowing where those areas are is half the battle fishing the flats.  Wading or kayak fishing will still be good at Cape Henlopen, despite the closed pier.  Unfortunately Lighthouse View Bait and Tackle will not open this year unless something changes with the pier closing.  Keep that in mind if you are headed there to fish.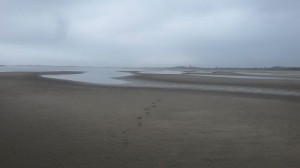 You can check our Business Directory Bait shop list for area Lewes shops.  Fly fishing is very popular in that area.  If you are wading be wary of tide changes and the currents, at the end of the flats it gets deep fast.  Other flats fishing areas (the largest) are New road and Tower road access areas for Rehoboth bay in Delaware Seashore State Park.  Fenwick Island State Park has a small access area for Assawoman Bay, Holts Landing State park has some flats around the pier area.  The Bay Beaches like Beach Plum Island State Park and Broadkill beach at low tide could be considered flats as well as the bay beaches farther north.  Hopefully the beach replenishment this year does not ruin fishing in that area for the next few years, many feel it will.  Unfortunately all of the bulkheads and jetties will be buried by that replenishment, they are like mini reefs that attract a lot of fish.
We are looking at another decent weekend!  Highs in the mid sixties, winds out of the east and southeast.  We have yet to have to worry about the biting black flies, but soon we will have to start up the DFM  (Dam Fly Meter) in the weather reports.  This Sunday for Earth Day at 9 am the Surfrider Foundation is hosting a beach clean up at Herring Point Beach in Cape Henlopen State park, come out and help.  We have a clean up scheduled for April 26th, meet at 8;30 to 9:00 am at the Conquest parking lot in Delaware Seashore State Park.  Diamond State Tackle is sponsoring our clean ups now, and David Okonewski will be there to give out free rigs to all participants. Then after we are done, we will spend the rest of the day fishing, and having fun in the sun.  This will be a great time to come out and meet fellow surf anglers, spend a day fishing, and get some pointers for any beginners.  If you are going to learn to fish the surf you might as well do it on a beach.  Come clean the beach and then fish it, and hopefully clean some fish afterwards!!  See you out there this weekend.
Fish On!!
Rich King