Want To Help The Inland Bays? Then Take This Survey
Tell us YOUR concerns about the Inland Bays!

This brief survey will help the Center focus on your community's concerns relating to the health of the Rehoboth, Indian River, and Little Assawoman Bays
–and the land surrounding them.
As a token of our appreciation, each participant that includes their mailing address will receive:
A CIB bumper sticker featuring our cute
horseshoe crab logo!
One entry into a drawing to win a $25
Amazon gift card!
The survey will be available online through March 31st.
Click here to begin the survey now >>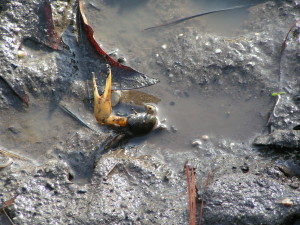 About the Survey
Your input will help the Center update the comprehensive plan for managing the Inland Bays.
The Comprehensive Conservation and Management Plan (CCMP) outlines goals and activities that the Center and its partners agreed to address based on scientific data and input from key stakeholders and the community. The Center uses the CCMP to direct and carry out activities that protect and enhance the Inland Bays for the next five years.
In addition to updating the CCMP, the Center and its partners will also be conducting a Climate Change Vulnerability Analysis. This analysis will identify risks associated with climate change. The analysis will help the Center decide how best to manage those risks to reduce their impact on achieving the objectives and goals in the CCMP.