The weather the past week has been rough for fishing.  Heavy surf and angry seas have made for stirred up rough water.  The temperatures have been steadily dropping to fall like conditions and the water has been dropping as well.  Which makes everyone excited for fall fishing.  The striped bass will make their annual fall run soon enough.  Meanwhile shorty striped bass are being caught in the Lewes Canal and Indian River Inlet and bay.  There have even been some nice keepers caught out there.  Bucktails have been the ticket for many anglers. Tying up two bucktails in tandem like a speck rig have worked well and even produced a few double hook ups for some anglers.  Mullet are running but they have been small and that will change as time passes.  blue fish have been abundant in the surf when they are around you just have to be there when they move into the surf.  Mostly on incoming tides after low tide, and on the incoming tides at Indian River Inlet.  Striper fishing has been better at night there on plugs, bucktails, and flies.
Flounder are still the hot ticket, with catches occurring at all the usual spots … reef sites, wrecks, the inland bays, Roosevelt inlet, and Indian River Inlet.  minnows are the best baits, but jigging for them in the surf is still working well.  Croaker cut into strips are working and gulp on jig heads.  Speaking of croaker they are still all over the place and make for some fun fishing on ultralight gear with squid, fishbites bloodworms, and live bloodworms.  Please dispose of your bloodworm packaging and grass in the proper containers.  The grasses contain invasive species that can be harmful to our waters.  Something many people do not realize.  Always a good idea to keep anything out of the water that did not originate from here.  Spot are still in numbers on the same baits as well as small sea bass.  Some small puppy drum have been in the surf, inland bays, and some of the wreck sites.  Triggers are still showing up at the wrecks and reef sites caught on squid mostly while fishing for croaker.  Some have hit flounder rigs as well.  It may feel like fall but summer fishing is still in full effect.  Albacore are showing up in the surf in northern Jersey and are headed this way, but I doubt you will see them move into the surf in Delaware.  It would be nice to yank some albies form the surf on plugs.  Still waiting to see some red drum show up, but a large fifty plus pound black drum was caught near the outer wall over the weekend.
Crabbing was good when the waters were warming up, but has since dropped off a bit with the dropping temperatures.  Clamming is always good when you manage to find a good sand bar full of them.  The off shore action has seen white marlin releases, mahi mahi, and tilefish.  Lot of whales being spotted out in the ocean and make for some great entertainment while they feed on baitfish.  The dolphins have been thick at times near the surf which pretty much shuts down the fishing.  When the fish are swimming for their lives they are not very interested in stopping for an easy meal on a hook.  Not long ago we were sent a picture of a hook in someone's foot that was wading in the surf.  Be careful if you are entering the waters on surf fishing beaches.  When the point opened up I found about twenty rigs washed up on the beach.  Which is great for free tackle, but not so much if you find one with your foot.  Another good reason to be wary of swimming on a fishing beach.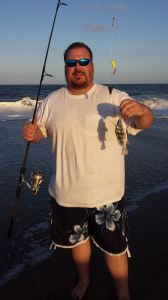 Summer in the off season has been nice for fishing with less crowds on the beaches and other fishing areas.  Less competition fishing makes for more catching, when the conditions cooperate as well as the fish.  The beaches are smoothing out from the last carve up due to recent storms.  We have had some great sunsets when the storm fronts move in and out as well as sunrises.  One of the things I love about Delaware is the morning and evening scenery.  Days are getting shorter and we are not looking forward to the time change.  Fall fishing will probably kick in sooner this year with the temperatures dropping faster this year.  We will have to wait and see how that works out when it happens.  Get the gear ready, fishing for the biggger fall fish is just around the corner.  Summer fishing is a whole different ball game compared to sitting on a beach in the fall.  Shorts and T shirts are replaced with long pants, waders, and wet gear to keep warm.
As usual skates, rays, dogfish, and sharks are heavy in the surf and this past week seemed to be heavier than most.  Still fun to get that tug on a line and in the case of large rays it is like trying to reel in a Buick.   Always take your time with the large rays, you will land them it just might take an hour or two.  Always better to land them and remove the hooks, than to have a creature swimming around with a hundred feet of your favorite line.  That can make for an expensive afternoon fishing.  Keep the line tight and have some patience, you don't want to horse them in too heavy or you could break the rod and that aside from expensive, to say the least, is aggravating.  Rays will lock their wings in the sand and sit on the bottom.  Just give them some slack and they will start moving again, then start reeling them in again.  Some of my friends like to eat them and it is very tasty if prepared correctly.  Oyster crackers have been heavy along rock walls and believe it or not are a tasty meal as well.  Don't let their prehistoric look fool you from a good meal.  If you are so inclined to try them out, take them to Joe at Lewes Harbor Marina for a cleaning, that man can filet a fish like no tomorrow.
Weakfish are still around but mostly the little spike sizes.  They have been as far up as Port Mahon fishing pier as well as bluefish.  Chicken has been the best bait for the weakies.  Yes, chicken breast, preferably fresh, just cut it into little chunks.  We don't recommend it but if the day is a skunk then you can at least eat the bait.  There have been a few decent sized ones caught here and there near the outer and inner walls as well.  Broadkill river has seen its fair share of all types of fish this year.  Speckled trout have made a nice appearance this year, mostly on jigs with pink and green soft plastics.  Once you find them catching is fairly easy you just have to find them.  The Delaware bay has produced several of them this month.
This weekend a gentlemen left a bucket of gear near point comfort station if anyone happened to find it please get in touch with us by email admin@delaware-surf-fishing.com .   Also if you have been kicking around the idea of selling off any extra gear, boats or whatever, try our new classified section on the web site, www.delaware-surf-fishing.com and click on the classifieds tab.  You may even find something you need.  See you in the surf soon.
Fish On!!
Rich King