Saltwater Fly Anglers of Delaware's first winter Saturday morning tie session
I went to Lewes. DE to visit the Saltwater Fly Anglers of Delaware Club's Saturday fly tie sessions at Lewes Harbor Marina.  Last year was an experience meeting this club, and spending every Saturday with them in the winter.  I arrived at 8 a.m. apparently an hour early, I forgot it doesn't start until 9 a.m., and even announced it on our site as such.  Sorry Jason, Neil, and the boys, my bad!  Rick was set up at the front counter with his fly tying gear, and Mac was behind the counter.  Today's featured fly was crabs.  Rick was showing people how to tie different styles of crab flies.  These boys come up with some ingenious ways to use everyday household items to tie flys, from felt pads and rubberbands, to carpet shag.  There were tables set up in the back of the store, and one near the front door.  The night before the club had its yearly dinner, and the boys said it was a good time, with a ton of food.  From the dessert remnants brought in for snacks, it did look like a good time.  I was grateful seeing everyone in one spot again.  I run into these boys all over "campus" when I am out and about, but it is much more fun to have them all in one place.  People kept showing up, there were a lot of new faces to me, and a few to the club as well.  Some folks came by just to see what this is all about, which is the whole point of these sessions, so come on out and meet the club.  It is good to see new interest in such a great hobby, now I have to get a fly rod and gear up.  People kept filing into the store, and eventually it was standing room only.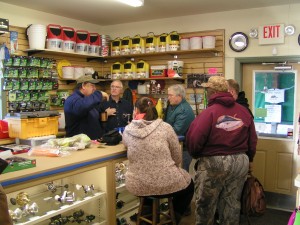 People were tying at the tables, or just standing around trading summer time war stories.  Early on it was apparent table room would run out quickly.  Some did not set up, just enjoyed carrying on conversations, and in some cases just "carrying on."  A few people here for the first time, came to learn how to tie, and "see" the club.  One young man, visited with every person tying, to observe what they were making, and what he could learn from them, smart move.  He was an eager pupil, and the boys are just as eager, and encouraging teachers.  Frank spent some time showing him how to tie different flies with assorted techniques.  Rick gave him instruction on trimming deer hair on one of his crab flies.  Honestly there was so much going on, it was hard to keep up with a room full of 40 people.  Yup, the house was packed.  Regardless, this young man took in a knowledge of fly tying that probably had his head spinning.  I can relate to that, last year every Saturday was information overload for your's truly.  The club is a great information source from a group of people that have an honest love of fly fishing.  They treat it like an art or craft, not just a hobby, but a way of life   If you are interested in fly fishing Delaware waters, you should seriously check out the Saltwater Fly Anglers Of Delaware's Club.
Aside from the theme of crab flies for the day, the boys also tie up what they need to refill their boxes for the coming spring season, or a trip they are planning.  You never know what they are going to tie, some days they just kinda "wing it" and tie what they feel.  This is a skill that demands patience, and if you are "not into" tying that day, you might have some ugly looking flies.  Some of the designs require meticulous dedication and skill.  When I first arrived, I checked out all the flies Mac had displayed.  There were crabs, shrimp, squid, and all kinds of patterns.  He had them on corks from bottles with the plastic cap attached.  Theses made great display, and drying stands.  One of the boys had a drying stand made out of red and white bobbers, glued to a small piece of wood, and had that full of pink squirrels by the end of the session.  There are always neat little "tricks" these boys come up with.  You can learn something new every weekend.  Roy Miller was tying a fly he entered into the contest for the dinner the night before.  It was a fly with a spinner attached above the eyelet area.  He figured it would add some flash with a "jiggin" motion.  Even just dropping through the water column, action from the fly's spinner would make an "attraction".  Great idea, we will see how it pans out when he gets to go fishing, the boys were certainly intrigued.  I had a great time visiting with the club, and I look forward to next week.  I will have a more in depth report next week, this Saturday was mostly a "hey how was your summer" gathering.  It is funny, but last year seems like a long time ago, I guess it was an eventful year and summer.  I will have to look back, and see what happened.
Fish On!!
Rich King