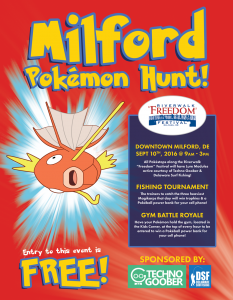 Techno Goober & Delaware Surf Fishing have teamed up once again to bring you a unique fishing tournament, and it is free.  During the Riverwalk Freedom Festival on September 10th in downtown Milford from 9 AM to 3 PM.    All Pokéstops along the Riverwalk "Freedom" Festival will have Lure Modules active courtesy of Techno Goober & Delaware Surf Fishing.  The idea is to attract as many Magikarps as possible, yes that is a Pokémon "fish" for those that do not play.   We decided it would be fun to host a different kind of tournament and utilize the new game Pokémon Go.  There are plans for more of these tournaments in the near future.  I know many people that play  Pokémon Go.  This game has gotten people outdoors more than ever, which is a little nutty that it took a video game to do that, but so be it.  Below are the tournament details.  It is very simple, and will be a blast.
Fishing Tournament … The trainers who catch the three heaviest Magikarps that day will win trophies & a Pokéball power bank for your cell phone.  You will have to register at the Techo Goober tent.  Once registered just play the game and try to catch as many Magicarp as you can.  We will be dropping lures, at all the Pokestops through out the tournament.
GYM Battle Royale …
Have your Pokémon hold the gym, located in the Kids Corner, at the top of every hour to be entered to win a Pokéball power bank for your cell phone!  We will draw three winners at the end of the tournament.
Hope to see everyone and good luck.
Fish On!
Rich King