Delaware Surf Fishing and Gifted Alchemy are hosting a screening of the 90 min feature-length documentary "Finding Joe Brooks" on Wednesday, August 22 from 7 – 9 p.m. at Lefty's Alley & Eats in Lewes. All proceeds will be donated to Joe Brooks Foundation for Conservation and Outdoor Education a non-for-profit organization serving the outdoor community. Tickets can be purchased for $10 through Eventbrite. www.eventbrite.com/e/finding-joe-brooks-documentary-tickets-48975806957  Ticket purchasers are encouraged to have dinner at Lefty's prior to watching the film.
"Finding Joe Brooks" is a tale of love and redemption about the man who popularized fly fishing through his writing, mentored the legendary Lefty Krey, and is now commonly referred to as 'the father of modern fly fishing.' Born in Baltimore Brooks combined his passion for fishing and writing by becoming the outdoor editor for the Baltimore Sun and culminated it as the fishing editor for Outdoor Life magazine. His personal story is one of inspiration because Brooks turned his life around after suffering the devastating effects of alcoholism. His marriage to Mary Ainslie gets credit for being the key to his miraculous personal transformation as well as his enduring influence on the sport of fly fishing.
The documentary and Joe Brooks Foundation for Conservation and Outdoor Education were created by Brooks' nephews Mike and Joe Brooks to carry forward the legacy of knowledge, sportsmanship, inspiration and encouragement to use one's talents to foster stewardship and preservation of natural resources.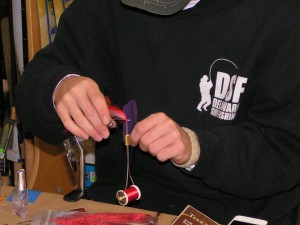 "Fishing for many of us isn't just a sport, it's a lifestyle, Joe Brooks was the epitome of that lifestyle. Fishing can change your life and perspective of our environment and world. I am honored to help bring this documentary to Delaware for everyone to enjoy." Rich King, Delaware Surf Fishing
Julie Fisher of Gifted Alchemy became interested in hosting a screening of the film after learning about it from a local fly fisherman. "It became clear to me that it is a relevant story for our coastal community. Not only is about someone who overcomes their personal demons to become self-actualized, it more importantly holds a message of profound respect for wildlife and a call to become better stewards of our priceless ocean, bays and wetlands."
For more information about the documentary please visit: www.joebrooksdocumentary.com  To view a trailer for the film visit Joe Brooks Documentary trailer
For more information regarding the local screening on August 22 please email: JoeBrooksDocAug22@gmail.com