After seven straight days in front of a computer literally going through every single page on this website for twelve hours a day, I had to get out and fish!  There have  been rumors of striped bass in the surf, mostly a whisper here and there.  The "catch and release" without any pictures.  Dewey Beach is still being replenished and a few days ago you couldn't access our favorite spot to fish.  Now the crews have moved farther north, so Matt and I were able to access it. Unfortunately we walked over it trying to get to the water.  All the structure is buried and the beach is ever-changing shape now, so we decided to explore these new cuts.   The funny part was the survey boat, it kept running back and forth.  We would move south and next thing you know it was right on top of us again, felt like we were being followed.  Pretty crazy to watch them run that boat practically onto the beach.  Of course I had to take some video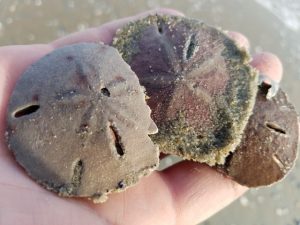 While walking south towards the bridge we were finding a bunch of sea glass as usual, but we found a  bunch of sand dollars.  Matt Adams said "I think I have found a lifetime of sand dollars in ten seconds.  He had a handful of them.  They were all over the place, every step, there was another sand dollar.  You could get picky and leave the partially broken ones. So while we cast and walked, we found lots of beach treasure.  A bonus to fishing the surf especially on an unproductive day.  However it wasn't all that unproductive, we just had the wrong gear.  We did get to check out the newly forming structure, which is showing the exaggerated cuts even better.
That survey boat would run into the surf turn around and speed back out.  At one point it must have run over a school of peanut bunker. There were a few fresh ones washed up on the beach.  If there are peanuts out there then there should be bass on them, and that would confirm the rumors of some possibly caught.  We didn't have any silver spoons and that may be what you need to hook into a striped bass in our surf right now.  Match the bait so to speak, we were throwing white swim shads and white BKDs on jig heads with a teaser fly.  That hasn't worked the last few days, I have managed to sneak way from the computer in the evenings and hit up the surf, if only for a half hour.  There hasn't been much activity aside from skates and dogs, and few people fishing here and there.  Also you have to be there when fish come by, that action could last ten minutes to an hour.  So you have to find a good spot and hope you picked one they come into, that is the hard part.  I could tell you there are striped bass in the surf, but not where consistently.  Best advice is to go fishing and see what happens.
The beach we usually fish in Dewey may be buried, but the structure is already coming back, though barren of life.  The peanut bunker was a good sign, but the rest of the life in that sand is buried.  At least farther south the structure is still there and into Delaware Seashore State Park.  Walking the town beaches and fishing this time of year is a great way to explore a new beach.  There are some very nice cuts on many of the swimming beaches.  Bethany beach has some killer structure.  The surf line in Rehoboth was buried as well, we will explore that next week.
Seabass has been the preferred catch for some of the boats out of Ocean City.  The Lewes charters are mostly going for tautog and doing very well.  The boats out of fisherman's wharf and the Katydid have been hitting some quality tautog.  Seabass season ends the thirty-first of December.  Everyone will concentrate on tautog then until we get into spring.  Winter fishing will be as usual, the yellow perch action will really pick up soon.  It already has in the Upper Chesapeake areas.   Winter flounder will be fun in a couple of months too.
Water temperatures are in the high thirties to low forties.  Masseys landing is fluctuating about four degrees between tides.  Inland bay fishing is very slow.  You won't know until you try.  It's raining right now on Christmas eve day and I think I might have to go get a little wet.  As my buddy Corby says, "This is freakin stripah weathah!"
Everyone have a Merry Christmas!
Fish On!
Rich King
COASTAL WATERS FROM CAPE MAY NJ TO CAPE HENLOPEN DE OUT 20 NM-
COASTAL WATERS FROM CAPE HENLOPEN TO FENWICK ISLAND DE OUT 20 NM-
940 AM EST SAT DEC 24 2016

...SMALL CRAFT ADVISORY IN EFFECT UNTIL 6 PM EST THIS EVENING...

.THIS AFTERNOON...SW WINDS 10 TO 15 KT WITH GUSTS UP TO 30 KT...
BECOMING W WITH GUSTS UP TO 20 KT LATE. SEAS 3 TO 5 FT. MAINLY IN
SE SWELL WITH A DOMINANT PERIOD OF 10 SECONDS.   RAIN LATE THIS
MORNING AND EARLY AFTERNOON...THEN A CHANCE OF RAIN LATE.
.TONIGHT...NW WINDS 5 TO 10 KT. SEAS 2 TO 3 FT. MAINLY IN SE
SWELL WITH A DOMINANT PERIOD OF 10 SECONDS.   A SLIGHT CHANCE OF
RAIN EARLY IN THE EVENING.
.SUN...N WINDS AROUND 10 KT. SEAS 2 TO 3 FT. MAINLY IN SE SWELL
WITH A DOMINANT PERIOD OF 7 SECONDS.
.SUN NIGHT...E WINDS AROUND 10 KT. SEAS 2 TO 3 FT. MAINLY IN SE
SWELL WITH A DOMINANT PERIOD OF 7 SECONDS.
.MON...E WINDS AROUND 10 KT...BECOMING SE IN THE AFTERNOON. SEAS
3 TO 4 FT.
.MON NIGHT...SW WINDS 15 TO 20 KT WITH GUSTS UP TO 30 KT. SEAS
3 TO 5 FT.