Fishing is Decent Put In The Time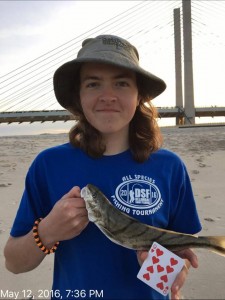 Northern kingfish are showing up in the surf on bloodworms.  A lot of them have been caught the last couple of days.  Big striped bass action has been okay and random as far as locations. Cape Henlopen saw some nice fish today.  The bluefish action at the pier has slowed down and some more flounder are being caught.  The pier will reopen on May 25th and the governor will be here to make the first cast.   Lot of white perch action in the Broadkill River.  Diamond Back turtles are starting to emerge from the ocean and head to the dunes to lay eggs.  Please keep an eye out for them crossing the roads.  I know the weather has been horrible but the fish don't seem to mind.   The Indian River inlet has been decent for some keeper striped bass action, but unless you actually move around and fish you are not going to catch.  That has been very random action and you have to put in the time.  There have been some decent bass catches int he Delaware Bay.  This is just a quick report to give you and idea of what is going on out there.   I'm in Florida hunting Lionfish, no that is not a joke.
Fresh Bait Friday … 
Fresh baits are available at all the shops.
everyone has bunker and bloodworms .
Dans and Ice House has surf clams … lewes harbor marina has chowder clams
Eels are available at Lewes Harbor Marina and Ricks
Minnows are at Ricks, Lewes harbor Marina and Bills
The oceanic pier has green crabs and live sand fleas. Old inlet also has live sand fleas.
Up north Port Penn and Smiths has bunker, night crawlers, and blood worms.
Have a safe weekend.
Fish On!!
Rich King