Please try entering https://graph.facebook.com/1090015984375357/photos?fields=source,link,name,images,album&limit=1000 into your URL bar and seeing if the page loads.
Please try entering https://graph.facebook.com/1090018017708487/photos?fields=source,link,name,images,album&limit=1000 into your URL bar and seeing if the page loads.
I recently took some trips to area Delaware State Parks and checked out some of the concessions.  I especially wanted to try the rail bikes up north in Yorklyn, DE.  I don't think people realize not only how many concessions the state parks have, but why they are businesses within the parks and not just run by the state itself. I contacted Greg Abbott, Manager, Administrative Services Delaware State Parks,  to get some information about why and how people can get concessions.  Something I have been working on for one of my own ventures.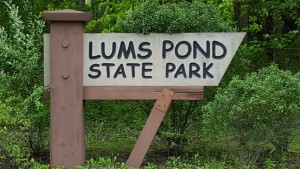 Greg Abbott … " As you well know, the Division is approximately 65% self-funded through revenue we generate. Therefore, the Division has taken a very entrepreneurial approach to managing the business operations within our state parks. A concessionaire is a privately owned, markets their business and provides goods and services to state park visitors while generating revenue to support the Division's self-funded business model.  These business ventures are simply an extension of Delaware State Parks and our staff. To that end, as part of the bid process, we make every effort to ensure the businesses have a strong focus on customer service and that is also included as performance measures in the rating criteria and in awarding the contracts. They are partners in every sense of the word.
The Division currently manages 20 separate concession agreements statewide that include the following services:
· Retail food concessions at Cape Henlopen (including Herring Point this year), Gordons Pond, Towers Ocean and Southeast Day Area at Delaware Seashore, Fenwick Island and Baynard Stadium in Wilmington State Parks.
· For the first time the food concession and retail shop at Killens Pond Water Park in 2016.
· Hammerheads Restaurant at Indian River Marina
· Bait & Tackle operations at Cape Henlopen Fishing Pier and Indian River Marina
· Head Boat Fishing Boat Operations at Indian River Marina
· Equestrian Centers at Bellevue and Lums Pond
· Go Ape High Ropes Aerial Adventure Course at Lums Pond State Park
· Non-motorized watercraft rental services at Fenwick Island and on a pilot basis at Trap Pond in 2016
· Two Golf Courses (Garrisons Lake in Smyrna and Deerfield in White Clay Creek State Park)
· Tennis Center at Bellevue
All of these business opportunities are publicly bid through a Request for Proposal (RFP) process. Anyone interested in being notified of business ventures in State Parks can sign up at the State's bid solicitation website: http://bids.delaware.gov/
The Division has the authority to award 25 year leases, although most are 5 – 10 years in duration. The contracts generally have a flat fee and a negotiated % of gross revenue payment to the Division.
The Division continues to evaluate and add services that enhance the visitors experience (i.e. surf fishing outfitter service in 2016)
Other services provided by private enterprise:
· 17 charter fishing vessels which operate out of the Indian River Marina.
· 23 agriculture leases on state park lands.
Go Ape 
I started my adventure at the Go Ape Ropes course at Lums Pond State Park in Bear , Delaware.  A bonus stop because I hear the fishing is decent there as well.  I arrived when the work crews show up in the morning.  I have to say I know how I felt on a Monday morning when I went to the nine to five grind.  Not these folks, everyone is cheerful and smiling, and not like "Chic Filet medicated employee smiling" these are genuine happy people.  Very excited for another day at work … on a Monday.  Once you realize why it makes perfect sense, these folks literally get paid to climb trees all day.  Going ape is part of the job and they love it.  I sign my waivers, am given a harness and signed in by Sal Sciarrino the site manager.  "Go Ape at Lums Pond is one of fifteen in the United States and is one of the busiest courses if not the busiest.  This one has been in operation for four seasons. We are working on a tree top adventure junior course for 2016 for children that do not meet the current size limit.  The current minimums are ten years of age, four feet seven inches, and two hundred and eighty five pounds.  The junior course is open to all ages and a height limit of three feet three inches."
The Zip line at Go Ape

I met Veronica Stepp our instructor for the day, she has been Going Ape for two years.  She definitely loves her job and takes it very serious.  You can tell she loves to climb, at the end of my Go Ape Adventure she was doing the course for the fun of it.  This is the part where I tell all of you I am scared to death of heights.  Like go up a six foot ladder and pucker up scared.  I didn't tell them, I wanted to check out this ropes course.  I used to do these in college, yes a long time ago.  Coincidentally it was my birthday too and there were five girls in our group.  So I couldn't chicken out, which is an option by the way.    We were given thorough instructions on how to use the harnesses and safety ropes.  You are always attached too a safety line and the instructors are near you at all times.  If you can't do the intro course they will work with you until you are confident enough to continue on the course.  "Many people think this is just a couple of zip lines and that is it, but it is so much more" Veronica Stepp  our instructor.  It takes two to three hours to complete the course including the training time.  You can take as long as you want, you have the optionto let people move past you if they are movng along the course faster.  it is a very fun, and exhilarating adventure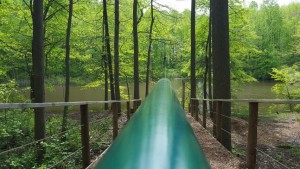 There are five stations, and as you progress things get a little higher up and a little more difficult.  You have options of intermediate to expert paths to follow in the trees.  Yes, that is right you are on belay while moving from tree to tree on a series of cables so you can't fall so long as you do as instructed.  That helped me with the whole fear of falling part, now just to get up the courage to jump off a tree tied to a rope.   There are paths of boards hung by ropes like large swings you walk across to get to the next platform.  These swings move, or wait for it … swing.  You have to walk across these or you can pull yourself across like a zip line.  There are many different paths you can take some are harder than others.  Each station ends with a zip line.  You will cross the water twice, and that is an exhilarating ride.  The last zip line is forty seven feet in the air and seven hundred feet long .
The ladies I completed the course with all had a great time.  Christie Zerbie … "This is my fourth time, and I do this all the time when I can, I love it"  Jocelyn Brown told me "This is my firs time but I can't wait to bring my husband back here he will love this."   Vickie Witt and Aileen Pierce said they had an amazing time.  "We had a blast and did this for Aileen's Birthday!"    At the end of the trip we all were given a card that said … Yes! Went Go Ape! #goapeusa  we can bring the card back for a free T shirt or water bottle.  I was impressed with Go Ape and would recommend you take the family you will ave a great time.  It is well worth the money and a great way to help build confidence in teams and groups.  I thanked everyone and headed off to my next adventure, if you plan it right you can go north and hit a few of these concessions in one day. My next stop was Yorklyn, DE.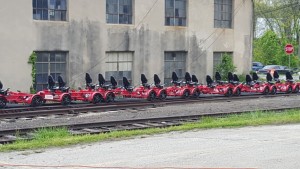 Rail Explorers USA Delaware Division
This year is the 50th anniversary of the Wilmington and Western Railroad, and the Rail Explorers USA company is here with their rail bikes giving tours of the old Wilmington line from Yorklyn to the Mt Cuba Picnic Grove.  This is a unique and fun way to see the Red Clay River Valley.  Explorers pedal these large double or quad seat carts along the railroad tracks. It is a six-mile round trip and the sites along the way are beautiful.  The trip lasts about an hour or so, with a twenty-minute layover at the turn around point at the Mt Cuba Picnic Grove, you can bring a snack or lunch.  It is also great exercise and for a fisherman, it offers a very interesting view of the Red Clay River Valley.  Explorers can't get off the bikes since the tracks are surrounded by private property, so don't bring a fishing rod.  The rail bikes are turned around by a lift at the Mt Cuba Picnic Grove for the trip back to Yorklyn.  If you want to try out this experience with the family or friends contact Rail Explorers USA  or call  302-601-0888, you will have a great time I promise.  The Rail Explorers are in Delaware until June 14th, the tours depart four times a day starting at 10:30 AM, Thursday through Sunday.  You really need to go check these out they are fun.
Riding the Rail Bikes with Rail Explorers USA

The Rail Explorers USA Delaware Division operates out of the state park NVF site which is near Auburn heights and will be a full state park in the future once the area is rehabilitated.  This is a pilot program with hopes of a permanent location in the future at Auburn Heights.  Delaware State Parks plans to open a visitors center to serve as a hub for the miles of trails in the area connecting Kennett Township, Pennsylvania, to Hockessin, and the Auburn Heights Preserve to the Ashland Nature Center.  Eventually to parks beyond the area.  National Vulcanized Fiber (NVF) is the old company that owned the plants.  Delaware State Parks are working with private partners to clean up and rehabilitate the site and historic buildings.  Residents in the area are very happy to see this old industrial area finally being cleaned up.  You can see the renovations starting in the form of a nice paver entrance in the style of the old cobblestone roads.
I took one of the rail bike tours the other day and it was very cool. The pedaling is not as hard as I thought.  The carts  are heavy (650 pounds) so it seems like you couldn't move them easily, but they glide right along, making the same clickety clack sound a train makes just slower.  The ride was fun and very scenic along the Red Clay River.  There are old dams, weigh stations, and foundations to old buildings.  We rode through the cut stone cliffs made a long time ago for the train tracks.  We crossed the famous 'S-Trestle'bridge and we saw a den of fox kits on the side of a hill.  The ride to the picnic grove was fast and for the most part down hill.  I kept thinking this is going to be some work on the way back.  I was surprised to find that we pedaled about the same there and back.  Anyone can pedal these cars, and a group of four can cover some tracks.  Alex Catchpoole told me the fastest speed they have managed in the Adirondacks is twenty miles per hour.
I spoke with Alex Catchpoole and Mary Joy Lu the owners of this unique business.  "We opened Rail Explorers up in Saranac Lake NY in July of 2015, with a skeleton crew thinking it would just start-up slow.  That year we were open for one hundred and twenty days and we had fourteen thousand riders.  We sold out the first two weeks in days after opening.  We had no idea this would become so popular.  This wasn't just an overnight business, Mary Joy found these bike online in Korea and started making inquires to find locations. The hard part is finding tracks that are not in-service or only at certain times. Then you need access to these areas and to make modifications.  It was a work in progress for four years.  We also had to learn how to run a railroad and a tourism company."  
Combined the rail bikes can accommodate forty people with four trips a day.  They are working on modifying a few bikes to accommodate the handicapped, and even a wheelchair accessible cart.  "We are also looking at hand cranks for people with bad knees, things like that, so everyone can enjoy the experience.  We have a five point harness system for children.  Safety is our number one concern."  This Mother's Day weekend the seats were sold out in Delaware.  Everyone who was on the tour with me thought it was awesome and were planning to come back.  "We really enjoyed this I am going to bring the kids back here, and my husband."  A few people have done it a couple of times already and like coming back.  "It is a fun ride and I get to explore nature without getting out of my seat."  and "It is very peaceful riding the rails,exploring the old rail lines,while getting some great exercise."
If you have a chance get up north and ride the rail bikes with Rail Explorers USA, you will not be disappointed.  Remember they will only be here until June 14th, tell them DSF sent ya.  You schedule it right you can do Go Ape in the morning and take an afternoon tour of the Red Clay River Valley.  Go Ape also has a discount good until the end of May ask for it in the office.
Fish On!!
Rich King
Go Ape at Lums Pond State Park
Facebook API came back with a faulty result. You may be accessing an album you do not have permissions to access.
Rail Explorers USA
Facebook API came back with a faulty result. You may be accessing an album you do not have permissions to access.