"Cards For Guards" Was A Huge Success
Gift Card Drive For The United States Coast Guard Indian River And Lewes Stations
THANK YOU, everyone who came out last night and are still trying to donate today. The response to the gift card drive for the Coast Guard was amazing. Last night over 225 people dropped by Crooked Hammock and Easy Speak. I had no idea the response this would get and it has been humbling. There was a line at Crooked Hammock for over three hours. Gift cards came in envelopes with thank you cards and personal messages, lots of them. I am still blown away and have been all day. ALL OF YOU MADE THIS HAPPEN!! Thank You!!!!!
Yes we came up with a catchy name last night .. "Cards For Guards" … leave it to my crazy friends. "You didn't come up with a catchy name?" … "ummm. no this kind of blew up quick." Then the suggestions started rolling in and there ya have it.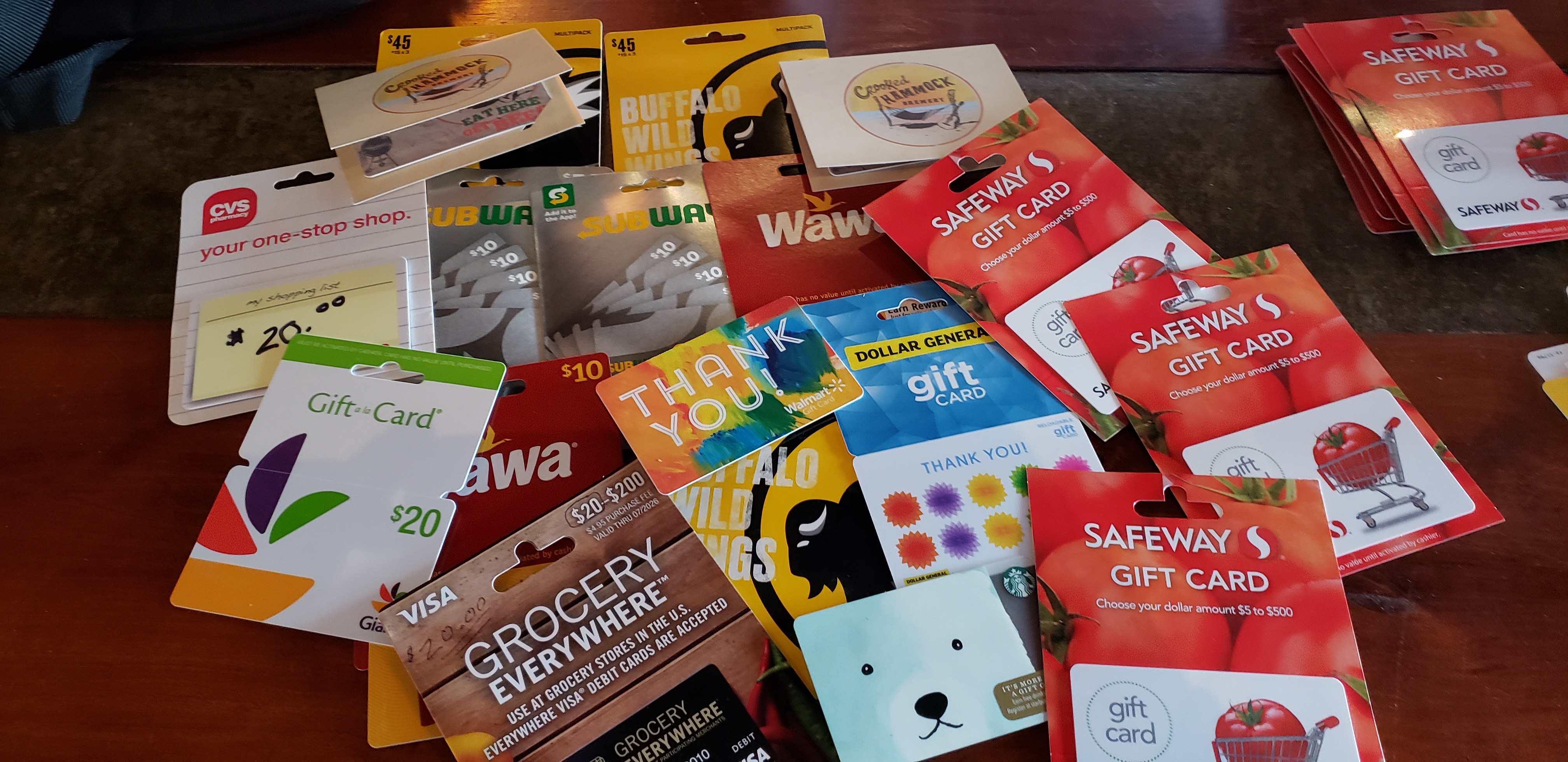 We dropped off $14,570.00 in gift cards today at the United States Coast Guard Indian River Station. It was family day at the station, kids were running around the cafeteria and having a blast. Not a care in the world, just having fun. There is a ton of food stacked up on a table in the corner, that has been donated. A desk in the chief's office is covered with gift cards. The crews are wearing ear to ear smiles. The community out reach has been amazing and you can see it on their faces. People have been dropping off gift cards all morning at the station. When I left a woman was parked out front handing a Coast Guardsman gift cards and thanking him.
I didn't take any pictures or ask for any quotes. it isn't allowed, it would look like solicitation. We had to jump through a few legal hops to do this drive to follow protocol. The USCG is not allowed to really talk about this except to the point of saying, thank you. For anything else you have to contact the PR folks at sector.
I know they appreciate what was and is being done for them, not just here but all over the country. It just takes that one look, which speaks louder than words. Ever sneak your niece or nephew that cookie when their mom said no? That look on that kid's face is what I saw today. Grateful on so many levels, and they are dying to scream thank you, but can not and have to keep it by the book. You're welcome Chief and crews, anytime.
I was asked what was our intention for the cards. I told Chief Holcomb, "I had no idea we would raise this much in gift cards. If there are folks at other stations that need help feel free to spread the love. We want some to go to the crew at Lewes Station that needs anything. Do what you can do to help from there" Some of these cards will go to other stations in the sector to help other stations and crews. I know everyone will want that to happen, we did this to help locally at first, but the fact we raised so much allows that help to be spread around. We aren't finished yet either. The VFW in Ocean View saw the drive and set up for donating cards. Those will be delivered Monday and we have yet to get a total count. They have around a 150 members I am told. People are still contacting us to donate. We will see what we can do about that as soon as possible. Others are mailing their cards to the station directly, or dropping them off.
I want to thank everyone that donated, and I will not publish the 20 pages of names and numbers. Many wanted to make sure it was kept private. It will be, the list was given to the station so they know who helped, and per their protocol. However I am going to thank the following …
First and foremost I want to thank the young ladies of Girl Scout Troop 858, they donated a lot of cards. Tanya Sykes … "Girl Scout Troop 858 has a number of girls who know what it feels like to need assistance and so they try to give back whenever possible. When one of the girls suggested helping those that help protect us the rest of the troop agreed wholeheartedly, especially when I asked them how they wanted to spend some of their left over cookie money from last year. In the past, we've done food drives and put together Christmas Child gift boxes. This year's sale has just started and we're already planning how to help the community next. "
What these young ladies did was inspirational. When Tanya came in she had a fist full of cards. She said, "The girls are on their way, they want a photo of themselves giving you these cards." How could you say no to that. Help these kids when you get a chance. I'm getting a case of mint cookies, because I have an addiction to those things, and now a better excuse than I just have to have them.
Girl Scout Troop 858 cookie sale
February 2nd … Georgetown Walmart 9 am to 5 pm
February 3rd … Long Neck Ace Hardware 10 to 4 pm and the Millsboro Bowling alley 1 to 5 pm

Huge thanks to Crooked Hammock for allowing us to use their community table and donating … ($12,720 in gift cards collected)
Easy Speak Spirits for collecting in Milford and donating ($1,850 collected there)
Many businesses and organizations stepped up and helped. Employees were sent to deliver cards.
Saltwater Fly Anglers Of Delaware
Montauk Surfcasters
Wharf Rats Boaters Club
Commercial Watermen
Boat and Charter Captains
Retired Coasties, a lot of them
Fins
Pat's Pizza
Meineke
Irish Eyes
A few Coast Guard moms … "My boys are stationed on the west coast, I came in to help my kids. They are all my kids" I said Semper Paratus Ma'am, she smiled said thank you for doing this it means a great deal to them, more than you know.
The crew at the Beach Plum Dunes
I hope I didn't miss anyone, it was an overwhelming five hours.
There were many anonymous donations and probably more in the box than accounted for, because people were walking by the table and tossing cards in the box on their way to sit and eat.   We were a tad busy for four hours with a line at the table for over three hours.

THANK YOU ALL … I am truly humbled by the outreach in this community.  I never expected the reaction we would get.  My faith in humanity has been restored.

Fish On!
Rich King