Brandywine Zoo to open March 7
Brandywine Zoo to open March 7 featuring Star Wars "invasion" and new Tamarin exhibit
WILMINGTON (Feb. 24, 2015) – The Brandywine Zoo, which opens for the spring season on  Saturday, March 7, will welcome Darth Vader, Luke Skywalker and other Star Wars characters from the popular science fiction adventure movies (on March 7) for a two-part event for Star Wars fans: "Breakfast with the Empire" and Star Wars Day – including the popular public photo event from noon until 3p.m.
Last year, most visitors came to the zoo dressed in character costumes and took photos with the dedicated Star Wars performers from the 501st Legion's Garrison Carida and Rebel Legion's Ghost Base– worldwide Star Wars costuming organizations officially recognized by Lucas Films Limited.
"Breakfast with the Empire," which sold out last year, is exclusively for pre-registered guests. It offers an excellent opportunity for guests to bring their own cameras, meet the characters and take photos. The fee is $20 per person and pre-payment is required. Registration forms are available until March 4 at:www.brandywinezoo.org  "Breakfast with the Empire," will be held from 8:30 – 9:45 a.m. in the zoo's education building across from the main zoo entrance. At noon, the Star Wars characters will "invade" the zoo to mingle with visitors for fun and pictures.
The Brandywine Zoo will officially open at 10 a.m. as usual. General admission will be charged and voluntary contributions for photography with the characters will be appreciated, and contributed to the Delaware Zoological Society, the not-profit volunteer organization that supports the mission of the Brandywine Zoo.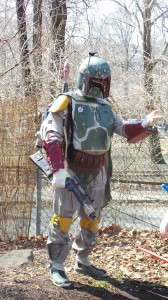 Throughout the opening weekend the zoo will also provide fun and exciting animal encounters and supervised craft tables for young visitors. For example, the new Tamarin exhibit will make its debut on March 7. It is home to Golden Lion Tamarins, an endangered species only found in the disappearing forests of Brazil. These small monkeys will be out opening weekend and following days – weather permitting.
The new exhibit replaces the Monkey House that was destroyed by a fallen tree in 2013. That building has been condemned and will be demolished soon. No animals were harmed in that event – most of the small monkeys were relocated to other zoos.
The Brandywine Zoo is also home to a Siberian tiger and exotic small cats, red panda sisters, otter brothers, eagles, a condor pair, a family of llamas, and many other animals, reptiles and birds.
Brandywine Zoo admission for Spring Opening Weekend and through April 30 is: $3.00 for children ages 3 through17; free for children under three years old; $5.00 for adults ages 18-61; and $4.00 for seniors ages 62 and older.
Members (with cards) are not charged for general admission and receive many perks, including discounts to education programs, free member-only special events, advance reservations for events, guest passes, discounts for shopping in Zootique, Zoo News magazine, and reciprocal admission to more than 200 zoos across the U.S. Individual membership is $40 and household membership is $60 (for two named adults and four individuals under age 18). See details on the website or call 302-571-7747.
The Brandywine Zoo is an accredited member of the American Association of Zoos and Aquariums, a distinction that marks its commitment to providing excellent care for animals, a great experience for the visitors and a better future for all living things.
Brandywine Zoo is managed by the Delaware Division of Parks and Recreation and supported by the Delaware Zoological Society, a dedicated, non-profit, volunteer organization. The zoo is located at 1001 North Park Drive in Wilmington and is open every day of the year, 10 a.m. to 4 p.m. Parking is free.