Will October be Rocktober?
It has been a fun few days fishing in Delaware waters. We have a plethora of baitfish in all of our waterways.  You could literally walk on water in some areas the bait fish are so thick.  Everything is feeding like crazy, even the birds are going crazy.  The water temperatures have dropped dramatically the past week.  Masseys landing and the inland bays has dropped about ten degrees in seven days.  The ditch was fluctuating from eighty degrees at low tide to seventy-six degrees at high tide.  The temperature a couple of days ago was as low as seventy degrees at high tide and seventy-two and a half degrees at high tide.  Today the temperatures are fluctuating from seventy-six to seventy-four degrees in the ditch.   The Delaware River and upper bay has dropped six degrees this week.  Last week Delaware City was topping out at eighty-two degrees and today it is seventy-six degrees.  The Lewes area is about seventy-three degrees. Sea Surface temperature at Buoy #44009 (26 NM Southeast of Cape May, NJ) is seventy-two point six degrees.  The fish are reacting to this sudden drop in temperature.
The striped bass are starting to feed heavily and school in the upper Delaware bay from Port Penn to Woodland Beach.  The amount of baitfish up there is just as heavy in Susssex county.  There are spearing, bunker,and mullet all over the waterways and shorelines.  Friends of mine have been blasting short striped bass and some keepers in the early predawn and after dusk hours.  We are seeing more striped bass catches around the inland bays.  I think the sudden drop in temperature and the massive amount of bait fish has triggered the fish to start feeding for a long trip.  It would be nice to see October become Rocktober again like back in the day.  The last several years it seems the run starts later and later.  If we have an earlier run, then we could see a decent amount of fish near our shores since we have so much food here for them to eat.  The tropicals we have in our waters this year are in huge numbers, they certainly add to the food fish for predators.  Will the run start earlier this year?  I honestly have no idea, but if conditions continue in the direction they are headed we could see an earlier run, than we have had in the past.  We will have to wait and see, in the mean time you can have some fun catching schooling bass.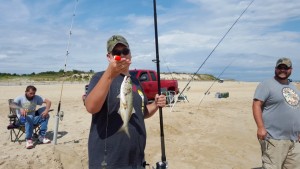 Bluefish are all over the beaches and the inland bays.  If you can't get into the bluefish you aren't fishing for them.  The surf has been hot with mullet rigs or chunk mullet.   I have been wearing out the hooks catching blues on my Diamond State Custom Tackle top and bottom rigs and mullet rigs.  There are still some big blues showing up at the Indian River Inlet during the outgoing tide, but it doesn't last long.  "You should have been here fifteen minutes ago" is the catch phrase of the week.  The blues in the surf are averaging eight to sixteen inches, but there have been a few larger ones pulled.  If you are surf fishing this weekend, keep in mind that the Fall Surf Fishing Classic will be in Fenwick Island State Park to Delaware Seashore State Park.  Not that you can't fish those beaches, but there will be a lot of people fishing there.  You will have less competition at Cape Henlopen and Beach plum Island State parks.  The tournament this weekend is going to be a madhouse of catching if everything continues like the past few days.   Clark Evans told me yesterday they are adding judges for the tournament and he and Butch will be on call if needed.  Also you can sign up for the tournament on Saturday from 5:30 until 7 AM if you can't sign up ahead of time.  The bluefish the boys were catching at Cape Henlopen last Sunday were a beautiful bright blue green color, and feisty.  We should have a good weekend for fishing the tournament.  The weather is going to be beautiful, nice crisp cool mornings.  The winds will be out of the South East at five to ten knots with two foot seas at nine seconds.  Sunday the winds will pick up a little and  the seas could go up to three feet.  Make sure you have a variety of weight to hold bottom.  Low tide will be at seven thirty or so on Saturday morning at Indian River inlet and high tide is around one thirty.  We will be fishing the incoming all morning.
Flounder action is still hot for the off shore charters on the wrecks and reef sites.  The Indian River Inlet gave up some big flounder over the last few days on minnows or bucktails.  One fish weighed in at ten pounds.  Nice to see some big flatties finally coming from that area.  The inland bays are still good for flounder catches, but until recently have been mostly shorts.  The surf has produced some flounder and the Henlopen fishing pier.  The flounder are feeding heavy and getting ready for that move into the ocean for the winter.  We see them hitting stretch 25's during the striped bass run all the way into December.  Again, when the water temperatures drop will govern when they decide to move.  That could be early this year as well, last few years we have seen big flounder hitting stretch twenty fives during the striped bass migration into December.
There are still plenty of croaker, kingfish, spot and the usual suspects to catch in the surf, bays, and at the pier.  Lewes canal has been hot for big croaker and many of the tidal waterways up the coast.  fishbites bloodworm formula, squid, and real bloodworms have been the best baits.  Some weakfish are being caught, but are small.  The boys are back in town with the Weakfish Tagging Project.  If anyone has been catching decent sized weakfish it would be a great help to these guys if they could get some tags in these fish.  Red fish are showing up at Broadkill Beach and even farther north in New Jersey.  There have been some large ones caught this past week.  Clam is the best baits for them but they have been hitting cut mullet in the surf around here.  Mostly because that is what everyone is fishing with, using clam could increase that bite.  Nice to see red fish (red drum) coming back in our area, back in the hey day of fishing they were here in huge populations. There is a lot of puppy drum (black drum) off the Delaware Bay beaches and in the surf on the ocean beaches.
The birds are working hard and heavy about a quarter mile offshore of the beaches.  Mostly they are following bluefish feeding on bait fish. However some boys have been hooking into false albacore and I heard one was landed on a beach the other day.  Last year about this time there were a bunch of them near the outer wall off Cape Henlopen.  I have always wanted to catch an albie from the surf.  The surf casters in New York and Jersey have been hooking into albies from jetties and the surf.  I heard a few were hit near Cape May from the shore as well.  Keep a metal like a Hopkins or a Deadly Dick on hand and ready to rock and roll if you see birds feeding aggressively over boiling water.   Apparently the albie caught on our beach was caught on a Deadly Dick.  You just never know what is going to show up in those schools of fish feeding near the coast.  Everyone have a great weekend and good luck in the tournament.  We will see you out there.
Fish On!!
Rich King