If you don't know by now the launch yesterday was scrubbed. I've had this happen a few times. It happens. If you are upset it was aborted imagine how the people who spent a year putting this together feel. As much as we hated the abort announcement while standing in the media field there is a silver lining.
We had remote cameras set up at the pad, as close as one hundred and fifty yards of the Antares launch pad area. Regular single shot cameras rigged with sound triggers, set for burst shots. But we also had a Go Pro set up with a big battery pack. We didn't get any launch shots obviously, but Cody Croswell managed to catch the Antares being raised up into place.
Two to three launches ago NASA started a new procedure. They took one of those airport gangway apparatuses. You know that hallway passengers walk along to get onto an airplane from the terminal? NASA took one and modified it so they could load the Cygnus spacecraft at the last possible minute. It is in place in the picture at the front or top of the Antares.
This allows NASA to wait to load sensitive cargo such as fruits and vegetables. As well as sensitive experiments that require temperature control or those live mice they shot up into space a year ago. I keep forgetting to ask about the mice, I saw that movie. Didn't work out too well for the astronauts.
Saturday at noon we set our remote cameras. Mike Givens had two regular cameras to place, and Cody Croswell had the one. Cody also had the Go Pro. Two days of last minute planning went into these set ups. Mike is still using the "trash" bag for a camera cover and Cody followed suit with a camera bag cover. We set everything up and went home to return the next day for the launch. "I'm not going to sleep a wink tonight wondering about that camera" … Cody Croswell.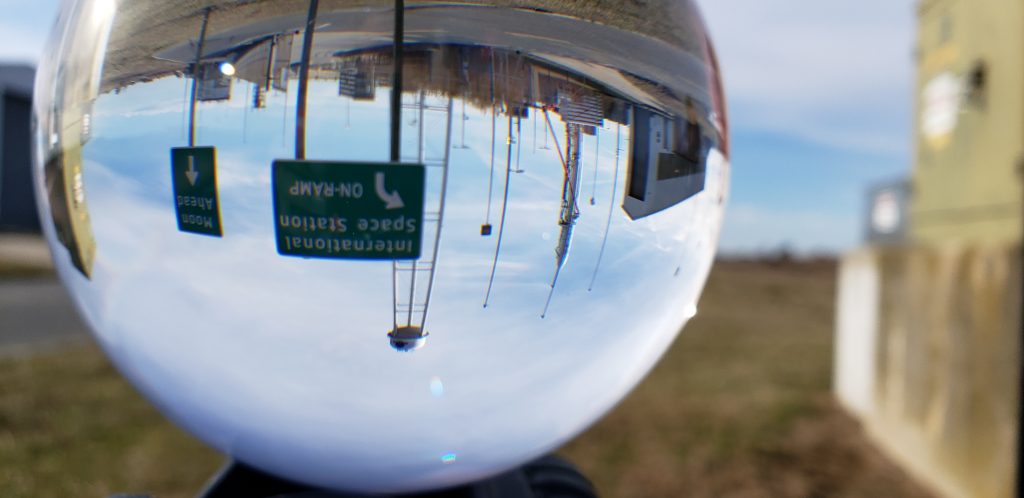 This was Cody's first launch and to say he was beyond excited would not even be close. If you asked him his name when he was trying to set up this camera, he couldn't have told you. I don't know what was more fun for me, being at the pad for the umpteenth time, or watching Cody freak out because he was at NASA. It never gets old I told him, you will get used to it.
No he won't, because none of us do, but the first time is the best. Long story short we get everything set, and now we wait, and wait, and wait.
Antares at sunrise

Antares at sunrise

Antares at sunrise from t he ferry landing

Antares at sunrise
Fast forward to the next day we want sunrise shots of the Antares. We were told it would be raised up at three in the morning. NASA lifted her up at midnight. We are looking at the Antares vertical on the pad, sun rising in the background, drone flying the edge of the restricted zone. All of that going on and all we can think of … will the cameras at the pad work.
Everything we are doing now we can control, those we can not. After sunrise shots and drone video we have many hours to kill. I head the truck towards Assateague to pick up my yearly OSV sticker and decompress on a beach. Let's hear it for not having to fish to enjoy the drive on beach!
We head back to NASA to load the bus for the media viewing area. Almost everyone in the media and space groups have set remote cameras. We are all talking about our setups and listening to horror stories about dead batteries, bad triggers etc. Cody is beside himself with anticipation and worry. "Dude there is nothing you can do about it now, just wait and see". I have literally said this for the fiftieth time. It has also not gotten old yet, not even a little bit. In fact it is entertaining. Cody is excited the way we all were at our first time at NASA. Kids in a candy store. Even the rocket scientists will tool with you when they find out it is your first time there while on a tour. That is hilarious, and what happens in the integration facility, stays in the integration facility.
We unload the from the buses, and a hundred nerds loaded with camera gear worth hundreds of thousands of dollars, descend on the marsh field. Everyone is polite, no one wants to run, but we all want to get as close as possible. After attending many of these everyone gets to know each other. We are there for a solid two hours before the scheduled launch. So of course we all have some fun with each other. At one point an eagle flew by, we are ripping pictures like nuts. Yelling there is an eagle, most of the folks missed it. A crow flies by, "hey there's another eagle!" EVERYONE takes pictures, we are just laughing. The actual eagle flew by a couple of times, we announced that too. Canadian geese are rising up from the marshes to head inland to roost for the night. Us Delmarva boys are making all kinds of jokes about flying jerky and waiting for a shotgun to go off.
It starts to get cold as the sun drops. I'm head to toe in my Helly Hansen gear. Bibs, boots, underlayers, inner jackets and outer shells. The rest of the crew is geared up for cold. Hunter Outten looks like a highlighter in neon yellow. Everyone looked at us funny on the bus, and not because of Hunter's excellent fake Russian accent.
Now they look like they wish they had all this gear on, it is chillier. We are thirty minutes from the countdown and launch time.
Fast forward to ten minutes out and we are giddy and excited. The smack talking hasn't stopped for over an hour. Hundreds of pictures and videos have been taken for two days. We are still talking about the launch pad camera gear, hoping it works, knowing it probably won't, but still hoping. NASA starts the first countdown, but it has been delayed already. Now we are in a countdown reset, then a delay. Now we are starting again, two minutes out, under a minute and a half … Abort, abort, abort. A groan from the crowd. One of the first timers says what does that mean … "We get back on the buses and go home."
Now for most of the people they are are all headed back home, or where ever they are staying. We however have a lot of expensive gear at the pad and the batteries are nearly dead. "We can take you out in about five hours, the crews have to "defuel" or "degas" the Anatares. It can't sit there all night with all that fuel ready to go, they have to take it all out. After a while we are given the options of going out later that night or at nine in the morning. I opt for the next morning. I have been up for twenty one hours. We are also told the next launch attempt will be on Thursday and we can reset gear on Wednesday. Going home to sleep is the best looking option. We also don't want to keep the boys up all night shuttling people out, they have had an even longer day, and week.
We arrive at nine Monday morning load up and head out to the launch pad. Well rested and giddy. Not much confidence in the actual cameras we set, but hoping for a Go Pro video of the rocket being raised up. Maybe pictures from when the gas was emptied from the ignition. We grab our gear and any that belong to those that couldn't make it back. Now the bonus of all of this is we get to try again, reset the cameras, fix the issue. We also get shots of the Antares vertical on the pad, something we haven't gotten in a while. You are so close you could hit it with a rock.
It is always sideways when we set remotes now. We watched some work crews on a boom lift work on the Antares. I told one of the techs … in Sussex county we just get a bigger hammer when something doesn't work the first time. The boys all laughed, you could feel the tension in the air. No one likes to do that much work, just to do it all over again. The joke … it is okay we aren't building piano comes to mind, but in this case they are launching a rocket, precision is key. Good Luck Thursday gentlemen!
Cody checks the Go Pro after we get back on the bus. A killer video of the pad action in hyper-lapse. He set the Go Pro to take pictures every five seconds for forty-eight hours or until the battery dies. We see the rocket raise up and the camera cuts, the battery just made it. We wouldn't have gotten the launch on the Go Pro, we need a bigger battery pack. The cameras' issue we know what to change. Next chance to set remotes is Wednesday and we know what to do. Making lemonade out of lemons! However nothing is guaranteed to work, a million things can go wrong with gear. I mean even a bird could poop on a lens, they are nice perches.
I want to thank the crew at the NASA Wallops Flight Facility for the opportunities. These folks are amazing allowing us to set up remote cameras and having the patience to let us do this over and over until the launch happens. They are great people to work with and very accommodating.
I feel their pain on a scrubbed launch, but in this case it is a blessing for our gear to get it working right. Now let's kick the tires and light this candle on Thursday!

Fish On!
Rich King
Antares time lapse raised up on the pad