Surfs up you crazy, cool cats and kittens!
(August 20, 2021) … By the way Henri is pronounced Hun-Ree, yeah I don't know or care why either. Let's get name fancy as we pummel the coast a bit. The tide is at max high or flood right now (8:25 PM). The beach in rehoboth is flooded to the dunes a bit, and the swales are full. It isn't bad now, but it will get worse each high tide. The storm tourists will love these conditions. Be careful if you have never experienced a storm at the beach. Conditions change fast.
The north beach and coin beach in DSSP swales are full of water. This is the beginning of the storm swell, expect this to increase and last into late Sunday morning. Henri is still south of us off the Carolinas. Check out Surf Captain for wave heights.
I would expect parks to close the drive on beaches possibly Saturday afternoon into Sunday for sure. Not a good idea to have open drive on beaches with people who are not used to these conditions. We aren't even crazy enough tot attempt that drive. But there is always that one guy, and cars. The worst of the storm surge swells will be late Saturday into Sunday morning. If you are on the beach during the incoming tide watch the water swales fill fast and can trap your vehicle or worse..
Walking on and surf fishing is just fine. Check NOAA's Tropical Storm Henri Quick look for real time tides. Click on the blue buoy pins. Early morning and evening high tides will be the worst conditions. As will the mid incoming tide times. The swales will fill DO NOT drive through the swales (tide pools). Even the wet looking swales can be soft wet sand that a vehicle will sink into fast.
Surf fishing these conditions is possible, but it is tricky. Fish the wash in front of the crushing waves. You aren't holding bottom, hold your rod. Watch your back for floating debris washing up and moving fast in wave wash along the beach. DO NOT wear waders, if you're surf fishing get wet, wear shoes. Nothing like a full set of waders after you get toppled, to pull you into a rip current like a drift anchor. Be safe and smart if you hit the beaches.
Check the NOAA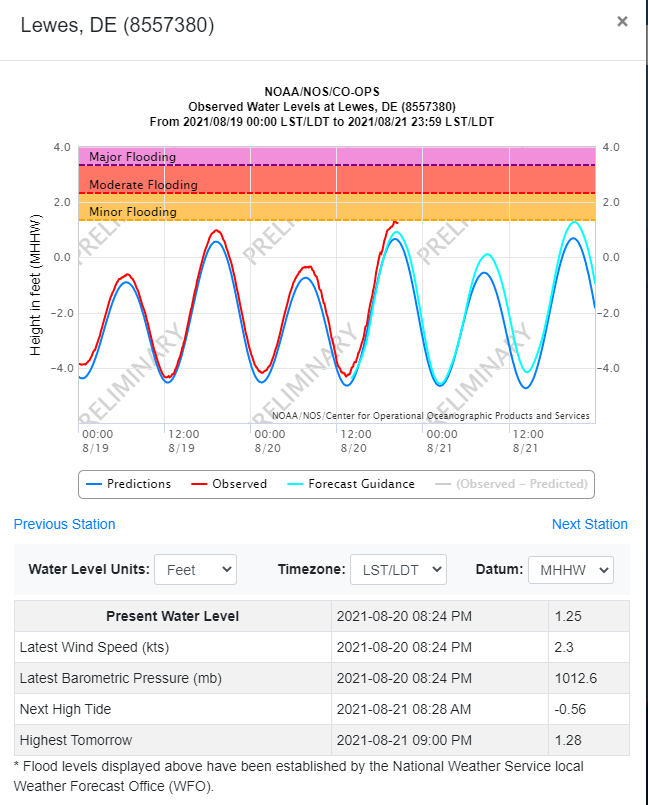 Indian River Inlet tides …
| | | | | |
| --- | --- | --- | --- | --- |
| 2021/08/20 | Fri | 01:15 AM | 0.30 | L |
| 2021/08/20 | Fri | 07:30 AM | 2.52 | H |
| 2021/08/20 | Fri | 1:01 PM | 0.02 | L |
| 2021/08/20 | Fri | 8:13 PM | 3.48 | H |
| 2021/08/21 | Sat | 02:06 AM | 0.19 | L |
| 2021/08/21 | Sat | 08:24 AM | 2.63 | H |
| 2021/08/21 | Sat | 1:55 PM | -0.06 | L |
| 2021/08/21 | Sat | 9:01 PM | 3.48 | H |
| 2021/08/22 | Sun | 02:52 AM | 0.11 | L |
| 2021/08/22 | Sun | 09:13 AM | 2.72 | H |
| 2021/08/22 | Sun | 2:46 PM | -0.09 | L |
| 2021/08/22 | Sun | 9:45 PM | 3.41 | H |