The Stripers are Coming, The Stripers Are Coming, Get Your Dollars
Please try entering https://graph.facebook.com/978082962235327/photos?fields=source,link,name,images,album&limit=1000 into your URL bar and seeing if the page loads.
The last couple of days have been fun fishing the surf.  There are lots of small blues out there and as annoying as they can be, they are still fun to catch.  Use an ultralight setup with small silver spoons and it will be ten times the fun.  Yanking them in with a twelve foot surf rod is rather boring I will admit, and burns up some bait fast.  There are a lot of short striped bass in most of the cuts feeding on sand fleas.  They are also feeding on spearing and the dolphins are feeding on everything out there.  We had quite a sea world show yesterday while fishing Dewey Beach.  Yes parking and walking on in the town beaches can make for some fun fishing.  Grab that rod, whatever gear you think you will need and start walking the cuts.  Casting the cuts as you walk up and down the beach will produce fish on all the beaches, not to mention the exercise you get.  Mullet rigs are working well on bluefish, unfortunately no one has fresh mullet.  Bunker chunks will start working as soon as big fish show up and once shops start stocking fresh bunker, contact our local shops to see what they have in stock.  We have been using small pieces of bluefish.  Just catch one and fillet it then cut that into small pieces of cut bait for top and bottom rigs.  I have been using silver spoons, and small plugs for bluefish.  Small swim shads are working well for striped bass in the surf and the inland bays.  Two ounce bucktails with or without soft plastics are doing well, and the boys at the Indian River inlet have been doing well with sand fleas for striped bass as well as soft plastics on bucktails and swim shads.   The best fishing for striped bass has been late evening into the night.  Which thanks to daylight savings time happens real fast now.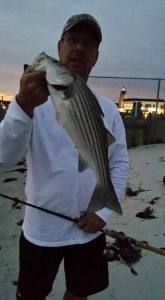 Most asked question this week …When are stripers gonna get here? … best answer … When they show up.  I know no one wants to hear that but it is too early to tell (or they are here and no one has caught one).  The inland bays are on fire for shorts at night and early evening.  I did see an article toady about a kid who caught a 55.7 pound striped bass off Cape May, NJ, this past Saturday trolling  stretches.  That is not too far away, just across the Delaware Bay.  There are a few more large fish showing up near Atlantic City, but this is just the very beginning of the fall run.  These folks had to put in some serious time to get that catch (8 hours).  Putting in the time will produce fish most of the time, you can't give up and have to keep going for it.  Some days no matter what you do or try the skunk is on, and others you are rewarded.  That is why it is called fishing , and not catching.  If you want a guaranteed catch, go to the local seafood shack, catch it by the pound, burn the gear, and get a new hobby.  For the most part the large schools of the migration are still north in Raritan bay near Long Beach Island, but bass are showing up as far south as Cape May.  We do have some migratory bass in our waters  because some sea lice have been seen on some of the bass caught.  Patience, it is has hardly started, they will be here soon enough.  The other factor, will they come to shore or just swim on by?  We will all have to wait and see, and you can always hit up a local charter boat and take a ride to them.  Figure mid November to Thanksgiving will be the prime time for Delaware.  Regardless of when they do move, they have to swim by Delaware to go south, so there is that.
Tautog has been hot fishing the walls, haystacks, wrecks, and reef sites in the Delaware Bay.  Indian River Inlet has been decent tautog fishing but a lot of shorts.  I was asked this the other day and we were discussing it on the beach yesterday, has anyone ever caught tautog at the Roosevelt Inlet?  Going to have to try and figure that one out, you would think they are there since they show up at Masseys Landing and the structure of the walls is not far away.  Green crabs are in all stores, as are sand fleas and even Asian Box crabs.  The Delaware Jet ski guys have been having fun hitting the walls the last couple of days.  It has been much calmer out there.  The sea bass action has been hot for all of the charters with some flounder and bluefish in the mix.  Some flounder are even showing up in the surf and the Lewes Canal has produced a few flatties according to Joe at Lewes Harbor Marina.  There is still a decent amount of shad and bluefish at the Indian River Inlet, hopefully they help bring the big striped bass closer to shore.  I heard the offshore action has been okay for mako, swordfish, and some tuna.
The beaches are getting better.  The structure is starting to reform.  The front trough is getting wider and deeper, and the sand bars are still close, which makes casting to the back side where the fish are easier.  The cuts are redefined and the swales are not filling in with water as bad. Cape Henlopen has more swales at the northern beaches up to the point. Herring point to Gordons pond is not as bad.  The point weathered the nor'easter rather well it is much flatter but seems to have held up well.  The water up there today was crystal clear and at Gordon's Pond it was crystal to at least three feet deep.  There are still sand fleas, but are hard to catch from all the stones in the surf edge.  The beaches are no problem to drive but still be wary at high tide of water coming up farther than usual.  The southern beaches are getting better as well, but are still a little carved up.  Dewey Beach is missing a lot of dune face, but apparently they are scheduled for a replenishment this year I believe.  If the beaches were left alone I bet they would come back just fine on their own over time.  The beach there is flattened out and the swales are gone, which makes walking on much easier.  Key Box to Faithful steward is shaping up better, and 3Rs is not as bad as it was after the storm.  Just keep the high tide water in mind when you are out there.  Temperatures have been averaging sixty degrees in the surf.  Mitch King was barefoot all day yesterday and spent a good hour last night with a blow dryer trying to warm his feet up.  We have been calling him Frodo for two days.  I have seen a lot of people barefoot during this Indian Summer, just remember it gets cool fast and you will take longer to warm back up, and we only have so many blow dryers.
Fish On!!
Rich King
Facebook API came back with a faulty result. You may be accessing an album you do not have permissions to access.