The Hydro Hostel A New Way To Stay On The Bay
Some of you may have seen this "boat" cruising around the Indian River Bay  the past several weeks.  We put up a picture of it on our Facebook page and it went viral, so I had to go find out about this craft, because everyone was asking.   It is a normal pontoon boat but it has a bit of an addition on it to say the least.  Sean Cummings and a friend of his, Mike Carroll, came up with this idea many months ago.  "Let's take a pontoon boat and build it into something."
"We have all seen the pictures online of campers on pontoon boats this followed along that theme."  said Zoe Welsh .  They used as much material as they could salvage from jobs between the two companies, Miken Builders and Better Living Patio & Sunrooms.
Sean's dad Mike Cumming's the owner, let them use as much material as possible to help with this creation.  "We scavenged what we could from Dad's companies, and repurposed as much as possible.  The front door is actually a window unit.  The curved window up top in the bed area just happened to fit perfectly.  Like it was meant to be there.  These side windows are just old sliding glass doors I repurposed into large bay windows."  
It certainly has a view of the bay that most people just assume or take for granted.  "We get a lot of looks cruising around the bay.  I currently have this on Airbnb  and rent it out by the night for people to stay dockside, they love it.  We don't have the permitting needed to take people out for a cruise and leave them on a bay beach or island with the Hydro Hostel, but that is our ultimate goal.  For now people are content to stay dockside"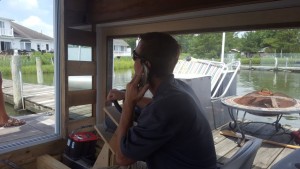 I met Sean Cummings and his fiancee Zoe Welsh in Ocean view where  he keeps the Hydro Hostel docked at a private residence.  I took a cruise with Sean and Zoe around White's Creek and it was a relaxing ride.  There are mirrors inside so you can see all around the craft.  Sean had no issues maneuvering around an abundant amount of crab pots in the middle of the creek.  The repurposed wooden interior has a very nautical feeling, enhanced many times over by the fact you are on the water, literally. The open doors up front allow the breeze to enter while you are moving.  If you are anchored up and it is hot, just crank on the generator and turn on the air conditioner.  There is a hot plate and microwave to cook meals.  The bed up top is easily accessed and sleeps two comfortably.  The view from the bed area is awesome, I didn't take that picture you will have to experience that for yourself one morning.  The Hydro Hostel is a really neat idea.  I remember years ago I asked some officials what I can and can't build on a pontoon boat. I was told there isn't any regulations.  I'm going to have to take Sean up on his offer and stay on this one night and check it out.  I really just want to anchor up in the bay, put two chairs out front so I can sit there and fish … off the front porch.
    Fish On!!
Rich King