The vouchers for Delaware surf fishing tags were quickly handed out this morning, and the show up to that was fun, for some.
It was early last night and the lines started in the parks that would allow vehicles to sit and wait. Brandywine State Park was turning cars away. People are messaging our pages asking where to go and what to do. We put up a quick article, People Lining Up For Surf Tag Vouchers Overnight just describing the scene and give what little we knew. In a nutshell, people are lining up now that is your call.
After watching the show and fielding questions all night. About midnight we logged off and went to bed. I wanted to head down to the Southside inlet and see this whole process in the morning. Friends in line are messaging for food and blankets. I'm in my warm bed, eating chips, and watching TV. Nope, sorry not coming down till morning.
Some folks were dropping off cars at some parks and leaving them behind in line. Riding a bike home. That was a HUGE mistake, parks started lining up the overnight line around 6 AM and handing out numbers for line placement. Parked cars lost out on that. Some places people were line jumping that just arrived in front of people who sat all night. There was a little drama. Brandywine State Park started to sound like the wild west at one point.
Friends were having a blast and joking around while waiting all night. "I'm out here for the wife. She said if I don't come home with a surf tag voucher my bags are on the porch."
"There is an RV up here at Lums Pond with a firepit just chilling in line."
Meanwhile, I'm making Hunger Games memes, calling each park a district. It was the gift that kept on giving for twelve hours.

When I got to the southside inlet I pulled into the parking lot at 6 AM. Thinking I will just park out of the way. Nope, lot is closed. The number at that point was 233 for the line. I parked along the rail and walked over. The lot was closed less than a half hour afterwards. All numbers had been taken, now they wait.
The entire process was a well oiled machine. Despite some issues in other places for lining up at night. It all went very smooth. I left when Representative Pete Schwarzkopf picked up his voucher. "I took off for the inlet at 4 AM after seeing it all over social media (looking at me)."
It was good to see parks' staff they were all doing their best to make this all work. Ray Bivens the Director of State Parks was at the inlet for a while. He was impressed with his crew and rightfully so. "It all seems to be going very smooth."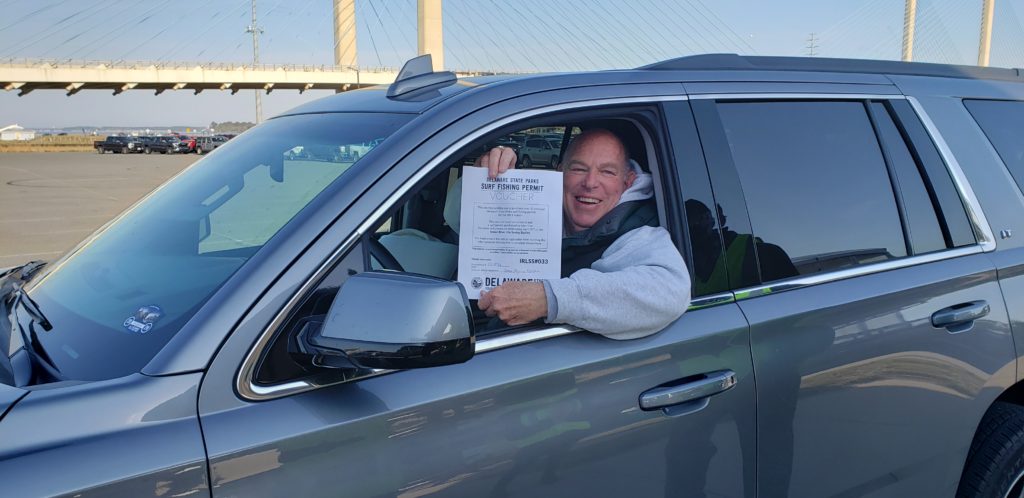 There are people who didn't get a voucher, still saying it wasn't fair. Calling state representatives asking them to fix this, again, for just them. Life will never be fair. Even complaining about out of state vehicles in line for vouchers. Seventy five percent of the surf tags are Delaware owned.
If you want access for all, then start asking for unlimited tag sales and limited vehicle access.
The drive on beach from Herring point to Gordons Pond looks like it does in August, torn up. 3Rs is in terrible shape as well. The resource is being heavily abused from over use. Limited vehicles would fix that and many problems.

Good luck next year for all who didn't get your vouchers. I imagine parks will sell out of the Delaware surf fishing tags next year in a month. It happens earlier each year.
The Pilot Program For Delaware Surf Fishing Off-Peak Tags (aka the Serf tag) starts about mid May according to park sources this morning. Yes we made up the nickname for the tags. Because the surf tag owners feel like kings at this point.

See you in the sand box.

Rich King
6AM at the southside inlet.

The number card for your voucher.

The line at the southside inlet.

Sunrise at southside

The staging area to get your voucher.

The Delaware surf tag voucher

Getting the surf tag voucher

Dave getting his voucher.

Representative Pete Schwarzkopf pulling up to get his voucher. Yes even state reps missed out on the robocall.

Representative Pete Schwarzkopf holding up his voucher. Yes even state reps missed out on the robocall.