Post-Tropical Cyclone Hermine
Yup, that is what they are calling it now, Post-Tropical Cyclone Hermine, now that is a mouthful.  I liked the Harry Potter Hurricane myself, yeah I know it isn't the right pronunciation, I just think it's funny.   According to the National Hurricane Center … "Post-tropical Cyclone: A former tropical cyclone. This generic term describes a cyclone that no longer possesses sufficient tropical characteristics to be considered a tropical cyclone. Post-tropical cyclones can continue carrying heavy rains and high winds. Note that former tropical cyclones that have become fully extratropical…as well as remnant lows…are two classes of post-tropical cyclones. "   I was in it this morning and  Hermine came in strong and hard, pushing a heavy storm surge into the coast line.  The waves were chewing up the beach in Delaware Seashore State park and everywhere.  I got a bunch of video and then my phone decided today was the day to call it quits.  Off I went to get a new phone, and back on the road.  Now I am home dry and warm.  We missed getting hit hard and that is awesome, but it ain't over yet.  We still have wind, rain,  tidal flooding, but we live with that all the time.  You could call this your typical nor'easter flooding, except for that storm surge chewing up the beach.
The storm is moving farther east, no longer right at us which is great.  I would prefer less damage and no extreme flooding.  As much as everyone likes riding out an intense storm it is only exciting when you think back on it. For the most part while a major storm is occurring it can scare the crap out of you.  Which in and of itself can be exciting, but there is that moment when you might realize this was a really bad idea.   People still need to respect this storm and it's remnants.
Not long ago a couple of boats were seen on the water.  One headed up the Broadkill river to fish, you can't make that up.  Another was a pontoon boat cruising through masseys ditch with a large raft on the back, I can't even imagine, hopefully they are pulling the boat.  Except they went through the ditch.  Then again there are jet skiers in the Ocean City inlet, but that doesn't surprise me at all, they are always in there during storms. The Indian River Fire Company has already been out to respond to a floating duck blind mistaken for two capsized boats. These folks have to go out in this no matter. That could have actually been a life at risk, but they risk their lives to find out.   The first responders don't need more reasons to go out.  Be smart about this storm.  Yes the brunt looks like it is over, but she can still be one mean witch.  Do not create any more situations than necessary for the coast guard or first responders please.  The coast guard did go out and train in this today, they don't need any extra or unnecessary reasons to rescue voluntary Darwin candidates.  Kudos to all the first responders and Coast Guard for their work today and everyday.
So essentially we have a tropical storm that could have turned into a hurricane or an insanely large nor'easter and hit us hard, but instead went farther east and headed out.  However, Post-Tropical Cyclone Hermine is still going to give us wind and rain.  If you think "Aw man I left the beach!", I got news for you.  It is not going to be nice here this weekend at all.  We will see some sun on Monday with possible 50 mph winds.  Unless you are in need of some serious exfoliation, you won't want to be anywhere near a beach.  I'm missing four layers of skin on my legs from this morning.  Post-Tropical Cyclone Hermine may move out faster than expected.  It  could also build back up with offshore warm water and charge back up. If you have a wind "app" for your phone look how the winds are concentrated in the storm center.  That is still southeast of Delaware, offshore.
From the NWS …  
Tonight … Windy with some rain showers. Low 67F. Winds NNE at 25 to 35 mph. Chance of rain 50%
Sunday … Windy with rain developing later in the day. High 71F. Winds N at 25 to 40 mph. Chance of rain 80%. Rainfall around a quarter of an inch
Sunday Night … Cloudy and windy with periods of rain. Low 67F. Winds NNW at 25 to 40 mph. Chance of rain 90%. Rainfall around a half an inch.
Monday … Cloudy and windy. High 77F. Winds NNW at 35 to 50 mph.
Monday Night … Cloudy and windy early, becoming partly cloudy late. Low 69F. NNW winds at 25 to 35 mph, decreasing to 10 to 20 mph.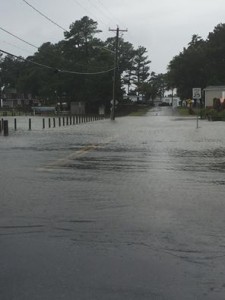 The storm is not over, there is still a prediction it could build back into a hurricane and push west but most likely it is headed away from here.  It is very possible Hermine could pick up steam from the warm water offshore.  Then we can call it Hurricane Harry Potter for real.  e will still see "weather" from the storm.  It is not over until we are on a beach with a line in the water, and the birds are flying around leisurely but angry, trying to steal our bait.  Tidal flooding is still an issue for the back bay communities.  Bowers beach flooded a bit and route 9 in all the usual spots and will continue to do so until the wind shifts away from the northeast and easterly.  That should happen later tonight or tomorrow, the north wind should help push some water out of here, or at least let it drain.  But storm surge will still be hitting the beaches so they will still have flooding issues at high tide in swales.  As far as I know the drive on beaches are still closed, and will have to be evaluated before they are reopened.
Fishing is not going to be so hot the next couple of days.  That isn't stopping some diehards at Masseys Landing and the Indian River Inlet, people are out trying right now … in a gale and putting in the time.
Fish On!!
Rich King
Tides IRI .. 
| | | | |
| --- | --- | --- | --- |
| 9/03 | Sat | 04:10 AM | 0.2 L |
| 09/03 | Sat | 10:37 AM | 2.92 H |
| 09/03 | Sat | 04:24 PM | 0.24 L |
| 09/03 | Sat | 10:53 PM | 3.0 H |
| 09/04 | Sun | 04:45 AM | 0.3 L |
| 09/04 | Sun | 11:14 AM | 2.92 H |
| 09/04 | Sun | 05:06 PM | 0.38 L |
| 09/04 | Sun | 11:27 PM | 2.88 H |
Videos taken today around the area …
Ocean City Beach at 4pm
Coast Guard returning from training … 

Indian River Fire Co. and DNREC headed out … 

Southside Indian River Inlet at 8 am … 

Indian River Inlet 5:45 pm …