Photography Bonuses While Waiting for a Cygnus Launch
A lot of photographers shoot to the launches from NASA's Wallops Flight Facility, form multiple locations. Not everyone gets in with the media and social media groups. Some seek out the side road areas along the marshes and the visitors center. While we are hoping our remote cameras get that perfect lift off shot, others are hoping for some cool scenery to mix in with a rocket shot. Nicole Peirson managed to get a great wildlife shot while waiting for the launch. She spotted several deer running through the marsh.
Everyone went for the sunrise shots the day of the launch, which made for a very long day.
The marshes offer some great scenic foregrounds, and there is always the sun or moon for the background. This past weekend was a full moon and we all wanted that perfect moon shot in the background. The cold air doesn't help to wait for that perfect shot. Unfortunately the day before the launch the Antares is still on its side to allow Cygnus to be loaded at the last minute with sensitive cargo. It wouldn't be lifted up until after midnight.
Getting the full moon wasn't an option Saturday night after setting up remote cameras. We didn't even bother sticking around for that chance. As much as we wanted to stay, you can't get every shot, but sometimes you get a bonus. That all changed Sunday evening.
When the rocket launch was scrubbed on Sunday it offered an opportunity to get the nearly full moon shot. The only problem was after being on the marsh for an entire twelve hour plus day, many didn't want to wait out the moon rise. Nicole Peirson managed to fix that problem with a sweet composite shot of the Antares on the pad and a full moon. " I cheated, but I think it would have been similar. Just couldn't stand out in that cold any longer…"
She also got a great shot of deer in the marsh while waiting for the launch. Many of us at the media area tried to get the geese rising out of the marsh in frame with the Antares on the pad. Everyone got a shot of the eagle, some have a picture of a crow that they thought was an eagle.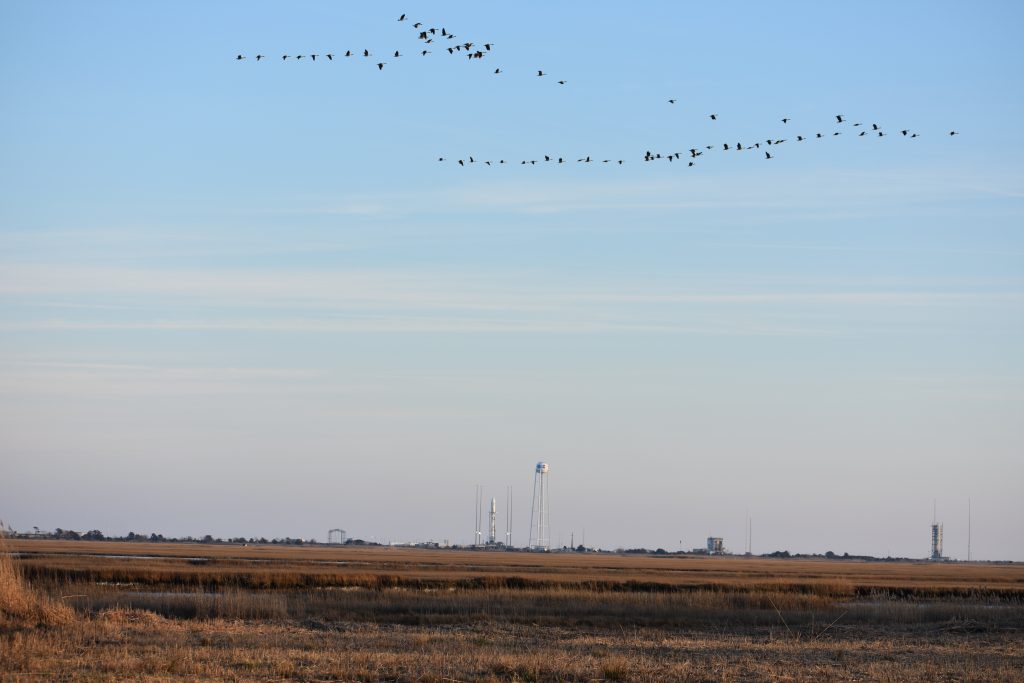 Friday we will see what other shots we can get, but there won't be a moon rise in the late afternoon. Maybe the wildlife will provide another unique opportunity. I have some cool shots of a snowy egret hunting minnows at the visitors center, somewhere on one of these hard drives full of thousands of pictures.