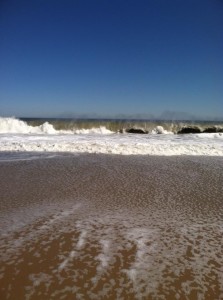 It has been a great weekend.  I spent most of the day Saturday working on license plate orders.  There were people all over the place, beach combing was very successful for many people.  Suzanne Martin … " Some glass, shells, needle nose pliers, and a piece of pottery…."   Few other folks reported the sea glass finds were great on all of the beaches.  I could see evidence today of metal detectors being used everywhere.  Saturday morning I spent time with the Saltwater Fly Anglers of Delaware club's Saturday tie sessions.  I look forward to seeing the boys, this is my time to relax and chill.  It is nice to just sit, and chat with the boys while they tie.  I had some fun with them, and I will tell you all about it later.  So while I was home for the rest of the day working on DSF office stuff, everyone was sending me beach pictures.  I now know how some of you feel when you are stuck indoors, and see all of the pictures I put up on Facebook.  It literally makes you want to jump in the screen, and hit the beach.  I did run down to Massey's Landing to get some air.  The only boat in the ditch turned out to be Scott Jost showing some new boaters how to operate a pontoon boat.  I helped him dock the boat at the ramp, the tide was moving fast.  We had very high tides before the storm and since.  Oak Orchard has been flooding in the low areas that can not drain efficiently.  The inlet today was filling up the highest I have seen it in a long time.  Some boys were catching perch on Broadkill Beach this morning, and their fishing was interrupted by 20 or so seals that decided to chase the perch.  They said the fish were going crazy trying to avoid the seals.  Everyone has been usig blood worms and small minnows.  The crappie catch has been hot as well in many of  lower Delaware's ponds.
I spent all day today (Sunday) outside, looking for osprey.  I have received reports all week of sightings, mostly in the back bays and creek areas.  I checked a friend's house that has a nest in his yard on a telephone pole.  While I was checking Oak Orchard I saw an osprey fly over Emily's gut.  The photos I shot did not come out,but I will try again tomorrow.  I did see two in Long Neck as well, but they were too far away for the camera.  I started looking at Massey's Landing this morning, and I was treated by the eagles that live on Raccoon thicket island.  They flew right over the parking lot, hunting the waters and shoreline.  I took some great shots, and even caught the male diving in the marsh for his lunch.  It really is beautiful to watch these raptors hunt and fly.  There were a lot of birds all over the bays this weekend.  They are moving about more and more, a sure sign that spring is coming.  I know it is basically here thanks to my out of control allergies.  I also saw lots and lots of fiddler crabs in the marshes today when the tide water started to recede from the grassy areas.  Spring has sprung, and fish are here you, just have to know where.  Dave Lecates was on the beach this weekend .. "3 trucks at 3r's fishing today…sand is way down from just before the storm…inlet had some toggers, coast guard side had some folks but did not ride to that side….henlopen pier had about 8 folks fishing…didn't see anything caught except a bird (diver) at the inlet caught and ate a nice perch" … Thanks Dave, I saw pretty much the same thing all day as well.
Tomorrow Cj Jarrell of Striper King Gear,Kristen Kemper "Chica in the Surf, myself, and some friends are headed north to do some Delaware Bay beach fishing.  We will let you know how we did of course.  Augustine beach and a few other spots for striped bass with bloodworms. Ihope some of the plugs I am product testing will produce. We will know more tomorrow, and hopefully have some great lies, I mean stories to tell everyone.  Monday night meetings have been a good time and informative for many people.  I has been an interesting few days to say the least.  I met a lot of really nice people this weekend, and many of you were grateful for the website and DSF Facebook page.  I am flattered, and in some instances it was kind of surreal meeting a few folks.  A week ago a kid asked me for my autograph.  I never realized what we do at DSF and how much this site means to people.  For the out of town folks it keeps them connected to their favorite vacation spot, or summer home away from home.  On the local level we keep people up to date with storm and travel conditions when necessary.  Fishing here for many of us is a way of life, not just the catch, but the life we live seeking that catch.  People here have regular daily lives like our yearly visitors, but the bonus to our daily doldrums is the fact the beach, rocks, rail, pier, and bays are accessible all the time.  If the fishing is bad one day, the most popular saying here is … "We can always go tomorrow".    
Fish On!!
Rich King
Just a heads up, DSF does not sell Delaware State Park beach access tags, we do however have a very cool vanity tag available in our online store.  These can not be used as park tags, though that would be very cool.