Oceanic Storm To Bring Large Swells, Beach Erosion, And Minor Tidal Flooding Into The Weekend
Very rough surf expected over the next several days in two waves due too a late-season oceanic cyclone. The same system that brought us some rainfall during the overnight hours. Now is transitioning over the open waters and intensifying rapidly with the well above average water temperatures in the Gulf Stream. From the latest data showing widespread areas of 1-2 Celcius above normal for this time of year up and down the East Coast.
With blocking pattern in place to the north, this cyclone will not have anywhere to go but meander and retrograde across the Mid-Atlantic and New England Coastlines
for several days into the weekend. Luckily we wont be seeing any significant rainfall or powerful winds as these will remain well offshore for us here on Delmarva. That doesn't mean we will not see any impacts from this storm.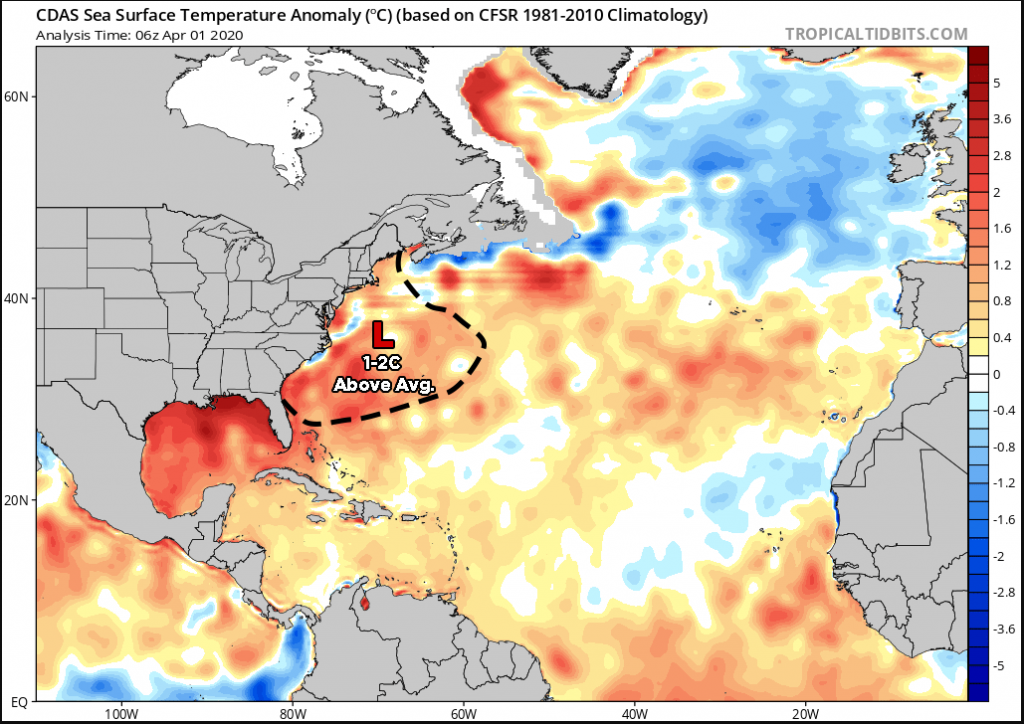 Large swells from strong winds near the center of this storm will pound the coastlines high tide and after tide cycle. Not to mention, closer to the weekend is a full moon bringing astronomical tides on top of that. As mentioned before, the large swells will come in two waves. One currently impacting the region now with coastal waves 5-9 feet with a breezy northeast wind. Going into late Thursday into Friday morning we will see a short break from the large swells before returning even heavier going into Saturday and Sunday. Swells return with coastal waves 7 to 10 feet with an astronomical tide influence from the full moon coming Monday.
With repeating high tide cycles with these kinds of swells we got to look out for some tidal flooding. Especially for residents who live along the inland bay locations of the Indian River, Rehoboth Bay, Assawoman Bay, Little Assawomen Bay, Primehook, And Broadkill beaches. We are looking at Minor Tidal Flooding going into the weekend so be sure to be aware if you live in flood-prone areas. Tidal flooding won't be as extreme going into the weekend with our winds switching to the northwest to help push some water back towards the ocean and canals. Regardless, it's better to be prepared in advance.