Just reported this morning by Sea Isle Bait and Tackle. " (ALERT) We are getting many many reports of big stripers out at the Sea Isle lump this morning. These guys have their limit with a 50 incher.  They are using words like epic, on fire, unbelievable we've never seen anything like this before, crazy."   Make sure you are within the EEZ (3 miles) when fishing some of these ocean areas, the lumps are halfway in and out of the EEZ.  A friend of mine was out last Sunday doing some research work and marked a large school off the beach near Bethany Fenwick area and then marked one 9 miles off the coast.  He said not a single surf angler or boat was in the area  Looks like the fish might be running that buoy line.  I would fish the southern beaches this weekend for migratory striped bass in the surf.  Then again they may just come into the Delaware Bay area for some food.  That is a hard call to make, but it is safe to say that the beginning of the larger migrating schools are just about here and some have already come through.  Hopefully they hang out in our waters like they have in the Northern Jersey areas, which some are still hot for bass in the surf.  Assateague will be seeing their fair share of bass very soon as well.  Get ready kids, its about to get fishy.  If you don't go you won't know, don't sit around waiting for the bite to happen, get out there and hit the water.  The cold snap this weekend will certainly change things and we have an East wind predicted for tomorrow.  There is a small craft advisory in effect until late this evening for the ocean, and the lower Delaware Bay.
If you decide to fish Jersey waters and you are coming over in a Delaware registered boat you need a New Jersey Saltwater Registry number, it is free and can be acquired on their website.  Big thanks to Trish Mahoney, the communications operator at NJF&W for the information.  If you want to go to New Jersey and fish you can look at the needed licenses on the NJ Fish and Wildlife license section of their website.  Once you are registered, you will have to follow Jersey regulations on striped bass creel limits …  1 fish at 28 to 43 inches and 1 fish over 43 inches.  However since you will be porting back in Delaware you will need to follow Delaware creel limits which is 1 fish at 28 to 37 inches and or 1 fish over 44 inches, 2 fish per day per angler at any combination of the limits.  This is also enforced if you bring fish back to Delaware on land, unless you can prove you were fishing in New Jersey with a New Jersey license.  Not that you will be stopped at the border but it is important to know that possession limits are enforceable for fish caught in other states when transportingthem state to state.  If you head into Maryland waters you will need to follow their regulations.  Wes Pollit recently contacted maryland DNR and this was their response.
Wes,
Upon reviewing the Regulations on the Coast, the possession of fish is a strict Possession Limit. Meaning if you are in MD waters you have to abide by MD sizes and creel. The law does NOT allow for landing of DE caught fish in MD.There is a regulation that allows this on the Chesapeake Bay ONLY as long as the vessel travels directly from VA to MD and does not stop.
Both Delaware and Maryland are enforcing the exact same way on the Atlantic. So, if you have a fish legally caught in MD waters say 40″ and you travel to Delaware and you are stopped, Delaware will cite you. Likewise if you bring over the legal creel limit into MD from Delaware and you are stopped you will be cited.
Current MD and VA limits are 1 fish per person over 28″.
Current DE limits are 2 fish per person over 28″ with a slot closure between 38″ to 43″.
The EEZ is a complete closure with zero possession or targeting of Striped Bass.
If you have any questions let me know.
Sgt. Scott Simmons
Maryland Natural Resources Police
Area 1 District 4
From the ASMFC … 
Bass Fishing In The EEZ Restrictions Support Sustainability Of Species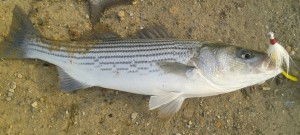 In an effort to ensure the healthy population of the striped bass in the Mid-Atlantic region, NOAA's Office of Law Enforcement (OLE) is raising awareness of the federal regulations governing striped bass in the Exclusive Economic Zone (EEZ) and increasing targeted enforcement efforts to protect the species from illegal poaching activities.
"Right now, the striped bass are beginning to migrate south from the northern states," said Lt. Wynn Carney, OLE supervisory enforcement officer. "The striped bass will follow the bait south near the mouth of the Chesapeake Bay, and in spring they will begin making their way up our streams and rivers to lay eggs."
According to the Atlantic States Marine Fisheries Commission, overfishing and poor environmental conditions lead to the collapse of the Atlantic striped bass fishery in the 1980s.  In order to ensure the sustainability of the species, Title 50 of the Code of Federal Regulations part 697.7 was enacted. Thus, during the months of November through February, NOAA Office of Law Enforcement is joining state and federal marine law enforcement organizations in supporting a focused enforcement effort, targeting vessels retaining and fishing for striped bass in the EEZ. Marine law enforcement officers, including OLE and the U.S. Coast Guard, in the Mid-Atlantic will be ticketing fishermen who violate these regulations and who target striped bass within the EEZ.
"I am excited about the Mid-Atlantic States conducting a focused enforcement effort," said Carney. "It's significant that we're working together toward a common goal."  For maximum enforcement, officers will be conducting at-sea, aerial, and dock-side inspections.
For more information, call your local OLE field office or visit http://www.asmfc.org/species/atlanticstriped-bass.
Check our business directory for recommended  area bait shops and charters or head boats for a good time on the water.
Good luck, stay warm, and have a great weekend!
Fish On!!
Rich King