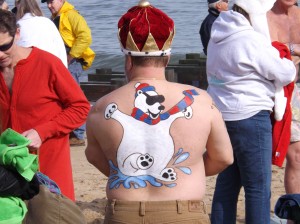 We have a Polar Bear Plunge team this year for the 2019 Lewes Polar Bear Plunge.  The DSF Dunkers are asking for your help to raise money for our team and we could always use more dunkers.   We are looking for donations for our team, and team members, and obviously more people who want to jump into the ocean in February.  We like the water as much as the fish so we may as well get a little wet for a good cause in February.  
There are all kinds of fun events during the Polar Bear plunge.  This is the most people and clothes you will ever see in Rehoboth Beach in the off-season, aside from Sea Witch festival.  The boards and beach will be packed with thousands of people.  
The Lewes Polar Bear Plunge is a good time raising money for a great cause.  Donate to our team The DSF Dunkers or join up and help us raise money.  The DSF Dunker team member who raises the most money will receive a cool gift from DSF.
Fish On!
Rich King