Saturday I participated in the coastal clean up at Broadkill and Beach Plum Island.  I met a lot of very nice people that live here.  Some folks came to just help from very far away, since this is their favorite place to visit.  Rich Snyder was very pleased he had such a huge turnout for Beach Plum Island.  I was also, that many came out to help Saturday.  I saw a lot of beach access tags heading that way while I was at the Braodkill Store.  I watched a community come together, and clean their beaches.  The morning meeting was fun to watch as people arrived, collected their tally sheets, and bags.  These folks all really care about this area, and would appreciate it, when you are here visiting, to do the same.   Kristen, Juana, Jared, and Brandon were at Holt's Landing lending a hand with the  IRHS Environmental Club.  They spent the afternoon collecting trash.  I spent a good portion of the day chatting with James Bailey, president of the Broadkill Beach Preservation Association.  I learned a great deal about Broadkill beach and the surrounding areas.  I will take you on a tour soon, I have many places to check out in this area, Milton is an interesting town.  I have tons of pictures of Broadkill Beach, Fowler's Beach, and Prime Hook Wildlife Preserve on our DSF Facebook page.  I am grateful many people came out to help the coastal cleanup, and a lot of trash, debris, and odd things were collected, thank you all.
The weekend has been great for fishing, no matter where you were.  Alan, John, Steve, Mike, Gary, Clayton, Dom, and Dubi all fished the Indian River Inlet at one point this weekend.  Alan fished for close to 32 hours, crazy kid.  The blue fish were boiling the water with shorty stripers, and trout mixed in here and there.  The mullet that ran the inlet this weekend, were the thickest in numbers anyone has seen in a very long time.  For the past 3 nights they have moved into the inlet, and the blue fish followed.  Mike showed me a video he took last night of the bluefish blitzing for an hour, and it was wild looking.  The water looked like moving rapids, with fish in the mix.  The boys wailed on blues, Alan said if you didn't limit out in 10 minutes, you were doing it wrong.  The fish are going for poppers, and top plugs, they want to eat the "food" breaking the surface.  There is a lot of baitfish to compete with, you have to mimic the bait breaking the surface.  Flies were working with pink or white worms for the guys long lining.  Tonight on the end of the incoming tide, the fish were breaking farther out in the darker water.  Jumping a good 3 feet in the air.  I left around 11 p.m., and the boys were staring at a slack tide.  Steve hit a nice shorty striped bass, as I was leaving.  Gary just sent a picture of a nice bluefish, and Gary hit a 20 inch trout to boot.  Mike has one more to catch, to beat Gary for the day.  The tide is now on the outgoing and the boys are about to see some serious action.  I was hungry and cold, so I decided to go home, I can always go back tomorrow.  Then Gary sends this … "Like you said man, 'right after I leave I bet it blows up' tonight was ridiculous. Even more so than the night before. Looked like the feeding canals at a hatchery. You could hear it coming 10 minutes before you could see it. Sounded like a water fall moving up the inlet. Haha what an awesome weekend. Best one my dad ever had!! cool hanging out!!"  Good stuff boys!  I had a great time just hanging out, and I knew I should have stayed.
Sunday morning in the surf on Broadkill Beach I hit a nice 18 inch trout on a 1 ounce silver spoon, at the top of the incoming tide.  I have been catching spot and croaker like crazy as well.  The waves were rather large for this area.  I saw a picture Henry put up of Bethany Beach and the water was up to the drop off, and breaking over.  That definitely would explain the larger "surge" waves we were receiving in the Delaware bay.  I met Mike and Gary at the public access for Broadkill Beach  and fished there for a while.  They were hitting spot and croakers.  My neighbor Matt hit his first spot on the beach he has ever caught there.  In the past few days he has been hitting decent blue fish and trout, or weakfish.  The point in CHSP has been good for bluefish, spot, croaker, flounder, and trout.  The surf on DSSP produced trout, spot, croakers, and blues.  The blues are all hitting mullet, trout have been on blood worms, as well as the croaker and spot.  Cut mullet chunks or strips, and squid are working well, for all the aforementioned fish.  It has been a good year for using the same, simple baits.  Makes fishing less complicated, and more fun.  You still have to put in the time to catch, but it has been easier this year.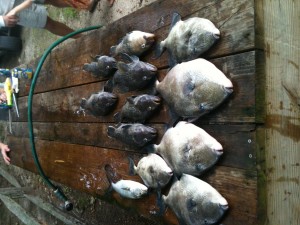 Captain Mike, of Rick's Bait & Tackle, was out this weekend and fished some wrecks.  He was hitting sea bass and trigger on sand fleas.  They were feeding on the bait like candy.  Earlier in the week I was hitting little sea bass at Massey's Landing.  Now I am fishing days and nights on the beaches.  It is beautiful sitting on the beach, under the stars, a few shooting stars rip across the sky, the sound of the waves crashing in the surf.  Occasionally you hear a ship's, or fog horn on the distance.    The lighthouses spin round and round, and the ships all lit up, look like small cities on the sea.  It is very relaxing, and catching is a bonus at that point.  Speaking of … Saturday night I could see Kevin on the beach with his family, well not really him, just a flashlight I was texting back and forth with.  He was on the point I was on Broadkill Beach, in my backyard.  He was the only person doing an overnight surf fishing trip on the beach at the point in CHSP, with his family.  I would flash my light, and he could see it, and it was rather obvious where he was, when his light would move around.  They had a great time, caught fish, and ate well.
Massey's Landing has been producing tautog, but the season is not in yet.  So my buddies are practicing, and catching some rather thick  fish.  From Mike …  "Caught a bunch of Tog, mostly 13 and 14 inchers, caught 2, 15 inchers, they are keepers…but they are out of season from sept 1st till the 28th due to spawning. I am sharpening my tog catching skills. They are brutes when caught, great fighters, big teeth as they eat barnicals and such."  The croaker, spot, and shorty striper action at Massey's Landing has been good, speaking of which the croaker have been thick on the south Inlet wall, during the incoming tides, upwards of 2 pounds.  This is about the same time the blues come in following the bait fish, during the day.  These boys were hammering them on sand fleas, they said it was like feeding ducks.  Drop in the bait and wham, they were catching left and right.  This has been a great weekend meeting people, I will miss these times as it gets colder, but big fish come soon.  I am also looking forward to the winter, believe it or not, we will be much busier.
Fish On!!
Rich King
ATTENTION!!!  Bubble gum beach is a great area to fish, however it is a replenished dune and wetlands.  There is a path that you follow along the top of the dune. Walk to the rock wall then walk along the wall to get to the bulkhead.  Everyone is just walking down a path on the face of the dune.  That is not the right way to go, and needs to be fixed.  Even after I informed people that is wetlands, they still walked right through there.  Some of the people that live here, and should respect this area, are the same ones trashing it.  Just sayin.  Tighten up gang!