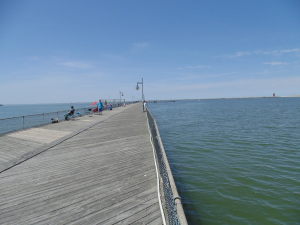 Everyone is asking about the pier so I reached out to Ray Bivens the Director of Delaware State parks and he sent me the latest updated information.  As you can see from the letter below the pier is not going to reopen this year.   The timing is off due to weather and the conditions required to fix the pilings.  The water is too cold for the jacketing repairs, and due to the ice pack that flowed through the bay several weeks ago, there could be even more damage.  It is unfortunate that the pier will not reopen this year, for park visitors, anglers, and the bait shop that is located next to the pier, lighthouse View Bait and Tackle.  I don't know if they will open this year or not.  There are several groups that hold kids tournaments on that pier.  Many will be afffected by this structure's closing this year.  There is just too much work to be done to reopen the pier this year, if they were to build a new pier I don't imagine that could be done quickly either.  I hope this helps answer some questions and quell a lot of misinformation floating around.
Now if you want to find a pier to fish, there are few options.  Holts Landing State Park has a pier and a decent flats area, you can even legally clam there.  The crabbing is not too bad either and there is a boat ramp.  Masseys Landing in Long Neck has a fishing pier.  Canal Front park in Lewes has the floating town dock and there is an area at the gazebo near the old boat docks that can be fished.  Farther north off route 9 is Port Mahon and Woodland beach fishing piers if you want to head north up there  Rosedale beach in Riverdale has a fishing and crabbing pier next to the boat ramp.  Cupola Park in Millsboro does not have a pier but is very accessible for fishing along the bulkhead.  There is a small pier at Indian River Inlet which is a handicapped access pier on the north side near the bridge.  Milton has a small fishing pier just below the spillway near Wagamons pond.  I know these are not great options compared to the Cape Henlopen Fishing pier, but at least they are options.  You can always kayak or wade the flats and fish the pier area at Cape Henlopen.  I will have more places to fish added to that section of the website over the next few days, we have been busy filming.  If you know anyone at Cape Shores they have a decent pier, but that is private.  That one is on my summer list, as well as make friends with someone who owns a pool.
Fish On!
Rich King
Below is the information forward to us by Ray Bivens the Director of Delaware State Parks
From Matthew P. Chesser ….
Thank you for your interest in the Cape Henlopen Fishing Pier. I oversee the section of State Parks that is tasked with the pier's repair and ultimately, its replacement. We have engaged an engineering firm and are currently working through the plans and specifications for the repair of 125 piling on the pier. This should add a couple years of life to the pier while we make some final decisions as to the location and scope of its replacement. The design and permitting for the pier repair are scheduled to be completed by late spring, 2015.  Construction would then commence in the late summer or early fall 2015 with an estimated completion date in the early winter of 2015/2016. The "jacketing" type repairs that we are proposing (and have done in the past) need a water temperature of at least 40 degrees and must be permitted by both the State and Corps of Engineers (which can take 6 to 9 months) so timing can be tricky.
As you suggested, we have been working with our sister agency, the Division of Fish and Wildlife (which has access to Federal funding) and with SPI Pharma, the company that runs the pumps along the pier, to look at solutions for additional funding and we are also doing everything we can to shorten these timeframes as much as possible.  As always, unfortunately, some things like permitting timeframes are out of our control. If you have any additional questions, I would be happy to discuss this project with you further. I can be reached at the numbers below.
Thanks again for your inquiry.
Matthew P. Chesser
Environmental Program Administrator
Planning, Preservation and Development Section
DNREC – Division of Parks and Recreation
89 Kings Highway, Dover, DE 19901
From the state parks ….
Cape Henlopen Pier Design and Permitting
At the onset of World War II, the U.S. Army established a military base at Cape Henlopen and built a wooden fishing pier to serve as a mining wharf. The pier became state property in 1964 when the State of Delaware accepted Cape lands and established Cape Henlopen State Park. The aging pier has undergone several rehabilitative efforts since 2007, including extensive repairs to its pilings. The T-head portion of the pier was demolished in 2012 after its deteriorated condition was deemed a threat to safety and navigation.
The Division of Parks and Recreation has been monitoring the condition of the pier annually and has noticed an increasing rate of deterioration in the structure. In Oct. 2014 the pier was closed as a safety measure after an engineer's analysis recommended that pedestrian and vehicular traffic should not be permitted on the pier until repairs are made to a minimum of 24 wooden piles holding up the structure. The report also found that because the pilings are rapidly deteriorating, repairs to more than 24 pilings may be required depending on how quickly the repairs are implemented. Those repairs are expected to be a short term fix, as repairs to additional pilings will be required within the next year. For a long term solution, repairs to approximately 125 pilings are anticipated along with extensive decking and superstructure repair.
The Division of Parks and Recreation intends to make one more round of temporary repairs to keep the structure operational until a new, permanent structure can be designed and constructed.
Cape Henlopen State Park Fishing Pier
•More than 1.2 million people visit Cape Henlopen State Park each year.
•The pier creates habitat for fish and other sea life and is used extensively by anglers, bird watchers,and nature lovers.
•Over the years, the pier has served as a landing point for ships and a platform for events and special promotions.
•The pier's bait and tackle concessionaire serves the public and generates income for the Parksystem
Monies currently being sought to work on or replace the pier.
FY 2016 Funding Request:
$1.5 Million Complete the design and permitting of a new Cape Henlopen State Park pier to replace the 70-year-old failed structure.
FY 2017 – 2018 Funding Needs: FY 2017 – $0; FY 2018 – $12 Million
Bidding and construction of the new, permanent replacement pier