Saturday is the Battle on the Beach surf fishing tournament, and we are anticipating a great time.  The tournament starts at 6 am and lasts until 3 pm.  I will be checking people in at conquest beach in the parking lot before the start, you can sign up the day of the tournament.  I will be there by 4:30 a.m. The weather is looking great for the day, and we are hoping to see some fish in the surf.  Today I watched a large group of gannets working the surf in front of Rehoboth beach and have seen the same activity south as well.  More than likely they are following migratory striped bass and bunker.  Professor DeWayne Fox caught a 68 pound striped bass while netting for sturgeon near Bethany Beach.  He is doing research for Delaware State University.  Another netter caught a 45 pound striped bass in the Delaware bay.  There have been some hefty fish (up to 35 pounds) weighed in at Port Penn Bait and Tackle.  Those fish have to travel the DE coast to get up there, so that is a good sign.  The surf has warmed up to 44 degrees during the day over the past few days.  The Inland Bays and Delaware Bay are well into the upper forties in the early morning, Massey's Landing peaked over 56 degrees today.  The flounder pounders are getting excited to see the bays pick up soon.  Even a few crabs have been caught in the back bays, and we are seeing minnows all over the place especially in the sloughs and small creeks.  There are plenty of shorty stripers in the back bays and the Delaware bay, as well as perch.  The Nanticoke River in Seaford is seeing its share of striped bass, mostly shorts.  Bloodworms, and bunker will be the choice baits for this weekend, spoons and plugs (bombers) for the casters.  Today I saw over a dozen osprey from Dewey Beach to the bridge, and half of them were carrying a fish.  Spring has definitely sprung and everyday the water gets warmer.  Soon we will be out there fishing non stop and having fun in the sun.  Looking forward to Saturday, see you all there.
The beaches area little carved up but the cuts are forming back up nicely.  You will notice a difference at low tide be prepared for that.  There has been a lot of weeds in the water especially when the wind kicks up.  Fenwick Island's water was a beautiful blue green color a few days ago and I imagine not much has changed.  Beach Plum and Broadkill was nice and clear today.  As long as the winds stay low, we will have nice looking surf this weekend.  There is a chance of showers Saturday morning, but that bit of overcast will be good for striped bass fishing in the surf.  The Indian River Inlet and Masseys landing has rather clear water and visibility is certainly up compared to a few days ago.  During low tide the other day the water in one area near me was boiling with minnows, and a crab or two were moving around in the warmer shallow water.   People have been splashing boats all week, and everyone is getting ready for a break, winter was a rough one this year.  If you are interested in learning to surf fish we offer fishing lessons and you can sign up for them in the online shop.  These are personal lessons, and held at private locations, so no one distracts you from learning.  Once you get the hang of everything we will do a little fishing together later that afternoon.  You might still get a chance to see a seal this weekend, you just never know.  There have been a couple of them playing in Masseys ditch, so be careful if you are out boating.  Most of the ones you see are juveniles and are very curious.  Please look out for our furry marine friends.  If you see a seal please contact MERR, especially if they are on land they like to keep an eye on them so people do not bother them … 302 228 5029, texting the location is all that you need to do to help.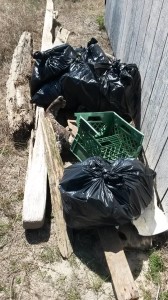 Last weekends beach clean up was a big success, several people volunteered to help, and we combed Fenwick Island.  It was a bit chilly and windy, but the temperature creeped up as noon approached.  Big thanks to everyone for coming out and to Primo Hoagies in Rehoboth for feeding the clean up crews, that has been a well deserved meal after a day of cleaning a state park beach.  We do weekly clean ups if anyone is interested in helping out, or collecting community hours for kid's schools or troops.  Keep in mind this is not trash that is left behind by visitors but mostly from upriver, and inland.  Everything eventually washes to the sea and winds up on a beach, that is a worldwide issue.  Sunday the 13th we will start back at the top of the list and hit Beach Plum Island State Park.  We have also been asked by the parks to assist them fixing the snow fences in the parking lot there, and we will happily help.  Last week's haul was over two hundred pounds of trash.  It feels good to clean up the beaches that we use so much, would be nice to see everyone do more of that this year.  Carry in Carry out, and take some extra with you, I don't care if you didn't put it there we have a responsibility to keep our environment clean.  Using these beaches is a privilege, and so many take it for granted, not just tourists either.  There are many groups that preach, but never practice, we never see them out here helping.  We might start working on a few other areas on weeknights, or a weekend clean up.  Oyster Rocks road looks like a bomb full of trash went off there, it is disgusting.  When the Broadkill River floods its banks during a storm, that debris washes into the sea.  We have many out of the way fishing areas that are public access, but never cared for by anyone.  Hope to see everyone Sunday to help spiff up the beach.  Have a great weekend, after this winter we all deserve a good break.  Good luck in the surf fishing tournament!
Fish On!!
Rich King