Dear Rich,

As Vice President Biden often says, our nation's one truly sacred obligation is to prepare and equip those we send into harm's way, and to care for them when they come home. The long wait times and culture of negligence at the Department of Veterans Affairs are simply unacceptable.
That's why I'm hosting a series of Veterans Office Hours around the state. If you, or a veteran you know, is in need of assistance, I hope you'll join me for my Veterans Office Hours on:
Monday, July 27
10:00 am -12:00 pm

Millsboro American Legion
13768 Legion Road
Millsboro, DE 19966
Map It!
These sessions help veterans cut through the red tape by connecting them directly with representatives from my office, the VA, and other service organizations. The Office Hours have also given me the opportunity to speak to folks about the problems they're running into at the VA, so I can address these issues head on. If you aren't able to attend the Office Hours, I hope you'll join me on the phone for a Telephone Town Hall on July 27. To sign up visit my website
here
, and to find out more information on these events you can visit my
Facebook page
by clicking below.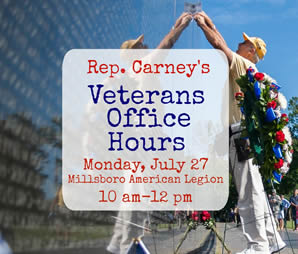 Sincerely,