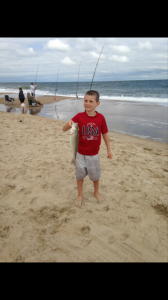 Trees are slowly starting to show signs of changing colors.  Temperatures are still dropping both in the air and water.  There is a cold front coming through this weekend, which will plummet water temperatures even further.  The water is still stirred up in the inland bays, Indian River Inlet, and the surf is still a bit stirred up from the recent heavy northeast winds.  The storm will add to that factor.  The beaches are still carved up a bit, there is an "upper deck" so to speak then a lower area sandbar when the tide is up it covers in water and there are troughs behind them that drain water out of the cuts.  Makes reading the beach easier looking for places to fish.  Keep in mind parking in the lower area is a bad idea.  The tide has been up a little higher than normal in the inland bays from the winds, and the surf tides have been up a bit higher as well from wind.   We have a coastal flood advisory in effect until 7 p.m. this evening.  There is a small craft advisory for the ocean until Saturday afternoon.  The surf temperature in the morning is averaging sixty nine degrees and the sea surface temp is around seventy two degrees.  The Inland Bays are averaging sixty nine degrees at high tide and seventy one degrees at low tide, you can expect that to drop a degree by Sunday.  The winds will shift Southeast to South and then Northwest by Saturday afternoon and then westerly on Sunday.  I wouldn't worry too much about flies from the dunes but keep the vehicle windows up so they don't have a place to congregate.
The fishing has been rather good in the surf and surrounding areas.  Bluefish are hitting mullet whole on rigs, or cut up on top and bottom rigs, and the fresher the better.  Surf fishing has been the best on the incoming tide for the most part.  I had a nice sized kingfish even hit a mullet rig yesterday in Cape Henlopen.  Bloodworms, and fishbites are working well for kings, and small puppy drum in the surf.  Short striped bass are also hitting mullet rigs and cut bait.  Squid is working just as well as fish bites for the smaller species.  A few small weakfish were caught in Cape Henlopen yesterday at Herring Point Beach.  Tautog fishing is in full swing nad picking up at the outer and inner walls.  We watched a lot (tog) being caught at the Indian River inlet yesterday at the bottom of the outgoing tide and when it switched to incomng the bluefish turned on as well as some short striped bass.  The inland bays are seeing more and more resident bass schooling up and feeding.  Bucktails and swim shads are working well.  Dropping eels is working in deeper water like the Indian River Inlet.  Poppers, plugs and even speck rigs are doing well along walls and marsh grass embankments for striped bass.  Many folks fishing for Tautog are hitting puppy drum (black drum) and large black drum along the outer and inner walls in the Delaware Bay.  Upper bay structure is producing a variety of catches as well on sand fleas and green crabs.
Summer and fall fishing all at the same time make for some fun unexpected catches.  Always a bonus when going for one species and producing multiple catches of trigger, sheepshead, puffer, trout (weakfish), black drum, and croaker.  Hard to not catch croaker, as usual they are all over the place.  Flounder are still around, but are moving out more and more into the ocean.  The surf is till producing them on bucktails jigged with a squid strip works as well as sand fleas on a flounder rig just behind the first breaking wave.  The Cape Henlopen pier is still seeing some flounder.  The back bay frequency has slowed down but you will still find some stragglers, and mullet is starting to make more of an appearance.  Sunday will be colder than we have seen yet this year, so don't forget the warm clothes and jackets for the morning and  evening fishing adventures.  Fall is here and we are looking forward to more fun in the surf.  Have a safe and fun weekend. Don't forget Coast Days is happening at the University of Delaware campus in Lewes on Sunday, always a fun, and educational event for the whole family.   There is a total lunar eclipse on October eighth that will last for about an hour in the predawn hours for the east coast I will have more for you on that in a couple of days.
Fish On!!
Rich King