Suzanne Marina Has Been Surf Fishing Delaware Beaches A long Time, She Wrote Fish Gut Fridays, Now For A Review by Suz
Its hard to believe we are at the end of 2019 with a new year and new adventures awaiting us just around the corner . Looking back on the past year is always fun and helps me get out of the winter funk that it is way to early for already.
January 2019 was cold, enjoying good coffee and a wood stove was high on the list of priorities along with getting my bedroom painted. While cleaning out my room I came across a T-shirt from the 3rd annual Masseys Landing Billfish Tournament July 27-28 1983…evidently this room cleaning was way overdue.
February was cold and icy in many ways. I was finishing up some trim in my room when I received the call that Captain Brian Wazlavek had left us way too early after his battle with cancer. This hit many people in the fishing community hard. Many of us had fished on the Lil Angler II out of Lewes with Captain Brian over the years and have very good memories of days on the water whether there were fish caught or not. I am honored to know that I am amoung the ranks of anglers he threatened to throw off the boat on more than one occasion. He is sorely missed, but I am sure he is fishing blue calm waters where he is.
March is always exciting waiting for the sighting of the first osprey chasing bait fish and warmer weather. I not only had pansies planted by St Patrick's day, I had also harassed some of the bass in my pond at the house. By the end of the month I was on the beach for the beginning of the surf fishing season at Herring Point and kissing a few short stripers. It was nice not only to get some fish slime on the hands but also to see friends on the beach and catch up.
April was a month of more short stripers , puffer fish, and some blues. Nice weather helped cure some spring fever. I kissed many more short stripers that month. I love those days when you get tired of reeling fish in , even if they are not keepers. My son Jonathan who is more of a fresh water fisherman caught a beautiful 22″ trout . Makes a mom proud to see her son enjoying a good catch.
May started off with "May the Fish Be With You" tournament held on May 4th at DSSP. Pregaming usually involves Happy Hour (or hours) , mad mugging, and shenanigans the day before and of the tournament. I fish 3rs with Corby Fulton and had Frankie "the freak" Paul two trucks up from us. It was an all season day, meaning we had all kids of weather that day. I caught blues but nothing that would score. Meanwhile Corby and I watched "The Freak " catch one after the other. If I did not witness it with my own eyes I would not have believed it. This made him a three times winner…let's not get "that" started again. The next day I had the honor of attending the Blessing of the Fleet on the Lewestown Lady with Captain Brian's wife Diana where he was remembered for his years as a Captain and service in the Coast Guard. Mid May brought some nice sized blues to Cape caught on DS Custom Tackle modified mullet rigs.
June was the beginning of the DSF Summer Surf Fishing Slam Series which I enjoyed doing all summer and managed to stay on the board most of the duration. Spot, Kingfish, weakfish, two at a time. The new motto from yours truly became " If you ain't catching, you ain't fishing" It was nice to see spot in the numbers and size we were catching .
July started off hot and fishing remained steady. I remember the morning of the 4th you could almost swim through the air it was so humid. I usually take off this week from work to enjoy some fishing and time with friends. The food and drinks during this week were off the charts, the only thing better was the company. July is a perfect time to gather friends and pick crabs and that is exactly what some of us did the weekend of the 20th when for the first time ever it was too hot to fish. Honestly I think even the fish felt the same way as I saw very few caught during this heat wave The rest of the month produced some bluefish and some fishing time with Jonathan.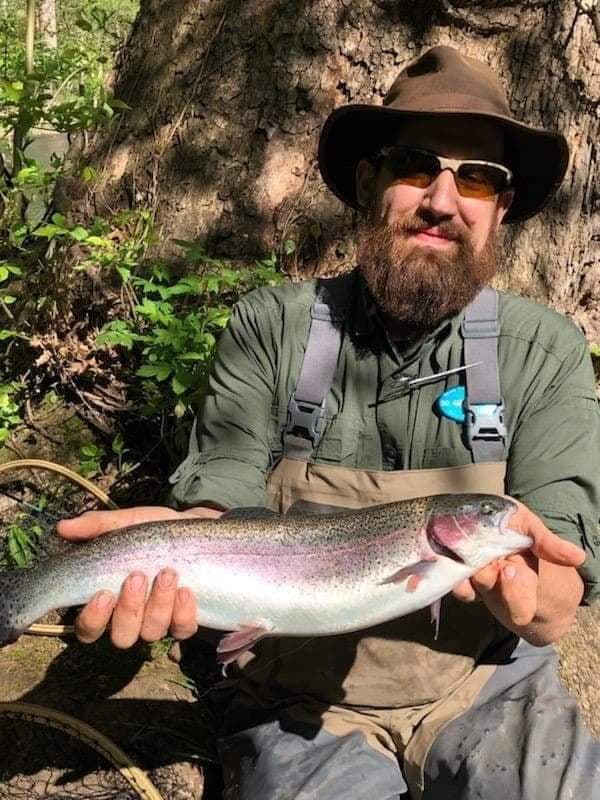 August began with a shark fishing trip aboard the Savannah Lynn out of Lewes with some longtime friends and their sons. This was a big deal to me in many ways. Not only to take these young men to catch their first shark, but the Savannah Lynn was formally the Lil' Angler II. I had been on the deck of this boat several times before with Captain Brian. We arrived at the dock early to meet Captain Jack who gave us a run down of the boat and reminded us we are not to Jump off the boat for insurance reasons. First of all, what kind of idiot jumps off a boat on a shark trip? Second (my response) …" Well shit Captain Jack, Captain Brian offered to throw me off this boat many of times". And that's how the trip started.

It was a beautiful morning, we went on the inside of the outer wall close to the lighthouse. It was like a pond it was so calm. In less that three hours we had seven sharks all over five feet long , the largest being about ten feet. All were released humanely and safely. I loved coaching the boys. We made great memories that day. Shark fishing is sort of like sex, you go home sore , sweaty, out of breath, a little beat up, but you know you want to do it again.

August ended on a chilly windy note that carved out the beaches rather quickly. I had just got a new Penn 4000 Battle 2 . I literally just put on some nice braided line and hooked up a large ray. After about a half hour rodeo with the beast on the end of my line , I cut the line while I was ahead. It sure gave the reel and me a good workout.
September is my favorite time of year in my favorite place, the point. Labor day weekend was spent on the bayside with friends , food, fish, beautiful weather and a few bloody Mary's. The month started out with a small flounder followed by pompano, puppy drum, and blues. I had purchased a pompano rig at Henlopen Bait and tackle to give it a try, and wouldn't you know I caught the best one of the year. His name was dinner. The end of the month had some nice sized blues on the ocean side of the point. They say after the fall equinox the fishing gets better and I find this true as long as we do not have a lot of storms .
October came in windy and chilly. I fished War On The Shore with Jonathan. When I got out of the Jeep that morning I was not sure how long I was going to last in that cold NE wind. I scored a pompano and caught blues that were to small to score. We all fished hard. Again I was three trucks down from the winner as Scott Jost took the tournament with a seventeen inch Bluefish. We did last all day, it never warmed up, I think we just got numb to it. I did another appearance on Outdoors Delmarva during this tournament as the title that was appointed to me during the 2018 War On The Shore … "Bluefish Slayer".
Trust me….it's a joke…I am not that egotistical….not usually at least. I fished the point the rest of the month but fishing seemed to slow down a bit.
November and December called me to other responsibilities that had fallen behind from just one more day fishing, just one more cast, just one more trip out to the point. But it was worth it….fishing has brought me so much joy to my life for as long as I can remember. It has made some of the best memories with family and friends, I have met some awesome people along the way. That is all priceless. I am ready for Spring, and new adventures that await us all in 2020. My dad always said "Surf fisherman are crazy"…its true and I proudly wear that title.


I want to dedicate this article to Captain Brian Wazlavek who loved the water, fishing , family , encouraged the young and old to fish and make family memories that would last a lifetime .

Peace , Health, Happiness, and Great Fishing in 2020
Suzanne Martin 🐟