Surf Fishing Nor'easter Conditions Where And How
Surf Fishing Nor'easter conditions is fun and you can catch fish, just be careful
People keep asking should I surf fish this storm surge, and they absolutely should. We always surf fish nor'easter conditions in the fall for striped bass. Bait fish are pushed into pockets and against structure. Striped bass love to feed in these conditions. The food is disoriented from trying to avoid heavy currents and rough water, as well as amped up predators looking for an easy confused meal. You will have to walk in to fish the beaches at high tide. Parks will close a few beaches for high tide flooding most likely especially the point in Cape Henlopen State Park.
Watch for rip currents, which are the best areas to fish. Use swim shads, spoons, bucktails or plugs. You can bait fish, but holding bottom is near impossible. Use sputnik weights to hold like an anchor. A top and bottom rig will hold with a four ounce sputnik. A mulllet rig will barely hold with an eight ounce sputnik. It is easier to hold onto your rod and just cast up current and let your gear drift, then reel it in and cast again. Much like lure fishing. Using a sand spike at high tide in that wash is pointless, unless you have a heavy duty one and are prepared to stand in the water all day. Just be prepared to pay real close attention to your gear, bait and wait is not an option. Most of the fish are in close feeding in that heavy white wash of the surf.
Striped bass and bluefish are in the surf's white wash feeding on sand fleas and bait fish. Mullet are around the surf in pockets, but mostly they have moved back into the creeks, flats, and inlets avoiding the strong surge at the beach. The fall run is coming, the bass need to feed.
Low tide is the best time to read a beach after a nor'easter. Remember where the pronounced cuts are located. They will be more subtle on normal calm days but in the same location.
Watch your back if you are wading the surf wash. Which is the only way to get a line out there in this wind and heavy surf. Boards and debris are washing up and can take your legs out from under you. A large piece of wood moving through a wave's backwash will have some serious force. A board with nails will be even more dangerous. Just watch your six, especially with water washing behind you. We find cinder blocks on the beach occasionally that were pushed in by water.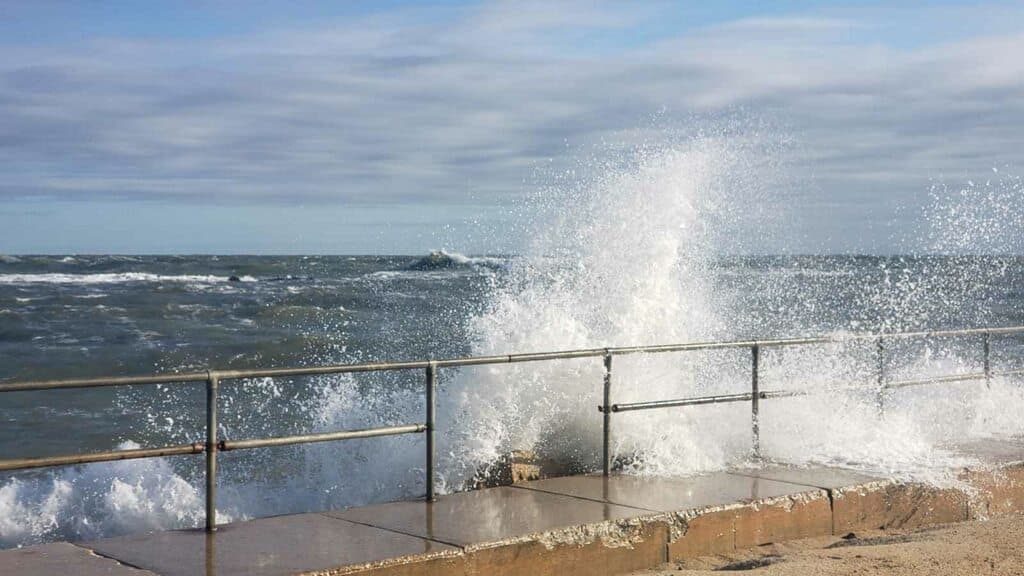 Indian River inlet and Roosevelt inlet anglers, the bait fish will be hugging the rock's surface. Predators will be feeding on those bait fish. You will lose more gear in rough water than calm water. Jigging works but pay attention. Small swim shads to mimic mullet should produce. It is wet and windy as hell out there, gear up for the conditions.
If parks close some of the drive on beaches you can walk out and surf fish. We do not recommend trying to drive out on a flooded beach even if it is open.
Inland bay fishing is possible, the only problem is most of the bait fish are pushed far into the flooded marshes and communities. There are fish in the streets of the inland bay communities. Fish will follow that bait or wait along the marsh edges for the bait fish to swim back with the outgoing tide as the marsh drains. Cast bucktails or swim shads to the marsh edges. You can crab in the streets of the inland bay communities.
Wading to the pier to fish is about the only way to get out there. It is also the only way many can get to their boats.
The Cape Henlopen Fishing pier would be a good spot to fish today to keep dry and get a line wet. Same for the old town docks in Lewes along the canal.

Fish On!
Rich King