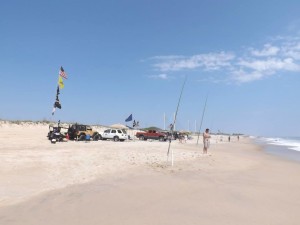 A few weeks ago Larry Thompson  contacted me about helping him get people to go surf fishing with his group Hunters Helping Soldiers.  They were going to take Dave "Doc" Green surf fishing for the first time in his life and they wanted to show him a good time.  I told Larry we would help anyway we could and contact a few friends to put more people on the beach.  Over the course of a few weeks we coordinated on a facebook page to get organized and met at the beach Thursday morning.  We set up Easy up tents, tables, and grills for a full blown day on the beach.  Between my friends and Larry's crew we had a beach full of people.  Now we just needed to wait for Dave and I was hoping the surf would calm down so we would see some fish.  The waves were peaking at nine feet and the water was stirred up with a heavy current.  Either way it would be a nice day on the beach.  We set up all of the rods and baited up for a day of fishing.  Corby Fulton met us down there and grabbed bait from Dan's Tackle Box and when he told him what we were doing and why, Dan loaded us up with enough bait to feed an army of fish.  Big thanks for that Dan, it was appreciated by everyone.
Dave arrived about 11 am, he was in Dover all weekend for the races.  Hunters Helping Soldiers arranged a weekend at the races and we were going to help them top it off with a day in the sandbox.  Dave was very surprised to see everyone there, he was told about the trip the day before but he didn't know all of these people would be there to hang out for the day.  He is an avid hunter and angler.  He took up fly fishing a couple of years ago and fishes in Oregon, his home state, so surf fishing was a whole new world.  After some quick instruction on casting and what it was all about he fell right into step.  I presented Dave with a DSF T shirt and Hoodie and thanked him for his service.  He has been through a lot serving in the armed forces.  All of our vets have and deserve the appreciation.  After talking for a bit I told him I hoped we would see some fish today, but due to the conditions it might not happen.  Some of the boys were hammering skates left and right, but the Jersey flounder was not what I was hoping to catch.  Dave looked at me and said … "When I hunt I am in the woods, it is my church, I don't care if I bag a deer I just am happy to be out there and I feel the same way about fishing".  I couldn't have agreed more, because that is what being in the great outdoors is all about.  People spend their whole lives fishing or hunting and miss that one point.
Dave hung out all day talking, joking, and having a great time rod watching.  Eventually the fish turned on and we started catching a few spiney boxfish or burrfish.  The fish didn't show up until later in the afternoon, but everyone was having a blast in the sandbox.  Sometimes that is all you need, a day with good people doing something you love.  I had a great time meeting Dave and the folks from Hunters Helping Heroes.  This organization is doing good things for our veterans and I told Larry any time he needed help just to let us know.  We spent twelve hours on the beach, got burnt to a crisp, and little fish to show for the day, but that is not why we were there.  We wanted to show a man our appreciation for his service and sacrifice, by showing him what he and everyone is fighting for, the freedom to enjoy life.  Check out Hunters Helping Soldiers and see what you can do to help them they have many events they are doing this year.  It was an honor to be asked to help Dave  and I had a great time with HHS crew on the beach Tuesday.  Tomorrow is the anniversary of D Day, the landing in Normandy.  Thank a vet for their service, buy them lunch, but most importantly sit and talk with them.  You will be surprised how much you may have in common, and you will do the best thing, showing them the respect they deserve.
Fish On!!
Rich King