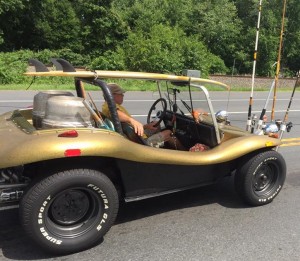 Some of us have regular vehicles that we carry our gear in and fish.  Others have full blown campers on the back of their trucks.  Then there are the sweet beach rides.  These are the "beach buggies,"  the old school vehicles like Broncos, and Willy Jeeps.  Today Jeff Prickett saw a Surf Fishing Beach Buggy, the best of both worlds.  I saw an amazing old dodge the other day,  it looked like an old school three quarter tn work truck or an old army truck. So long as it is a street legal vehicle and meets the beach requirements, you can drive it on the beach.  There is even a corvette all jacked up that is seen on New Jersey beaches, the picture is all over the internet and has been for years.  If you have a cool beach buggy you want to show everyone let us know in an email, admin@delaware-surf-fishing.com we would like to do a story on your vehicle.  Don't forget to send a picture.
I have been interviewing Harry Aiken all winter and spring.  He told me about surf fishing vehicles back in the day.  Harry has been surf fishing Delaware for over seventy years.  "We used old Model A's and vehicles like that and my dad's old Straight A Pontiac.  We didn't have the park access back in those days or the parks for that matter.  You just found a weak spot in the dune and drove onto the beach.  cars would just float across the sand.We used old bald ambulance tires and rims.  We would sir them down to eight pounds and use an inner tube so the bead wouldn't matter if it popped on the tire.  Once you were done surf fishing for  the day, you  hook an air pump system up to the motor.  The Schrader Spark Plug Air Pump was designed to work with engine pressure to fill your tires. Take out a spark plug, hook up this tube, turn on the engine, and fill up your tires.  We didn't have the parks back in the day so no air pumps for the public to use nearby, except at the old filling station near the inlet.  That wasn't open when we fished"  I asked Harry what stopped people using the two wheel drive vehicles and ironically it was four wheel drive vehicles.  "Once four wheel drive showed up and was used heavily, cars, trucks or whatever would get stuck in the ruts, and that ended two wheel drive on the beaches."   
You never know what kind of cool vehicles people will come up with to drive on the beach.  After all it is a fun time and what better way to start that adventure than in a sweet beach buggy.
Fish On!!
Rich King