Well, everyone else was fishing the Indian River Inlet yesterday, I had to drop by the Center for the Inland Bays.  We are now working with them to help promote their efforts and organization.  Yes, that means they are a new DSF sponsor, and I will tell you all about that soon.  Of course when I go anywhere near the inlet, like a magnet she pulls you into her web.  If you fish, and drive past this place, you must have had urgent business elsewhere, like a house fire.  There are many who do not like to fish at the rail, or the rock wall, it does get crowded.  Sometimes tensions can increase and there are "altercations", lately that has calmed down immensely.  These past "issues" have kept many away from fishing a great place.  Whether from a boat, the rail, or the wall, it is an exceptional place to fish, yet small for the amount of crowds.  However, etiquette comes into play in this area, you have to respect your neighbor.  You will notice most of the people down there know one another and do just that, respect one another's space.   They also know how to fish in a crowd.  If you are nice and observe, many of these folks will help you understand how to fish the constantly changing currents.  This is not easy to do, yesterday a young man cast across 4 lines everyone knew he had, he didn't know, and it was okay, he learned.  Let me tell you about the worst angler I have ever seen there.
Yesterday upon my arrival, as always I hit the rail, said hello to friends, and bounced around taking pictures … doing my "thing".  There was an older gentlemen (using that term lightly, you will see why) fishing the corner above the Coast Guard Station.  He had a towel tied to the rail, and I kid you not, told people they could not come past that towel that was his space.  WOW, Really!  Well knowing everyone down there I figured this would either escalate into a fight, or him swimming for the south side.  Neither happened, I have to say I am proud of my brethren Delaware anglers.  I knew something was up when I arrived, everyone was standing around having a discussion with the "mayor" of the Inlet.  A local angler walked up to the towel, and purposely got on the wrong side, when he was TOLD he had to move to the other side of the towel, he did what anyone would do in a public place.  He untied the towel handed it to the owner, and said "You may want to hold on to this, you might forget to take it with you, when you leave (hint)."  The torrent of profanities from this gentlemen towards this angler, was unreal, unnecessary  and shocking for someone of his supposed demeanor   His grandchildren would be so proud of their Pop-pop (NOT).  I looked at some of the locals and said … "Does that guy have any idea where he is fishing, and whom he is cussing out?"  The angler who had a chat with him is respected among his peers, not a person who deserves to be cussed.  This man was determined to have his space, well his attitude lost him all respect, and eventually his spot.  At one point he was inundated with "toggers" and his area shrank even more.  Lesson for the day … Do not be a jerk on the rail, you will not be respected.  I could have taken a picture, and turned him into the pariah of the fishing community.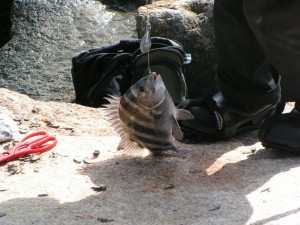 Speaking of craziness on the rail, I watched John fish the rock pile yesterday, cleats on, in jeans and a T shirt, he said the water was warm.  Chris was just coming off the wall when I made it out there, he had that wide eyed look.  "I just lost a BIG fish!"  He said they were heading to the beach for a little surf fishing, and try to catch up with Kristen.  The rock wall was surrounded by boats, there were a few guys on there but not that far out, except for John.  He was on what I call the first "island"  it is the high point between 2 areas that fill in with waves fast.  He was hammering shorty stripers, one after another.  He was hitting bluefish, had one on his hip stringer, and the largest was at least 7 pounds, but hard to land due to environment.  Using poppers, he couldn't get to the larger striped bass below the school, he did manage a 32 inch keeper that he released.  I was taking pictures, watching 4-5 foot waves come at him, break on the wall, and cover him with the spray.  The one wave that came from behind out of nowhere, shut him down soon after.  That was a little too close for comfort, and he knows his limits, well we think he does, you do have to be a tad nuts to go out there.  In case you are thinking of doing this, let me just say this.  If you haven't fished this wall, go with someone who has, take the proper gear, cleats the whole nine yards.  The guy who was barefoot yesterday, I am surprised he is still with us today.  People have been swept off that wall from rogue waves, never to be found again, like the wave that snuck up on John.
The fishing yesterday was rather good at the Indian River Inlet, sheepshead, black drum, redfish, small tog were 1 out of 10 for keepers, blues, and shorty stripers.  Everyone was using mostly green crabs, or sand fleas, some were using cut bait.  The boats were heavy around the North wall, John and Steve were having a conversation while fishing, Steve was in his boat, and John was on the wall.  If he had the 20 foot pole one "togger" had yesterday he could have tapped Steve on the shoulder.  That is another thing, if you go there in a boat, do not go alone.  You can not maneuver the boat, and fish this area at the same time.  It was a fun day yesterday, I never got a line wet, I was busy working, and contrary to popular belief, I do not get to fish everyday.  The Indian River Inlet is a fun place to fish, or just hang out, and watch the action.  The birds moved in from out front, and it looked like an Alfred Hitchcock movie.  People who were leaving, parked their vehicles, got the gear back out, and hit the rail, you never know when the fish are going to move through.  As I said, she is a magnet that will pull you back in, every time.  The saying .. "You should have been here 15 minutes ago!", probably originated in an area like the Inlet.
Everyone wants to know when are the big stripers coming this way?  The C&D canal has been very active the past week, the fish are definitely moving around, and schooling up.  Charters up there are doing well on near sized keepers, both morning and afternoon. I have reports up and down the coast of Delaware, about shorty schools with some cows in the mix.  Mostly these are resident stripers, getting ready for the fall run.  A Facebook friend of mine was fishing the surf in New Jersey yesterday with his crew, and they were hammering cows.  James "Rippin Lipz" Buonannao Jr.,  a third generation surfcaster, and has earned his nickname.  At the age of 8 years old his grandfather taught him to fish, and he has been hooked ever since.  Let me tell you this young man knows how to rip it up in the surf.  I wanted to tell you about him, and what is going on above us in Jersey.  The fish are on the move, and still being caught much farther north.  They will be here soon, we are seeing some keepers in the shorty schools already.  So everyone get that gear ready, check those lines, sharpen your hooks, because the big striped bass come soon mon.  Remember to be careful out there and respect your neighbors when fishing.
Now, I have some even more exciting news for the striper season …….
WIN A TOYOTA RAV4 SUV
Catch a new State record Striper weighing a minimum of 56 lbs, 12 oz.
Bill's Sport Shop has teamed up with Auto Gallery of Delaware by Bryan Hecksher through Delaware-Surf-fishing.com to award a 2004 TOYOTA RAV4 SUV.
·                     The Striper must meet all Delaware Sport Fishing Tournament Rules as stated in the 2012 Delaware Fishing Guide ( pages 30 and 31)
·                     Fish must meet all Bill's Sport Shop/Irish Eyes Striper Tournament rules and regulations.
·                     This is a $17,495.00 retail value.
·                     View vehicle at
autogalleryofde.com
, or on display at Bill's Sport Shop and every Friday night during the Tournament at Irish Eyes, Lewes.
SIGN UP TODAY DO NOT MISS OUT ON THIS OPPORTUNITY!!
GOOD LUCK TO ALL WHO ENTER!
Fish On!!
Rich King