Do Not Park Close To The Water At Low Tide
(June 3, 2020) … There are two trucks stuck in the surf today, summer is in full force.
Most know this but many are learning. First off we are not picking on these folks, but using them as an example. Everybody gets stuck even the most seasoned of surf anglers.
When the water is out at dead low tide, we have that nice wide beach with that hump above the surf line. People tend to park on there, because who wants to walk what looks like a country mile downhill to set your gear. Parking there is fine, but only if you watch your six. The best thing to do is park up "top" and walk your gear into the surf line. At high tide the beach will look a lot different.
Most if not all the beaches right now after the recent heavy waves and wind are carved up. Some more than others. They all have swales. That is the area that holds water behind that bar or "island" of sand in front of surf wash. When it is dead low tide these are empty, when tide comes in they fill up, quickly. Simple right.
The thing many forget or don't know is that these might fill up a hundred yards away first. Then all of a sudden they drain a ton of water into the area in front of your vehicle. Now you are truly on an island. But wait there's more. Each way out is now cut off by water on each end.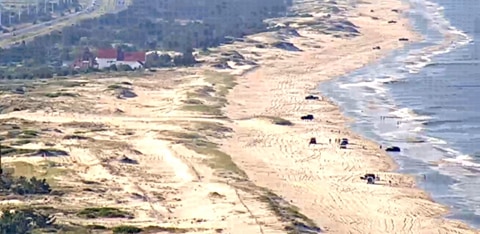 Now you are surrounded by water and the tide is barely halfway in and coming in fast. The swales fill more with each wave. You have two choices. Park it and hope or drive it out. Neither work out too well.
This happens a lot at the point in the summer/fall time. Some of us are dumb and take the chance and power through that inch of water. Most times it is okay. Otherwise we stay for the next tide cycle.
The one time it is not okay to cross tat water is when it turns to quick sand and you sink to your frame in an instant. Seen that before with a jeep or two the last few years. You can not drive through the wet sand like they did in that Toyota commercial. Coincidentally shot on the same beach this vehicle is stuck in the water today.
So in the future read the beach and we will try to be more diligent with conditions. It has been a long crazy week and it is only Wednesday. Beach updates are usually done on Thursdays. Stay safe out there and watch your six. When the beach is carved up and flat with that little hump out front and the dry depression behind it. Don't park there, walk you gear to the water's edge.