The surf fishing and fishing overall is getting better.
(April 22, 2021) … The past weekend a decent amount of people went surf fishing. The beaches weren't packed too bad either. Well except 3Rs on Sunday after that beast of a striped bass was landed, that was to be expected. Looked like a surf fishing tournament on the south end. Lot of families having fun with the kids on short striped bass hitting bloodworms. That has been a great time for kids and families.
Shad action with short striped bass throwing lures has been fun as well. Short bass are a great way to get the kids into casting and catching, especially when the action is a fish every cast. Just don't spoil them. Fishing is NOT that easy, well catching I should say. Fishing is simple in most cases.
We spent the morning on 3Rs surf fishing with Chris and his kids. The boys were bailing short bass between building sand castles and catching sand fleas. Great day, we had gear out for large fish. Because we always do, but some dude caught a huge fish there the day before.
Actually we planned this trip on Wednesday. Then we considered surf fishing elsewhere, knowing it could get crowded, but that big bass was caught there.
Everyone has migratory striped bass fever. What no one is trying for are the other arrivals. Well a few people are changing targets …
"I'm fishing for striped bass in the early predawn and flounder the rest of the day." Adam Aguado. "Everyone told me they (flounder) wouldn't be in for a few more weeks and whatnot. I'm one of those fishermen who love to defy the odds. I hear, "You can't catch so and so right now, I'm gonna take that as a challenge. "

That sounded like a good plan, since flounder were arriving south of us last week. It is any day to see one caught in Delaware. That happened over the weekend. Right where expected, the Lewes Canal. Of course by an angler targeting them as he said he would. Nice work! Landing two eighteen inch summer flounder. After a morning of heavy hitting short bass action, trying for the keeper. A solid day of fishing.

Jig for flounder in the surf at the cuts, if they are in the canal they are in the surf.

Gulp for the win, and if you use Gulp stock up, there could be another supply issue this year. For a cheesy substitute, add some regular soft plastics to your Gulp "juice". It isn't the same but it does work. Fishbites Fight Club Lures, their soft plastic series works well too and has a "scent".
Northern puffers are hitting more in the surf. The best action for the early arrivals is 3Rs and south at Fenwick Island state park. Walking on to Fenwick Island's town beach or Ocean City as well for that action. even Bethany beach is better this year now that the sand replenishment has calmed down a little. There are plenty of locations for walk on surf fishing
Bloodworms, squid, sand fleas, Fishbites for bait choices. Northern kingfish will also hit those and are early arrived. The Fast acting fishbites (red package) or regular fishbites (blue package) are both working. Croaker will be our next arrival followed by spot.
Black Drum action is picking up along the beaches. The Delaware bay beaches will become the most popular. The southern beaches are a great place to start targeting them with clam or sand fleas. Most have been caught on sand fleas. Assateague has decent drum action and increasing. When the Delaware bay beaches get crowded at Beach Plum Island State park find a less crowded spot on Broadkill or go north to Slaughter Beach, or Prime Hook. Those fish move up the entire coast. Not just one spot to surf fish for them. Fish migrate from point A to Z, there are plenty of spots between to target.
Migratory striped bass are here and have been here, the upper Delaware Bay and river have been hot using bunker chunks from boats. Land based anglers using bloodworms or chunks are mostly seeing short bass, but you can lock into a keeper. Again Point A to point Z.
The Delaware Beaches are in between, but fish along our coast are rare. We don't se the Jersey blitz, mostly because it is dark when it happens.
While people are piled up on short bass at the inlet. Walk the beaches and surf cast for bass … in the dark. I could smell and hear the fish the other night. Chasing shad and bunker. Nervous fish make smelly water, so do eaten and digested fish. That is what the "bait" slick is you see at the beach, fish poop. Ever feed fish in an aquarium? They poop as they eat. Same in nature. When that sharp salty briny ocean smell gets tones of earth, you have fish there. Hardest part of night surf casting is not turning on your had lamp. No lights until you need to to land a fish.
Tautog are hitting at the Delaware Bay sites, the haystacks and Harbor of Safe Refuge walls. Keepers are far and few between but that action has picked up. Charters and head boats will fill up soon, get your spots reserved. Lot more people out and about fishing this year.
Crabbing is really picking up around the inland bays. Soaking pots, trot lines are not the way to go just yet. Handlining at crabbing piers is producing a little as well. The two day soak for a crap pot is the best right now.
You want some really good bait for drum or striped bass? Sacrifice a keeper blue claw crab. Cut in half or even whole and drop it out for bait. Much like baitfish, big bait produces big fish. No one ever ants to use a precious crab. They are as abundant as cockroaches. Try one for bait, you will be surprised.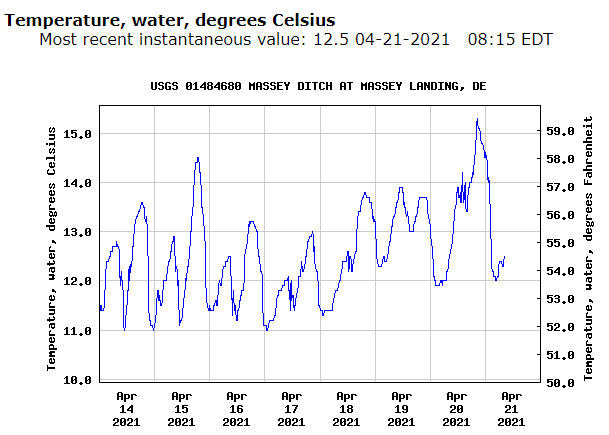 Water temperatures are on the rise slowly. This spring has been a nice mild ride into warmer temperatures. Masseys ditch almost topped out at sixty degrees a few days ago. I'd be fishing for flounder around the inland bays right now. These temperatures are a week ahead of last year's if not more. There were fish here then around the inland bays.
The water temperatures along the surf and Delaware Bay are in the low fifties. These are surface temperatures from the NOAA station buoys. The surf will feel warmer during the day since it is shallow and the sun cooks the sand. It's an illusion of the real temperature.
The marsh banks have a ton of food along the grass lines. The grass is coming in now and turning green.
This is where the fish really feed around the inland bays, unless you can find any mussel beds or oysters under water around the inland bays, fish those. However, most of those are covered with the party sand bars. Do not fish "downstream" of a sandbar covered with people. Fish the marsh banks at high tide and the outgoing tide. They are mini reefs full of oysters, mussels, and all kinds of marine life.