PUBLIC HEARING ON PROPOSED MODIFICATIONS TO TIDAL FINFISH REGULATION 3502, 3503, 3504, 3505 AND 3506
PERTAINING TO STRIPED BASS.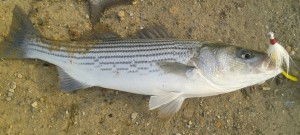 The Department of Natural Resources and Environmental Control will hold a public hearing on  Monday, February 23, 2015 regarding amendments to Tidal Finfish Regulation 3502 Striped Bass Spawning Season and Area Restrictions; 3503 Striped Bass Recreational Fishing Seasons; Methods of Take; Creel Limit; Possession Limit; 3504 Striped Bass Possession Size Limit; Exceptions; 3505 Striped Bass Commercial Fishing Seasons; Quotas; Tagging and Reporting Requirements; 3506 Striped Bass; Total Length Measurement (7 DE Admin C. §§ 3502, 3503, 3504, 3505, 3506).  The hearing will be held, at 6:00 PM in the DNREC Auditorium, located at the Richardson & Robbins Building, 89 Kings Highway, Dover, DE 19901.
The purpose of this action is to adopt provisions consistent with Addendum IV to Amendment 6 to the Atlantic States Marine Fisheries Commission's (Commission) Interstate Fishery Management Plan for Atlantic Striped Bass.  Addendum IV requires states to reduce their coastal striped bass harvest by 25%.  Delaware will accomplish the specified 25% commercial fishery reduction through a direct administrative adjustment to the annual commercial quota.  Six management options, approved by the Commission, are available to achieve the required 25% reduction in the recreational harvest (Table).
This action also seeks to clarify the commercial tagging and reporting requirements and proposes minor editorial changes, not intended to change meaning.
The hearing record on the proposed changes to 7 DE Admin C. §§ 3502, 3503, 3504, 3505 and 3506 will be open February 1, 2015.  Individuals may submit written comments or request additional information regarding the proposed changes via e-mail to Lisa.Vest@state.de.us or via the USPS to Lisa Vest, Hearing Officer, DNREC, 89 Kings Highway, Dover, DE 19901 (302) 739-9042.
Table.  Recreational striped bass length, season, area and possession options for consideration in modifications to 7 Del. Admin. Code §3503 & §3504.