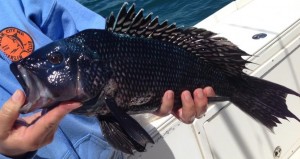 Black Sea Bass  (Centropristis striata )
Description …
Black sea bass are very dark brown on the sides and back, the belly and fins also tend to be dark.   Females have constant curve slope from the head to the top of the back.  Males have a pronounced "dent" before the dorsal fin and are referred to as knotheads.  Near the dorsal area most have a red or aquamarine coloration may be present especially on males.  The upper part of the caudal fin (tail) has along extending filament.  
In Delaware they appear during the first weeks of May, withdrawing in late October or early November, and wintering offshore at 180 to 42o ft.around temperatures above  46°F. In summer, it is most abundant at less than 120 ft.  They are popular fish commercially and recreational, sought for its light tasting meat and is a heavily regulated fish coast wide.  With regulations changing almost yearly.  There are two separate stocks of black sea bass in the Atlantic, divided at approximately Cape Hatteras, North Carolina.  The northern stock has recovered thanks to regulations.  
They spend most of their time close to the sea floor and often congregate around bottom formations such as rocks (hard bottom), man-made reefs, wrecks, jetties, piers, and bridge pilings.  Pieces of clam is usually the best baits.  Juveniles can be caught all summer long near jetties and piers of the inland bays and Delaware bay.
Season and creel limit for Delaware 2015 …
Black sea bass

May 19 – Sep 21

12.5 inches
(excluding caudal filament)

15/angler/day

Oct. 18 – Dec. 31

15/angler/day