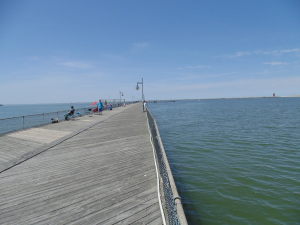 I spoke with Cindy Todd , Construction Project Administrator, Office of Design and Development, DNREC – Division of Parks and Recreation the other day about the second phase of the Cape Henlopen fishing pier repairs.  The pier will stay open until the end of December, which will give more time for striped bass anglers to do some fishing.  That is good news and repairs should be completed well before spring fishing starts.  As well as the the new fencing there will be even lower areas now for handicapped accessibility.  Big thanks to Cindy Todd for taking the time to answer these questions.
When are you scheduled to start? End of December.  The pier will not be closed until after the preconstruction meeting, closer to end of the month.
How long will this take?  120 days
Aside from redecking will there be new fence and lights?  New fence and the existing lights will be refurbished 
The section that is to the left (cement deck) when looking at the pier from land.  Will that be opened to the public? many people use that structure there to fish and constantly snag the fence losing rigs and gear,  making it accessible would increase the fishing area.  This area is used by SPI Pharma, the fencing will stay in place at the current height.
Will the tall fence at the end be removed and made shorter like the fence along the pier so people can fish the end of the pier?  Yes end of the pier will have the fencing lowered and the adjacent piece past the fencing will be removed.
Remember you can always wade fish the flats near the pier, just be mindful of the repair crews and any areas they mark off limits.
Fish On!!
Rich King