Big Surf This Weekend From Hurricane Teddy
If you haven't noticed the wind is blowing. Hurricane Teddy is inbound offshore but will send us some serious ground swell.
Vehicles on the beaches are at risk of high surf today into Tuesday night. Everything should calm down by Tuesday afternoon.
High tide is right now and water is almost to the dunes in the beach towns and parks. There are vehicles on the beach that won't be leaving for a while at this point.
Watch where you park and pay attention to the previous tide wrack line.When you are choosing a spot to park, if there is a low spot behind you it will fill quickly with water. Better to park on the higher dune side of the beach, and walk a little more to the surf. Sunday and Monday will be worse. If you get stuck in an area of higher water don't try driving through it, the sand will not be good for your vehicle. Depending on how wet that area is your vehicle will sink to the frame real quick.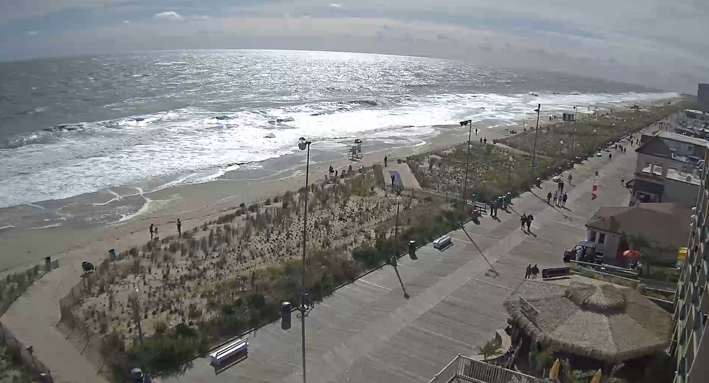 If you are not sure about the sand in front of you while driving, get out and walk across it first. If you sink to your ankles real quick imagine how fast your vehicle will sink. The ground swell is going to get worse and worse into Tuesday from Hurricane Teddy.
Saturday to Monday tides at Indian River Inlet
| | | | | |
| --- | --- | --- | --- | --- |
| 2020/09/19 | Sat | 03:58 AM | -0.23 | L |
| 2020/09/19 | Sat | 10:37 AM | 3.43 | H |
| 2020/09/19 | Sat | 4:28 PM | -0.19 | L |
| 2020/09/19 | Sat | 10:59 PM | 3.22 | H |
| 2020/09/20 | Sun | 04:44 AM | -0.21 | L |
| 2020/09/20 | Sun | 11:29 AM | 3.47 | H |
| 2020/09/20 | Sun | 5:23 PM | -0.04 | L |
| 2020/09/20 | Sun | 11:49 PM | 3.02 | H |
| 2020/09/21 | Mon | 05:32 AM | -0.11 | L |
| 2020/09/21 | Mon | 12:25 PM | 3.45 | H |
| 2020/09/21 | Mon | 6:22 PM | 0.16 | L |