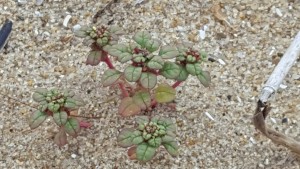 Parks have small sections along the point and even a few spots roped off with posts to protect Seabeach Amaranth.  This is a federally protected plant that happens to grow on barrier islands.  Please leave the areas alone and the plants.  Keep your pets on a leash and out of these areas.  They are small plants and indicate a healthy ecosystem.
There is a section closed at the end of the point on the bayside until the plants are done for the season.
Below is a description by the Raleigh Ecological Services Field Office …
Seabeach amaranth is an annual plant found on the dunes of Atlantic Ocean beaches. The stems are fleshy and pinkish-red or red, with small rounded leaves that are 0.5 – 1 inch (in) (1.3 – 2.5 centimeters; cm) in diameter. The leaves, with indented veins, are clustered toward the tip of the stem and have a small notch at the rounded tip. Flowers and fruits are relatively inconspicuous, borne in clusters along the stems. Germination occurs over a relatively long period of time, generally from April to July. Upon germination, the species forms a small unbranched sprig, but soon begins to branch profusely into a clump. This clump often reaches 30 cm in diameter and consists of five to 20 branches. Occasionally, a clump may get as large as a meter or more across, with 100 or more branches.
Flowering begins as soon as plants have reached sufficient size, sometimes as early as June, but more typically commencing in July and continuing until the death of the plant in late fall. Seed production begins in July or August and peaks in September during most years, but continues until the death of the plant. Weather events, including rainfall, hurricanes, and temperature extremes, and predation by webworms have strong effects on the length of Seabeach amaranth's reproductive season. As a result of one or more of these influences, the flowering and fruiting period can be terminated as early as June or July. Under favorable circumstances, however, the reproductive season may extend into late fall. The species is an effective sand binder, building small dunes where it grows.
Habitat: Seabeach amaranth occurs on barrier island beaches, where its primary habitat consists of overwash flats at accreting ends of islands and lower foredunes and upper strands of non-eroding beaches. It occasionally establishes small temporary populations in other habitats, including sound-side beaches, blowouts in foredunes, and sand and shell material placed as beach replenishment or dredge spoil. Seabeach amaranth appears to be intolerant of competition and does not occur on well-vegetated sites. The species appears to need extensive areas of barrier island beaches and inlets, functioning in a relatively natural and dynamic manner. These characteristics allow it to move around in the landscape as a fugitive species, occupying suitable habitat as it becomes available.
Please be wary of the signs and respect the closed areas.
Fish On!!
Rich King