Beach Conditions for Weekend Striped Bass Surf Fishing
I know a lot of folks coming down this weekend to fish the surf in hopes of the elusive fall migrating striped bass. Dan's Bait and Tackle said they might have fresh bunker on Friday, we will know on, Friday.
Boats are marking fish, they may or may not come close to shore and there is only one way to tell, just like the card game. You got any striped bass? Go fish!
We checked out the beaches today with Payton one of the Aqua Quest International crew. These underwater archaeologists are headed to Nicaragua for the winter to work on projects with the Miskito Indians. I figured a good day at the beach in freezing temperatures would make them feel right at home before they head to the jungle. Tomorrow they are heading to Vermont before the trip south, must be gluttons for punishment to go scuba diving in the chill of Lake Champlain.
The beaches look good we hit them at the outgoing into dead low tide. I think we saw all of five vehicles today, two being the same ranger twice. We started at Fenwick Island State Park and then went north.
Fenwick Island State Park drive during low tide. The beaches looked great, were flat and wide. There are some swales or tide pools closer to Bethany Beach in the surf wash area. No driving hazards to worry about including randomly dug holes.
The big houses along the beach apparently are not an eyesore, and this is considered and undeveloped beach by people in Fenwick. Have you all even seen Delaware Seashore State Park or Cape Henlopen State Park?
3Rs in Delaware Seashore State Park was wide and flat a little skinny farther north as usual, not too steep but a little in spots. We saw this cool fox just walking down the beach. He stopped to say hello and made sure we didn't have a snack for him and then went on his merry way. We do not feed wildlife, no one should.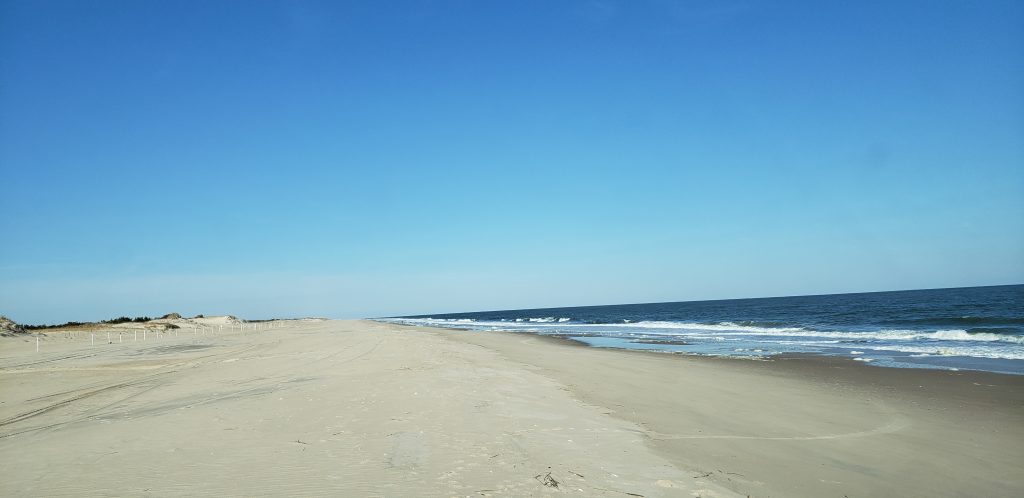 Delaware Seashore State Park Looked great. No driving hazards on the beaches. There are more swales in the lower surf towards Key Box Beach. All the air stations are working fine. Parking lots look good.
Gordons Pond In Cape Henlopen State Park looked great today. No driving hazards the sand is a bit loose coming off the access road as usual. There is better looking structure farther up the beach towards herring point.
Herring Point in Cape Henlopen State Park is nice and wide, flat enough and no hazards for driving.
Navy Crossing Beach in Cape Henlopen State Park is a little skinny as usual as soon as you drive on it is a little steep in front since this beach washes out the most. It looked good to day no driving hazards but there were a few long neck beer bottle sin the wrack line. Never drive along the wrack line you never know what you will run over. Saw some big jelly fish washed up on the beach.
Point Crossing looks great and so does the point. The beaches are wide and flat little steep w where the breach usually occurs, but other than that it is fine. Lot of marsh peat pads washed up on the beach. Now we just need to get some sand off the point so it doesn't create a bigger scour hole near the outer wall and drop the Harbor of Refuge Lighthouse into the water.