We have had an interesting few days on the beaches here in Delaware.  From a Jeep fire to a emergency plane landing on Gordons pond in the closed section for piping plovers.  Thankfully no one was hurt during either incident.  The fishing has been decent in the surf.  Croaker, spot, kingfish, skates, rays, flounder, sharks, spotted hake, and dogfish.  Fishbites have worked will for the little fish and cut baits for the larger species.   Sand fleas are excellent bait for flounder in the surf.  When you dig them up use the smaller ones for the little fish.  the surf was calm most of the week and three ounces would hold well, that will change this weekend with the approaching hurricane which is ricking North Carolina right now.  We will see very large waves and heavy surf which will require much heavier weight.  Hopefully this storm will push more fish in our direction.  Weakfish are up and down the Delaware bay beaches on the incoming tides.  A few puppy sized smooth hammerhead sharks have even been caught from the surf on cut baits.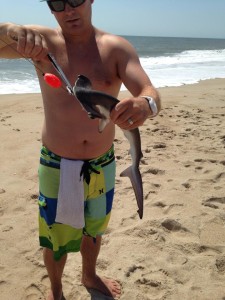 Croaker action is heavy all over the place on fishbites, squid, peeler crab, and bloodworms.  Lewes Canal, Roosevelt Inlet, the inland bays, henlopen pier.  Basically they are all over the place, and spot are about the same as far as catches and bait.  Small spot make great flounder bait.  Flatties are heavy at the old grounds and a few other sites out front.  The indian river inlet areas have seen decent catches.    Small striped bass are in the indian river inlet which is also loaded with bay anchovies and the fish are ripping them into those.  match the bait you will catch more fish.  Shad, short striped bass, weakfish, croaker, and flounder have been the action at Indian River Inlet.
The offshore bite has been great but I don't think you will want to journey in that direction this weekend.  Tuna, mahi, tilefish, ling cod, white marlin, and some shark action abide.  This report is short and sweet today, been a very long day in the heat watching paint dry as fast as I can apply.   This weekend will be interesting to see how the surf and area waters are affected by the incoming storm.  Be safe and have a happy fourth of July!
Fish On!!
Rich King