Well … it is cold, windy and nasty some days, but   once in a while we get a winter heat wave and the temperatures climb above forty degrees.  That is when we go fishing for white perch, yellow perch (neds), and crappie bass (slabs).  The ponds are slightly frozen over but you can still find some nice spots to fish and the tidal creeks are clear of ice for the most part.  Grass shrimp is great bait as well as minnows.  We use tiny jig heads with a float about three feet above the jig.
Bait that up with grass shrimp or even a small curly tail soft plastic and let her float for a while.  Minnows we just rig up on hooks and the bobber is optional.  Small speck jigs or flies do the job too, but you have to put in more work to catch than using bait.  Which during the cold days helps to keep you moving around creating heat.  My old boss used to say the heat is in the tools, the same theory applies to winter fishing, keep moving.  Some bait shops will have minnows, shiners and night crawlers no one carries grass shrimp you have to catch them.  Look in the grasses along tidal creeks to find grass shrimp and use a small net.  We fished the Milton pier the other day off Mulberry Street, and didn't catch, but did have a great time just going through the motions also we were product testing a new lure for Diamond State Tackle. This new lure (to be named later) looks like it will do very well when the seasonal fish make an appearance like striped bass and bluefish.  It has a lot of flash and action when reeled in through the water column, and will be versatile to use mimicking a sand eel along the bottom in the surf.  Some boys below us in the park in Milton were hammering crappie bass on minnows.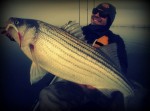 Fishing update for Maryland, from Alan Battista the author of Light Tackle Kayak Trolling the Chesapeake Bay and now the newest member of Kokatat's Fishing Team.  Alan and his crew have been blasting large resident striped bass in forty feet of water in the Chesapeake bay.  He does a lot of trolling from his kayak and has a great technique for jigging while trolling which you can read about in his book.  I am reading it for the second time and will have a review up soon.  It is an easy read, packed full of information.  The warm water outlets in the Chesapeake have been producing large striped bass this winter as well.  We have seen very few here for the inland bays but not many people have been fishing for them.  There are several decent resident striped bass fishing areas in our bays, you just have to find the fish.  Hopefully we will get into some of that this weekend and we will be doing a little surf fishing  on Saturday.  We will be at the point if anyone wants to come out and fish for the day, catching will be very optional.  In fact we will have a pool for that, whoever catches the first fish owes me fifty bucks.
Cape Henlopen fishing pier update.  At this time we do not have any new information on the Henlopen fishing pier.  We do know the engineering reports will be in soon and then the bidding will  start for fixing the pier.  The parks are still hoping to have it open by the summer.  Just a heads up but the barge parked at the pier has nothing to do with any repairs it is just moored there.  Many have asked if that is a sign that the repairs will begin soon and unfortunately it is not.  We all miss the pier and hope to see it open up again soon.  Spring is not far away by any means, the days are getting a little longer and the sunsets a little later. Don't forget to take our Beach Access Survey and Air Station Survey, results will be posted on the 10th of February.  We also have a new Delaware Business Directory located in the tool bar at the top of this page, you can list your business there for a small fee, and we have a free classifieds section for anyone who wants to list items for sale.  Stay warm and we will see you in the spring.
Fish On!!
Rich King