We survived the blue moon, and won't see another one until 2018.  The surf fishing is still mediocre to horrible in the afternoons and decent in the early mornings and late evenings.  Some small bluefish are running the beaches, you can use mullet chunks on top and bottom rigs, or whole on mullet rigs, also tossing spoons is working.  Kingfish, croaker and small weakfish are here and there caught on Diamond State Tackle top and bottom rigs with squid, fishbites, sand fleas, or mullet chunks.  I heard a pompano was caught near the Indian River Inlet the other day.  Flounder have been caught in the surf with large sand fleas, or jigging for them in the first twenty feet of water.  They will often hit a mullet rig on the retrieve just beyond the first wave.  Dogfish, skates and rays are abundant in the surf as well as sharks.  If you are going to fish with cut bait or bunker chunks you will see one of those four catches.  If you want to avoid these species use fishbites, sand fleas, or toss lures.  Sand fleas are thick in the surf and as usual easy to catch and a great bait.  Lot of crabs are out there eating bait off rigs, make sure you check your gear often.  Dolphins have been feeding heavy and chasing fish, always a good show, not so great for fishing.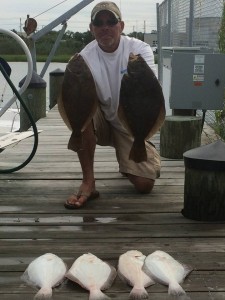 Now for the hot bait this week.  Wait for it, because I didn't believe it either.  Jeff Weaver was fishing the Old grounds the other day and like all of us takes snacks with him.  While fishing they got a little bored, and just for grins and giggles … "I like to take them (twizzlers) out as a snack and the old man I fish with said he was putting one on and caught a 15 1\2 inch flounder. We laughed our butts off for sure, and he caught two more to boot "  After hearing this the other day I tried them in the surf and fed a few fish or crabs, but didn't hook up with anything.  Just to make sure this wasn't a fluke, Jeff went out again today and they almost limited out on keeper flounder, all caught on Twizzlers.  Two times using Twizzlers and they caught keeper flounder, not a fluke.  So when you go to Kandy Kitchen this weekend to get the latest hot bait, tell them DSF sent you, that will be a priceless explanation.  I wold imagine the color or the scent is attracting the flounder.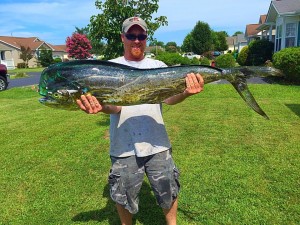 The beaches are still a little shelved with ledges, so be wary of that mess.  People in Ocean City are bewildered at this latest occurrence, it has happened before, it will happen again.  Flounder has been the hot catch as of late all over the place, the off shore action has been the best.  If you are looking for a charter check out our Business Directory.   Anglers are catching mahi mahi while flounder fishing at the Light Ship.  At this point some people are targeting mahi instead of flounder it has been so hot.  The offshore action has been decent for mahi, tuna, tilefish, and marlin.  Wahoo is making a nice showing off shore.  We would update you on the White Marlin open but when we asked to come cover it, we were informed they didn't consider us the media so we went fishing instead.  Whale  action off shore has been normal and we have not seen any near the beaches recently, but you never know where they are going to show.
Bluefish schools are all over the Delaware bay and showing up just off the beaches, sometimes in casting range.  They are moving into the beaches early in the mornings and late evenings.  Once in a while a school will come close during the afternoon.  There have been bunker schools moving up and down the coast and bays.  Croakers are a hot catch everywhere, it is almost impossible not to catch one and they are huge.  The bays have smaller sized croaker and the larger ones are showing up closer to shore and in the creeks and canals.  Spot are around the bays and the surf, the catches are increasing.  Sand perch are still in the surf and showing up in the inland bays and Delaware Bay.
Indian River Inlet has seen a lot of bluefish on the incoming tides.  Flounder action along the walls on the inside has been decent for boats and shore anglers.  I have seen a lot of boats out there this week, it looks like a Saturday in April out there.  Short striped bass action has been hot and even a few keepers.  The only way you will get into keeper sis fishing late at night into the very early morning.  The long liners using flies have done decent on that action the last couple of weeks.  Lots croaker are moving along the rocks.  The bait fish schools on the incoming tide has been thick along the rocks.  They are forming what look like never-ending lines of bait fish moving along the rocks.  The bluefish have been working them heavily.  Mullet and peanut bunker are thick in the inland bays, you just need a cast net and just about anywhere in Rehoboth bay or Indian River bay will produce a huge amount.  Literally you can fill a net in one throw to the point it is hard to lift.  You just have to look for the schools moving around and you will hit bait fish gold.  I did see some fresh mullet at Old Inlet today.  Check our Business Directory Bait shop section for a shop near you.
The temperatures at night are keeping the water a little cooler during the day.  The surf is averaging seventy-four degrees, and Masseys Landing is ranging from eighty-one degrees at low tide and seventy-four degrees at high tides.  The temps are staying roughly in that range for all the inland bays.  The lower Delaware Bay is averaging seventy-five degrees, and the upper bay (C&D Canal and up) is in the eighties.  Crabbing has picked up a bit more, but there have been less keepers and a lot of smaller crabs.  Clamming has been decent as long as you get into them.  The incoming tide will be early to mid  morning into the early afternoon all weekend and should make for some decent fishing.  The Broadkill beach replenishment has been completed on the north side and now crews are working on the south end.  It was weird to stand on that hill, knowing I was on top of a great fishing spot buried in eighteen feet of sand under my feet.  Have a great weekend and be safe.  Only twenty-five days until the point opens!!
Fish On!!
Rich King