Tautog are showing up Blue Crabs on the move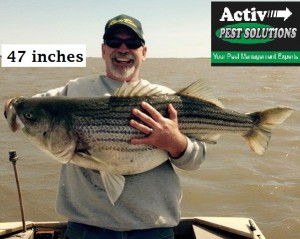 The other day a buddy of mine told me of some tautog that were caught at one of the walls in the Harbor of Safe Refuge.  He did not give me an exact location and I wouldn't post that anyway.  You have three options out there, the inner wall, outer wall, and the haystacks or ice breakers.  So my buddy tried yesterday but they only had one bite on shrimp, noting on frozen sand fleas.  I don't think anyone has bait here right now except the charters and head boats that are heading out to deeper wreck sites, like the Katydid (Lewes) and the Rehoboth Star (Indian River Marina).  The Katydid was out there the other day and hit a few taug and cod.  The T jetty in Atlantic city produced a taug yesterday, if those fish are on the T jetty in AC, you can be sure to find them here soon at the Indian River Inlet and our Delaware Bay sites.  I wouldn't go rushing out there just yet, but if you want to tautog fish, this weekend might be a good time to try.
The upper Delaware Bay and the spawning grounds have been producing some very nice sized keeper striped bass.  From Collins Beach to Augustine beach boats have been doing well.  Bunker chunks, bloodworms, and clam are the best baits and in that order.  A lot of shorts are being caught from Woodland to Augsutine Beach from shore.  I have yet to see any drum in our area, but that should happen soon enough.  Everyone is still talking about the drum run of 2014 at Beach Plum last spring, that lasted about two weeks and then moved north to the slaughter beach area.  Fresh or salted surf clams will be the choice baits for those beasts. Beach replenishment equipment was brought in yesterday to start that project at Broadkill Beach.  Great to see that the beach there will be rebuilt to protect the shoreline, not so great the structure will be buried and change fishing there for a long time.  Whether it will be better or worse remains to be seen, and many are skeptical.  How long the sand will remain is also a good question.  Would be nice to see some of that slurry from the Delaware bay channel dredge used to fix the breaches at Fowlers beach.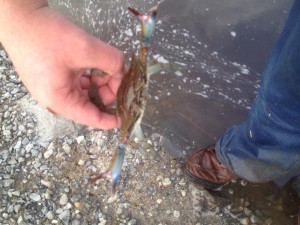 Blue crabs are starting to make an appearance in the back areas of the inland bays.  The warmer shallow areas are seeing the most, this just happened in the past few days.  Assawoman bay to the Isle of Wight bay according to a commercial friend of mine on the Maryland side has been producing.  The tidal creek areas will see them first like Herring and Love Creeks. It won't be long now, but in the mean time remember these just emerged from their winter rest.  The blue crabs will not have a lot of meat in them.  Many prefer to wait at least one shed or longer before catching crabs, to ensure there is a decent amount of meat to be picked.  It is disappointing to try and pick a nearly empty crab.  The Oceanic pier in Ocean city has been seeing a lot of skate action, but at least there is something there to tug on a line.  That action should change up very soon.  The waters are warming up more and more every day.  There is a plethora of bunker in all of the inland bays, more than many have seen in a long time and they are some big ones.  The surf is thick with bunker as well, look for schools passing by and fish behind them with chunks or lures.  You never know what might be following them.   Hopefully all of this bait in our area will bring the striped bass in closer and keep them here longer during the next leg of the spring run.  Once they finish spawning in the Chesapeake they will head north.  Most of the fish in the Delaware Bay will do the same, but head out via Cape May on the Jersey side, however you never know where they will feed along the way.  They tend to run the channels and wind up near the shoals.
Sunday at 9 a.m. Surfrider foundation is hosting a beach clean up at Herring Point Beach in Cape Henlopen State Park for Earth day (Wednesday the 22nd).   Please come out and help, we will be there and do a little fishing afterwards..  We are looking at a nice weekend.  With Southeast winds on Friday that will give into North winds then switching to northwest for Saturday and finally a Northeast wind for Sunday.  Hope everyone has a great weekend and safe travels where ever you are headed.   If you are looking for bait, check out the folks on our Business Directory Bait Shop listings.
Fish On!!
Rich King