Temperatures are back on the rise both air and water, quickly too I might add.  Masseys landing water temps have been steadily jumping up as well as the surrounding waters.  Summer is definitely in full force.  Now we get to worry about things like humidity and flies.  Crabbing is getting better with the increasing temperatures.  Pot Nets area has gotten better and apparently so has the poaching.  Someone keeps jacking crab pots, eventually they will be caught.  Sad when people have to steal from others.  The clamming action is not too bad either just have to find some nice spots and you will get into them.  I don't put up specific crabbing and clamming spots.  It gets too crowded out  there if I do, so you will have to do a little digging to find them.  That is the fun part of fishing, putting in the time.  The easiest way is to go to the seafood place and just buy them, saves yo the time and effort.
Fishing is really picking up for the summer species.  Croaker are in more and more every day and yes they are early again this year.  The surf, henlopen flats, inland bays and Delaware Bay are seeing a lot of croaker catches.  The Old Grounds are covered with them.  Best baits are bloodworms, pieces of clam, and cut bait like small pieces of mullet.  Fishbites are working well even though it is not optimum temperature to use them we have been catching with them for a couple of weeks.  Croaker are a lot of fun for the kids, a great fight on ultralight gear, and make a tasty meal.  Flounder are getting hot in all the normal summer areas … Inland Bays, Delaware Bay, Old Grounds, Lewes Canal, and Henlopen flats.  Minnows, jigging, and gulp have been the best baits.  The surf is seeing them just behind the first wave in the first trough.  You can use sand fleas or jig for them for best results from the sand.   A basic flounder rig with a two ounce bank sinker on a regular boat rod works well in the surf with a sand flea or minnow.  Using a surf rod is overkill,  you will need to hold onto the rod and work the bait or jig.  Kingfish catches are on the rise and we are just waiting to see some spot show up and the summer fishing action will be complete.   Trout or weakfish have not been in heavy but in small sizes and numbers.  I have seen some decent catches north of us in Jersey in the back bays.  Of course there is always all the weird ones that make it up here with the gulf stream.   Sand tiger sharks are just now showing up please keep the regulations for handling them in mind when you are fishing.  A good rule of thumb is if you don't know what species of shark you have let it go.  Most of your sharks caught from the surf are prohibited to be removed from the water.  You can check out an interview with Fish and Wildlife I did a couple years ago for a clarification on the prohibited shark handling rules.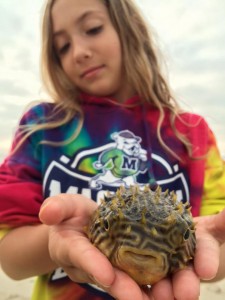 The charters and head boats are doing well out there, Katydid Sportfishing has started into the flounder we will see if they can break last year's record.  Top Fin has been out hammering the bluefish, Sea Bass, and taking kid's trips for dogfish.  That is a fun trip for the kids and a great price.  Anglers Fishing center has been hitting the drum and catching a variety of fish on all of their trips.  They brought in a 509 pound thresher shark this past Sunday on the Indian.  That was a huge catch and the story is one of those fishing stories that get you all excited about fishing.  We will be interviewing the boys on Sunday live on the Delmarva Angler.  You can hear all about it then and much more.  The shows have been a lot of fun!  We talk fishing, play music, and do giveaways, you have to tune in to win.  All shows are recorded and available in the archives on the Delmarva Angler page on Delaware Surf Fishing.  Also, check out the Business Directory for the charters available.  These folks have some great trips available and will put you on the fish.   Sea bass is still hot fishing, with croaker, hake, and pollack in the mix.  The fishing is great out there and as usual for Delaware we have a huge variety of fish.  That is one of the best things about fishing here, the variety of cold and warm water species.  Burrfish and puffers are still in the mix and the burrfish showed up a week or more ago.  Cool looking fish that I don't think anyone has tried eating, puffers on the other hand are delicious.
Striped bass action has been slow for the spring run but there have been a decent amount of shorts in the surf.  The Indian River inlet has seen a lot of smallies at night too long lining flies.  Not a great spring run this year, but we did have a lot of random keeper catches.  The Striped Bass are all over the cape Cod canal and places way up north already, so we certainly didn't see much of a run and for the most part it is over.  We do have a lot of residential or hold over bass in our waters so you can still catch them and there are few late stragglers showing up from the run.  The new creel limits are allowing for the slot season this summer in the Delaware Bay and its tributaries.   That starts July first and last until August thirty-first, you can keep two fish at twenty to twenty-five inches per day.  That might be of some relief to everyone having to throw back all the thirty-seven to forty-four inch fish this year.  I have seen a lot of fish that had to be thrown back.  More so than fish that were kept, so the new creel limits are working in that respect.  Eventually the creel limits will go back to the way they were, but only time will tell when.  The bluefish run this year certainly shows there is a change in the predator game out there this year.  The bluefish run has also brought a lot more sharks in closer to the shores.  That big thresher that Anglers Fishing Center caught was near the Old Grounds.  It is normal to find sharks in the ocean (they live there), that is a given but the catch frequencies seem to be heavier this year and many are attributing  it to the abundance of bluefish close to shore.
Bluefish action has slowed down for the slammers, but increased with the snapper blues up and down the beaches and the Oceanic Pier in Ocean City, MD.  Mullet on mullet rigs in the first trough is the best location or cast to the second sandbar.  Tip and bottom rigs have produced a few using squid.  Bluefish will eat anything.  I keep a spoon or plug at the ready on a rod just in case the blues move along the beach this time of year.  They will move up and down the beaches chasing bait fish schools.  If you are looking for bait and tackle check out our Business Directory listings for Bait Shops.  The flats at Cape Henlopen and the Indian river inlet are still seeing some bluefish action but nothing like it was the past several weeks.  Summer fishing is here and abides with the traditional fish catches and of course skates, rays, and dogfish.  Drum fishing is still good once you find them, and the boats are doing the best.  That run will be over soon.
March of Dimes at the beach is this Saturday with the Reel Friends surf fishing club.  Come out tot the Hawk's Nest pavilion in Cape Henlopen for food and fun for a great cause.  It starts Saturday at 11 A.M. at the Hawks Nest Pavilion.   Have a great weekend and we will see you out there.
Fish On!!
Rich King